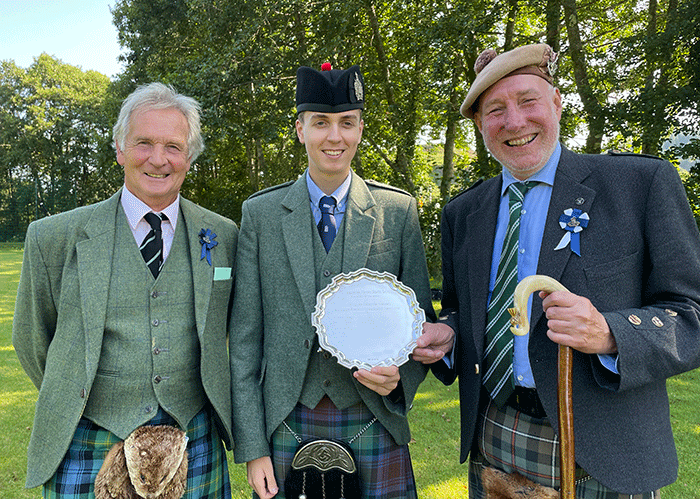 A reduced games was held today at Mossfield Park, Oban. There were piping events for 'A' and 'B' grade March and Strathspey & Reel and Open Jig, with prizemoney similar to previous years.
Thirty seven pipers entered, 21 in the 'A' grade and 16 in the 'B'.
During a break in proceedings AG piping convenors Jamie Mellor (l) and Torquil Telfer took time to present the College of Piping Trophy to the winner of the MacGregor Memorial Piobaireachd for 2021, Brodie Watson-Massey (above).
The AG stress that these were not the normal Argyllshire Gathering light music events and will not earn the winners promotion to more senior events at subsequent gatherings.
The Argyllshire Gathering Silver Medal and Royal Scottish Pipers' Society Silver Star for, respectively, 'A' March and 'A' Strathspey and Reel, were not awarded.
'A' March
1 Steven Leask, £150
2 Angus J MacColl, £120
3 William McCallum, £95
4 Sarah Muir, £80
5 Angus D MacColl, £70
Judges: B Donaldson, I Duncan
---
[wds id="2″]
---
'A' S&R
1 Stuart Liddell, £150
2 Alasdair Henderson, £120
3 William McCallum, £95
4 Calum Watson, £80
5 Ben Duncan, £70
Judges: I MacFadyen, J Wilson
'B' March
1 Andrew Hall, £100
2 John Dew, £75
3 Sandy Cameron, £65
4 Jonathan Simpson, £55
5 Ruaridh Brown, £45
Judges: I MacFadyen, J Wilson
---

---
'B' S&R
1 John Dew, £100
2 Ross Miller, £75
3 Fraser Allison, £65
4 Rhuaridh Brown, £55
5 Calum Wynd, £45
Judges: B Donaldson, I Duncan
Open Jig
1 Stuart Liddell, £100
2 William McCallum, £70
3 Steven Grey, £60
4 Ben Duncan, £50
5 Sarah Muir, £40
Judges: Dr Angus MacDonald, C MacLellan
There was an excellent turnout for the march to the games field with William McCallum acting as Pipe Major and Dr Peter McCalister as Pipe Sergeant.
William lost out on this honour when he had to return to Glasgow for work when he won the Highland Society's coveted Gold Medal in 1988. Dr McCalister was similarly affected when he won the Silver Medal in 2012.
The Games were honoured with the presence of HRH The Princess Royal marking a very special day for the Argyllshire Gathering.
HRH presented the Gold Medal to Stuart Liddell, the winner of yesterday's invitational piobaireachd and light music competition.
---