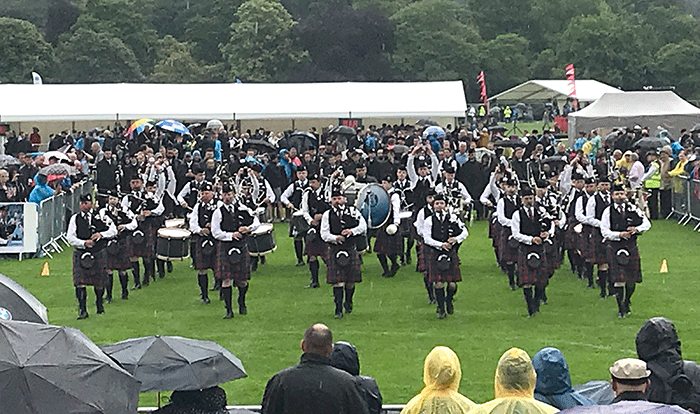 Announcement from the Leadership Team of Police Scotland Fife Pipe Band: 'Regrettably we announce that Pipe Major Douglas Murray has informed the band of his decision to step back as Pipe Major, but will remain as a playing member to support transition of leadership.
'P/M Murray has led the band since July 2013 establishing its reputation for excellence in music and achieving regular top six finishes in major championships in recent years.
'Also a few firsts – an international trip to the Virginia International Tattoo in 2016 and the concert, 'Decade on the Beat' at the Beach Ballroom, Aberdeen, in 2018, both successful events.
'On behalf of the band, our families and supporters, thank you Pipe Major for all of your efforts over your tenure at the helm.
'Pipe Major Murray stated, 'Due to work and family commitments I have decided to step back as P/M of the band.
'I would like to thank the management team for all their hard work and support they have given me during my time as pipe major and especially the band and everyone that has played along side me over the passed eight years. We have played some great music and won some great prizes.
'I will always be there for the band in what ever capacity I am needed and will be on hand to to assist with a steady transition with the new leader. I would like to especially thank my leading drummer Mick O' Neill who has always been 100% committed to myself and the band and has been so great to work with.'
'Chief Superintendent Derek McEwan, Local Policing Commander for Police Scotland's Fife Division and Band President said, 'I would like to acknowledge the commitment and service provided by Dougie during his time as Pipe Major of the Police Scotland Fife Pipe Band.
'During what has been an extremely successful tenure; the band has performed with distinction and acted as an effective ambassador for Police Scotland across the communities of Fife and beyond.
'I wish Dougie well for the future"The leadership team is currently developing an appropriate recruitment process in consultation with Police Scotland Fife.'
Douglas Murray is a renowned solo piper having won both Gold Medals at Oban and Inverness in the same year – 2014. He is also a reedmaker and was previously proprietor of Kilberry Bagpipes in Edinburgh.
---
[wds id="2″]