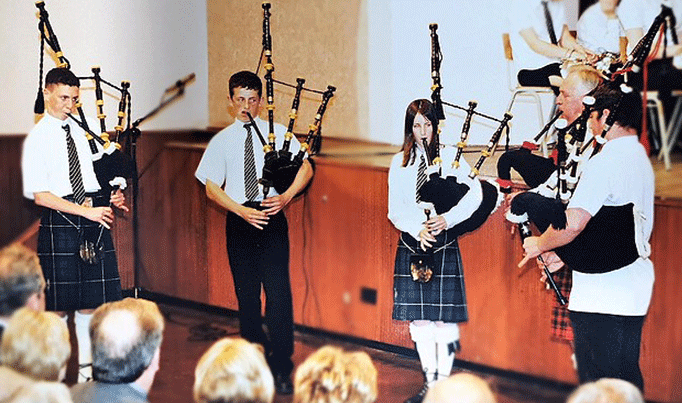 It is with great sadness that I write today of the passing of Willie Gilmour, known fondly in the piping world as simply 'G', the coolest teacher in school.
Willie was a Glasgow man, but spent many years teaching in East Ayrshire schools where he taught numerous young students.  He is pictured above performing at Cumnock Academy with some of his students.
His teaching supported all of the local pipe bands: Muirkirk, Cumnock, Mauchline, Kilmarnock, Troon Black Rock, and Ayr, and he himself played in Kilmarnock and Troon Black Rock, and was for a time the pipe major of Muirkirk. 
He was very proud to teach for many years at the College of Piping and was rarely seen without his College tie. Evening classses, summer schools, outreach, Willie would travel anywhere to help the College.
His success in teaching was all down to his character – he had the wonderful ability to make everything interesting and enjoyable, and every tune had a story which was often more enjoyable to listen to than the tune itself.
I personally would not be a piper were it not for him. I started with a different instructor and hated the chanter for the first year. When I started with 'G' it was suddenly fun, and I was hooked. Now I owe everything in my life to piping and the start he gave me. 
It was all down to him and his style of teaching. He was a total rebel in the eyes of the other teachers, and a hero to those he taught, from allowing students to call him 'G', or spending break time around the back of the school with the smokers – G was there with his pipe!
He was a great lover of piobaireachd, and always tried to instil a love of the big music in his students. He very much favoured traditional marches instead of the fast fingered stuff we were all desperate to play.  
In his later years he continued to live in Kilmarnock where he sadly struggled with his health over many years, and had a quiet life with visits from family and old students, particularly Rikki Shearer who really helped get him the care he needed.
He passed away on March 30th in hospital, and according to the nurses he 'insisted on a piobaireachd CD being played on repeat while he was in hospital'. 
His funeral was held on Saturday 17th April at Craufurdland (Fenwick), where his daughter Susan led a beautiful service full of wonderful memories and tales interspersed with music from the pipes he loved so dearly, and including an excerpt from the Lament for the Children. 
The funeral was well attended by many grateful students he taught over the years, and Willie's legacy lives on in them and every life he touched.
Karen McCrindle Warren