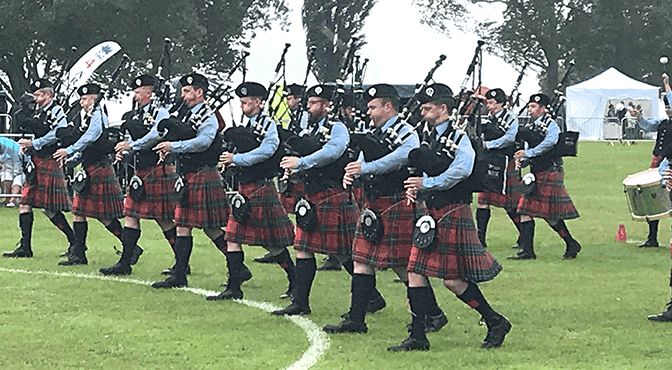 Following the not unexpected blow of the cancellation of the first two major pipe band championships of 2021, Alastair Dunn, Managing Director of RG Hardie & Co., has reinforced the view of many that a truncated season is better than none at all.
Alastair, former Pipe Sergeant of World Championship-winning Field Marshal Montgomery, said that if the pandemic lockdown ended from June 21 as has been forecast, then there would be no problem for Grade 1 bands getting ready in time for the Scottish Championships at Dumbarton on July 31 and the Worlds on August 13th and 14th thereafter.
'When I was at FM, Richard [Parkes] could get a great sound going after a couple of days,' said Alastair. 'All the pipers knew they had to turn up with their instruments, their fingers and the tunes going. Pipers can be doing that well in advance of their first practice. I think the five weeks that a June 21 lifting would give us would be doable in terms of being performance ready.
---
---
'I admit it might be more difficult for the lower grade bands, but everyone should remember that they are all in the same place. No one has a special advantage. I feel bands should just get back out and play. By the time they are back out competing, assuming things start up again in July, it will be the best part of two years since they gave a performance.
'That's just too long to be away from it. Even if championships, ultimately, can't be held because the authorities are worried about credibility due to the lask of overseas bands, then something should be put on instead.
---
Let's have your views:
---
'The other problem for some bands is the fact that their fly-in pipers and drummers will likely be missing. This will affect some more than others, but such are the numbers of band personnel these days surely that can be overcome too.
'The bagpipe industry needs to re-start also. The pandemic had really hammered sections of the business, though the bigger companies like my own are managing quite well despite the difficult trading conditions. Pipers especially are trying out new innovations and seem to be treating themselves to new instruments and chanters.
'What I would say is that if bands are thinking about ordering uniforms, brogues, any dress items, they should do so well in advance. When the green light is given there will be a rush, and with many of the suppliers temporarily closed it will be impossible to meet demand say one month before a possible first major at Dumbarton.'