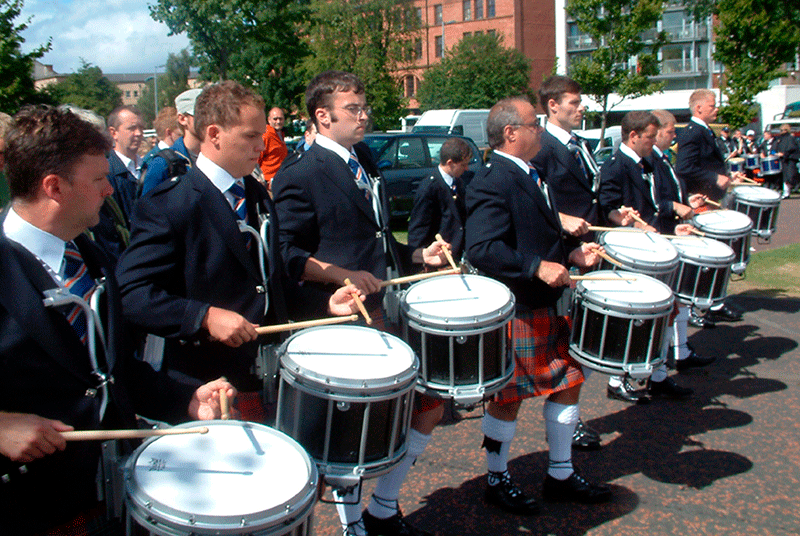 Having been a lead drummer for many years, I have spent countless hours composing snare drum accompaniments to bagpipe tunes. I have always wondered why some tunes seem so compatible with the snare drum that their accompanying scores almost write themselves, while other tunes are less so, with some requiring a lot more work and (often) compromise before an acceptable drumming match can be scripted.
During the Covid-19 lockdown in New Zealand in May 2020, I had the time to develop the thoughts that I had on this matter. This work culminated in the writing of a spreadsheet 'programme' that now enables me to analyse MSR piping tunes 'at speed' and determine their merits from a drum score writing perspective.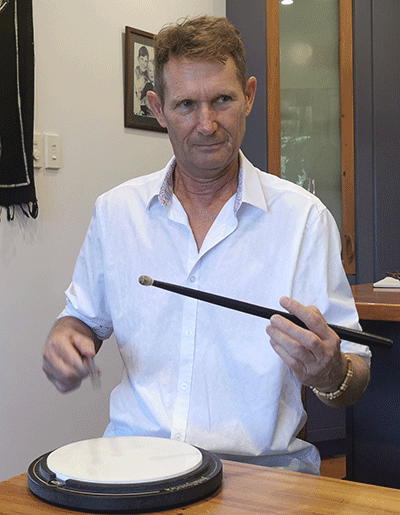 By Alan Jones, Hamilton, New Zealand.

The Rationale: My analysis looks into the rhythmic structure of the pipe tune, and attempts to define those characteristics that are most compatible with the drumming patterns used in the modern pipe band drumming idiom.
Marches, strathspeys, and reels are analysed differently so, to avoid confusing the reader, my comments in this article, from now on, relate to the analysis of MARCHES only.
The first step is to translate the tune into a monotone format (done in 2/2 time for ease of management of the information). This involves stripping away the melody and embellishments from the tune to reveal its core rhythmic structure of (mainly) crotchets, dot and cut note pairings and cut and dot note pairings.
---
This information is input to the spreadsheet directly from the sheet music and forms the basis from which all of the calculations in the analysis of the tune are made.
The Analysis: The analysis looks at how crotchets, dot-and-cut pairings, and cut-and-dot pairings are positioned in each bar, how they are positioned between bars, between phrases, within each part, and between all parts of the tune. There are a large number of calculations involved.
There are five areas of interest: Flow, Rhythm, Lift, Drive, and Repetition. A brief comment is included below for each of these areas to give the reader an idea of what is looked at in each case.

1. Flow: Looks at the number, and placement, of cut-and-dot pairings, the impact that these groups have both on the desirable smooth and 'flowing' rhythmic nature of a drum score, and on the score writer's ability to complement the tune with accuracy.

2. Rhythm: Looks at the number and positioning of crotchets and dot-and-cut pairings in each bar and rewards those combinations that best match the 'rhythm' set that forms the basis of modern-day pipe band drumming.

3. Lift: Looks at the number and positioning of dot-and-cut pairings, and multiple groups of these pairings in each bar, rewarding those combinations that maximise the score writer's ability to, in particular,  accurately 'time' off-beat drum accents with piping notes.
4. Drive: Looks at the number and positioning of crotchets and groups of dots-and-cuts in each bar, rewarding those combinations that optimise continuous, forward-moving flow.

5. Repetition: Looks at how well bars and phrases (and their variations) follow logical rhythmic patterns.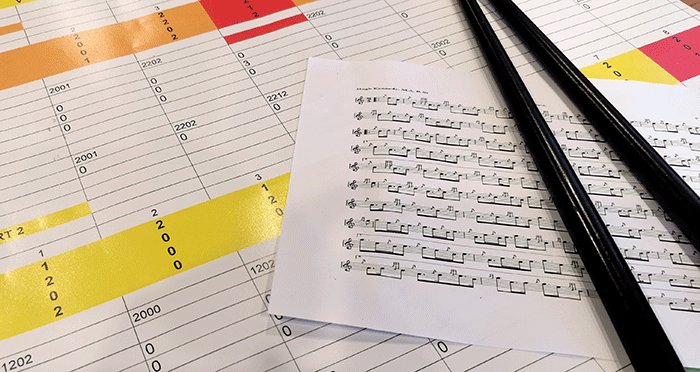 The Results: The pipe tune receives a score for each of the five areas, along with an overall score, e.g. Lord Alexander Kennedy
Flow 0.7 (267/384) Very Good
Rhythm 0.32 (31/96) Poor
Lift 0.21 (0-0-4-27) Poor
Drive 0.49 (35/72) Not so Good
Repetition 0.6 (43-31-2) Good
Score: 46%
I have included with this article the overall results of my analysis for most of the Grade 1 MSR tunes in common usage together with those four-parted MSR tunes prescribed by the RSPBA that are supported online with their sheet music.
Being Respectful: My findings show that pipe tunes can be quantified and ranked against each other, in terms of their rhythmic compatibility with the snare drum. I am hopeful that this will not be misunderstood by readers as me challenging the intrinsic worth of a tune. I certainly don't feel that way, and I know that many of these tunes are considered to be absolute 'standards,' are highly regarded by people for many different reasons, and are much loved by the pipe band fraternity.

The Future?: Consider those marches currently being played in Grade 1 MSR competitions. I think it is fair to say that most of them were written over 100 years ago, all of them were originally written as solo piping tunes, and none of them were written with a view that they would, one day, be accompanied by a drum section, in a competition setting, where the ability of those two units to come together in a musical performance would be evaluated.
The results of my analyses indicate that many of the most well regarded pipe tunes rank highly as being complementary ensemble tunes, but others do not.
It is my belief that certain tunes, even when played along with the best possible drum setting by a world class drum corps, do not allow for as close a match between the two musical sections as other tunes would allow. Perhaps it is time to consider thinking about the future relevance of certain pipe tunes as 'band' tunes – no matter how excellent they might be as solo tunes?
I know that there are many great bagpipe composers out there. I won't name names, but I know of one who happens to be a New Zealander who has written tunes that I have had the pleasure of writing drumming accompaniments to. The side drum scores basically wrote themselves, and resulted in an extremely close ensemble match. Interestingly, this person, in his day, would probably have won any novice drumming contest organised exclusively for Pipe Majors!
Are there composers out there willing to put forward the first 'modern-day' Grade 1-level MSR march, perhaps for careful consideration by an expert panel?
By 'modern-day' I mean a march that has been written with 'ensemble' taken into consideration – a tune that increases the potential for togetherness between the two musical sections by meeting the musical needs of both instruments as best as possible, and allows pipe band performances to move forward towards the next level of excellence.

In conclusion: I found this exploration into piping and drumming music both fascinating and challenging and a very worthwhile way of occupying one's time during an extended covid lockdown. Hopefully this article will encourage others to begin their own investigations and draw their own conclusions, and help move the understanding of bagpipe/snare drum ensemble forward.
I am certain that there is still plenty of room for fine-tuning in my work – I already have some new ideas that I am currently exploring.
MSR Pipe Tune Rankings for Snare Drum Score Writing
Excellent 80% -Very Good 65% -Good 50% -Not So Good 35% -Poor less than 35%
MARCHES
Atholl and Breadalbane Gathering 100
Edinburgh City Police Pipe Band 92
Inverness Gathering 92
Siege of Delhi 92
25th K.O.S.B's Farewell to Meerut 92
Walter Douglas MBE 91
Captain Norman Orr-Ewing 88
Dugald MacColl's Farewell to France 88
Burning of the Piper's Hut 88
Highland Wedding 88
79th's Farewell to Gibraltar 87
Links of Forth 86
Clan MacRae Society 84
Muir of Ord 83
Dundee Military Tattoo 83
51st Highland Division at Wadi Akarit 81
Pipe Major Willie MacLean 81
Prince Charles' Welcome to Lochaber 81
Miss Delicia Chisholm 80
Balmoral Highlanders (6) 80
Liberton Pipe Band 80
Rhodesian Regiment 80
Duncan MacInnes 78
Jeannie Carruthers 77
KIng George V's Army 77
Haughs of Cromdale 76
Pipe Major Jim Christie of Wick 75
Achany Glen 73
Pipe Major Willie Gray's Farewell to the Glasgow Police 72
Auchmountain's Bonnie Glen 71
Captain Carswell 71
John MacDonald of Glencoe 71
Young MacGregor 70
Royal Scottish Pipers' Society 69
Conundrum 67
Donald MacLean's Farewell to Oban 65
Lady Lever Park 65
Glen Caladh Castle 64
Hills of Perth 64
Hugh Kennedy 62
John MacMillan of Barra 62
Taking of Beaumont Hamel 62
Argyllshire Gathering 61
Major C.M. Usher OBE 60
Men of Argyll 60
Australian Ladies 59
Donald Cameron 58
Mrs John MacColl 58
Miss Elspeth Campbell 55
Mrs H.L. MacDonald of Dunach 55
Clan MacColl 47
Lord Alexander Kennedy 39
2. STRATHSPEYS (Iteration R)
Marquis of Huntly's Highland Fling 96
Ewe with the Crooked Horn 82
Caledonian Canal 78
Arniston Castle 76
Archie Duncan 75
Pipe Major Hector MacLean 72
Struan Robertson 70
Dornie Ferry 67
Inveraray Castle 67
Shepherd's Crook 67
Atholl Cummers 65
Dorrator Bridge 65
Lady MacKenzie of Gairloch 60
Islay Ball 58
Captain Colin Campbell 57
Caledonian Society of London 54
Bob o' Fettercairn 52
John Roy Stewart 52
Highland Harry 47
Jennifer Finlayson 47
Blair Drummond 40
Dora MacLeod 39
Kathleen Mala 37
Cameronian Rant 36
Maggie Cameron 36
Tulloch Castle 36
Monymusk 33
Susan MacLeod 32
3. REELS
Murdo Lamont's Spree 93
MacKay from Skye 91
Molly on the Shore 88
Willie Murray's Reel 86
Duncan Findlay's Reel 85
Gena MacLeod 84
Cabar Feidh 80
Charlie's Welcome 79
Jock Wilson's Ball 78
Lexie McAskill 78
Pretty Marion 78
Sheila McMurchy's Dance 78
Alick C. MacGregor 77
Johnnie MacDonald's Reel 75
Angus MacLellan 74
Capt. Lachlan MacPhail of Tiree 73
Flora, Mrs MacLeod of MacLeod 71
Mrs MacPherson of Inveran 71
Willie Cummings Rant 71
Blackberry Bush 70
Brown Haired Maiden (6) 69
Brown Haired Maid (4) 68
Over the Isles to America 65
Colonel MacLeod 63
Major David Manson 63
Sound of Sleat 63
John Morrison of Assynt House 62
MacAllister's Dirk 62
Thompson's Dirk 58
Fiona MacLeod 57
Man from Glengarry 55
Sleepy Maggie 50
Pipe Major Callum Campbell 47
Bessie McIntyre 46
John MacKechnie 46
Ca' the Ewes 44
Lt. Col. D.J.S. Murray 43
Loch Carron 42
Smith of Chilliechassie 36
Kalabakan 33
Sheepwife 28
Now in his 60s, Alan began learning the side drum at the age of 12 with the Manawatu Scottish Pipe Band in Palmerston North, New Zealand. By his early twenties he had achieved a national solo drumming title, two national pipe band drumming titles (as a corps drummer) and had travelled to Scotland for a year to play a full competition season in Grade 1. Upon returning home to New Zealand, Alan and his wife (whom he met in Glasgow) settled in Hamilton where he was to become the lead drummer of the local Grade 2 band, a position that he held for many years. Having been both a maths teacher for most of his working life, Alan has always had a great interest in working with young people, with much time invested, and success achieved, over the years with various drum teaching initiatives. Although now retired from bands, he still assists locally as a learner-drumming tutor (or score-writer), when required.