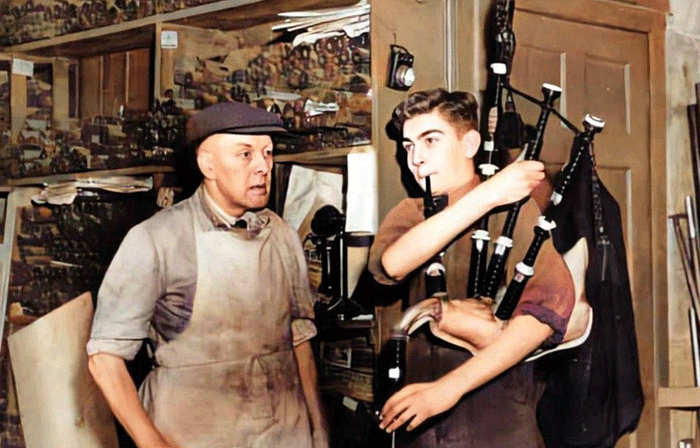 We continue today with more of the brilliantly edited historic photographs from Ronan Maguire of St Laurence O'Toole Pipe Band, Dublin. The picture above is of Alexander Glen and a young David Glen in their workshop in Edinburgh circa. 1880.
The original black and white image was cleaned up and enhanced before being colourised. Glen was the biggest name in bagpipe manufacture and music publishing in the late 19th and early to mid 20th century. The company dates from 1833 and the shop on the Royal Mile, under the Glen name, closed in 1978.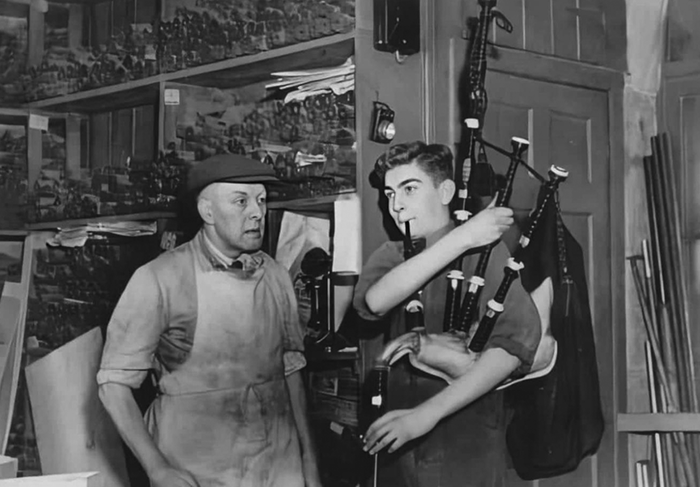 In her book 'Highland Bagpipemakers, Jeannie Campbell writes: '…Glens were prolific publishers. Thomas Glen produced a tutor for the bagpipe in 1840, Alexander Glen published the 'Caledonian Repository' in 1860 and J and R Glen published Glen's collection parts 1 – 3 from 1870 onwards. The most prolific publisher of the family was David Glen who published the 'David Glen Collection' parts 1 -17 from 1860 onwards….'
---
The second image today is of the father modern pipe band drumming, Alex Duthart. Alex was a winner of multiple World titles with Shotts and Dykehead Caledonia. He was a champion soloist from the 1940s onwards and introduced a host of previously unheard of innovations into Scottish side drumming.
In doing so he took the instrument to a whole new level. Alex Duthart was lauded in the jazz and classical music worlds as a master of his art. He died suddenly during a parade in New York City in 1986.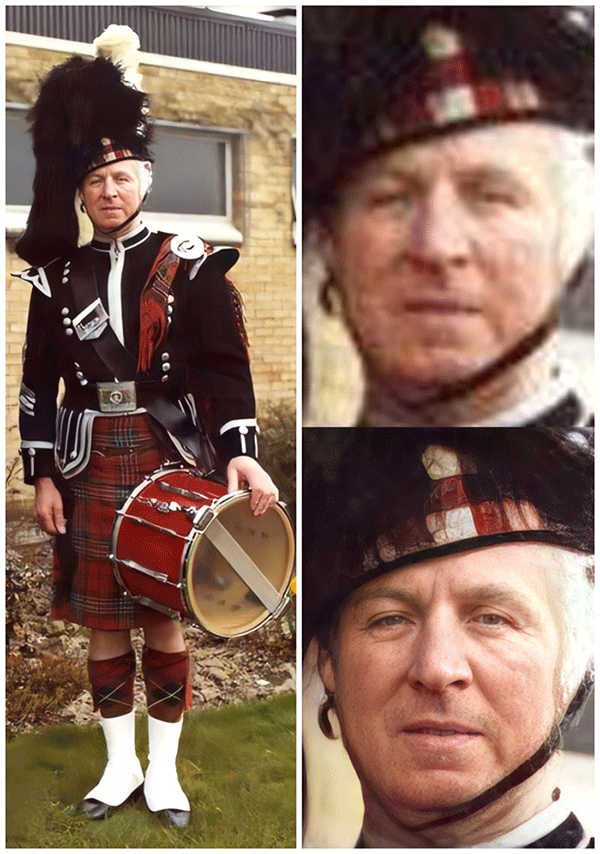 The next photograph is of Pipe Major Robert G Hardie a Gold Medallist and winner of the World Pipe Band Championships with Muirhead & Sons Pipe Band from 1965 to 1969. Hardie was also a very successful bagpipe manufacturer and his firm continues today as one of the leading instrument makers and Highland accessories suppliers in the world. The pipe major is pictured with the Worlds trophy at Perth in 1969.
This image gives you an idea of the before and after the work by Ronan: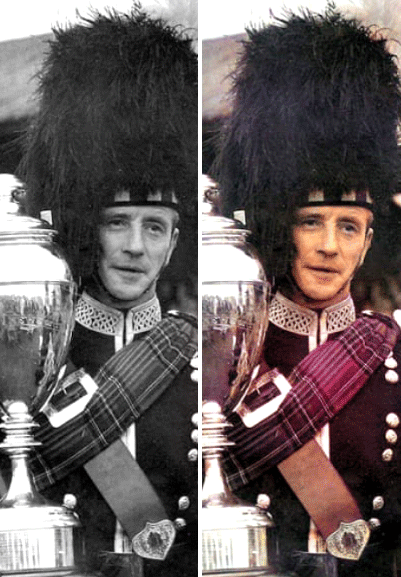 Finally we have a cleaned and colorised image of the great GS McLennan, master composer and player. The picture is from 1910. A boy prodigy, George Stewart was taught by his father and so startled music society with his genius that he was invited to play for Queen Victoria at Balmoral.
He subsequently served in the Gordon Highlanders and it is believed his health was weakened after a botched lung operation in a field hospital towards the end of WW1. He died in 1929 aged only 46 but not before achieving immortality through his famous tunes, Mrs MacPherson of Inveran, Jig of Slurs, Inveran, P/M John Stewart and Kilworth Hils and many more masterpieces.
His picture after clean up, but before being colorised: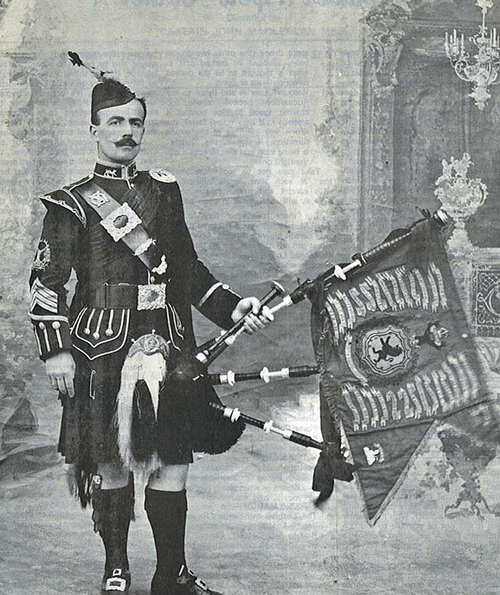 And the attractive result of Ronan's work: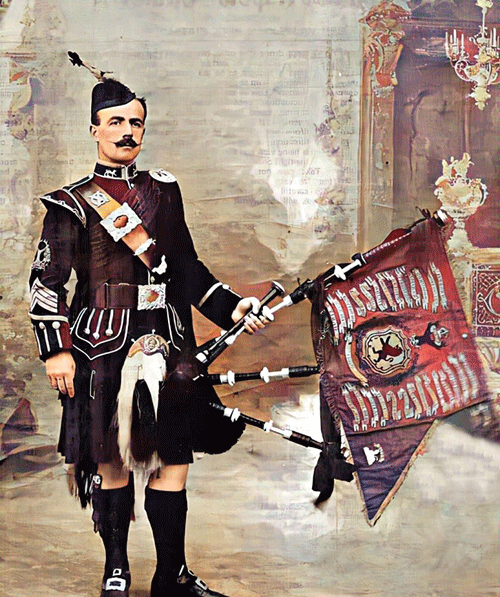 Some readers may prefer this shot of GS in black and white against a different background: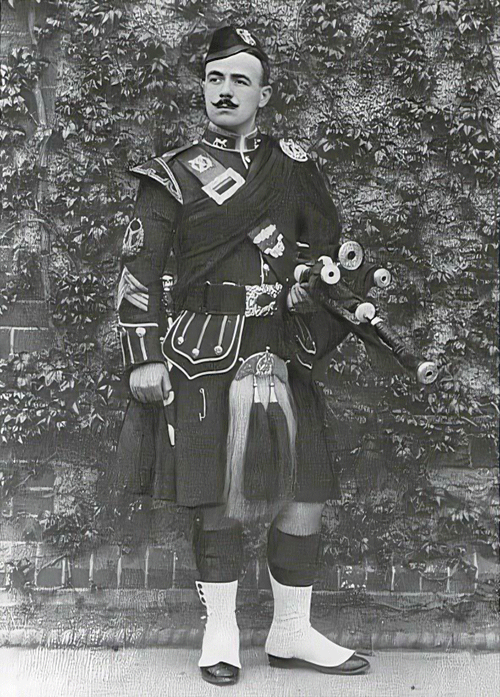 This comparison detail will let you see the work that was required to upgrade the photograph. Slide the arrows left or right: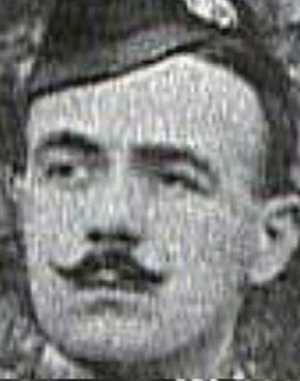 More images to follow in due course and thanks once more to Ronan for making them available to PP readers free of charge.