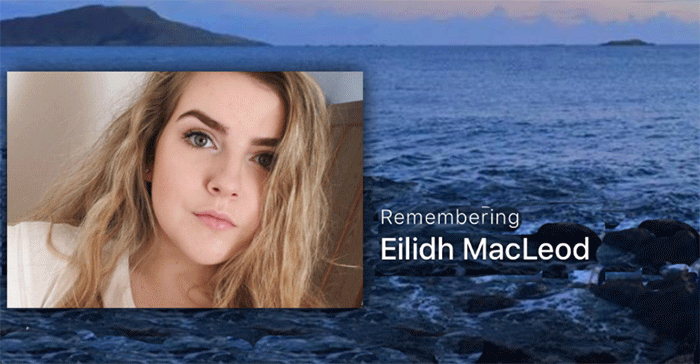 The Eilidh MacLeod Memorial Trust has teamed up with North Uist-based Hebridean Candles to produce unique island floral scented products to support the work of the music-based charity, writes Iagan MacNeil.
Released just in time to light up the winter months and to ignite memories of island summers, the new Island Girl scented candles and wax melts have been created to capture the spirit and character of 14-year-old piper Eilidh from the Isle of Barra who was a victim of the 2017 Manchester Arena attack. The floral combination brings together Eilidh's favourite places and is intended to reflect summer, coastal strolls and machair walks.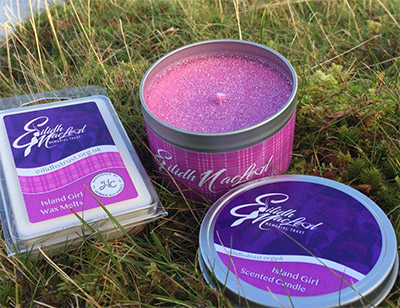 The Island Girl scent has been developed by Hebridean Candles with input from Eilidh's family, the first collaboration of this kind by the family-run business. It is a blend of gorse (a smooth creamy scent with the character of coconut), bluebell (a light fresh scent often described as a green-floral) and honeysuckle (a heady floral to represent the glory of summer machair flowers).
Candles and wax melts, made from sustainable, biodegradable and cleaner soy wax, can be bought directly from Hebridean Candles via their online shop. Candles are priced at £12 and a pack of six wax melts are £7.
All profits from the sale of Island Girl products will go to Eilidh's Trust and help further their work with young musicians. The trust was established in 2018 and supports music education for young people, reflecting Eilidh's own love of music and ability and enjoyment as a piper with the Sgoil Lionacleit Pipe Band. The trust will also manage and maintain a permanent memorial to Eilidh and a garden of remembrance and reflection on Barra.
Robin Spratt of Hebridean Candles said: 'With the close involvement of Eilidh's family, I feel we have created a scent that captures many of Eilidh's favourite places and reflects the beauty of her island home. We are very happy to support the work of the trust in this small way.'
Founder of Eilidh's Trust, Suzanne White, added: 'With the winter and Christmas ahead, what better way to bring some light and summer cheer to our homes than this amazing new Island Girl scent. By doing this, customers will be supporting our valuable work with young musicians. We are grateful to Hebridean Candles for creating a beautiful island floral combination that we know will appeal to many and create memories of island summers – a time of year that Eilidh loved.'
2021 Kids with Cancer Charity Concert goes Pay Per View
Fundraising for charity has always been an important part of the pipe band community and it was such an occasion that was actually the only major pipe band event to take place in Northern Ireland in 2020, writes Gilbert Cromie.
That was the third annual Kids with Cancer Charity Concert which took place in the Royal Hotel, Cookstown, Northern Ireland, on Saturday 22nd February. It raised a record £14,165 to make a grand total of £31,520 contributed over its three years which is an outstanding achievement by any standards. 
I am delighted to report that organiser Gary Smyth and his team have decided that raising funds for the Children's Cancer Unit in the Royal Victoria Hospital in Belfast is too important to be beaten by the Covid-19 restrictions. They have decided to go down the online route for the 2021 event which will be screened on Saturday 20th February 2021 from 7.00pm.

The line-up of solo performers and bands who have already agreed to submit either pre-recorded performances or perform live are drummers Steven McWhirter, Gareth McLees, Steven Shedden, William Glenholmes, Graham Brown, Kerr McQuillan, Jamie Coffey and Jordan Baillie. The piper's line up will include Lincoln Hilton, Stuart Liddell, Robert Watt, Andrew Carlisle, Ashley McMichael and Ryan Cupples – Menendez.
There will also be appearances from the newly promoted Grade 1 Closkelt Pipe Band, the Ravara Grade 2 World Champion Drum Corps, the Grade 1 West Australia Police, Tullylagan the 2019 Grade 3B World Champions, pipers from the Matt Boyd Memorial and the County Armagh Drum Major class. 
This PAY PER VIEW event will cost £20 per person and to achieve anything close to last year's record lift they will need over 700 to contribute which I am confident that the pipe band community can achieve particularly when this and many other charities have been struggling to fundraise as they would wish due to the pandemic.
There will be no raffle or auction as in previous years so please support this concert and enjoy it from the comfort of your own home and help them support the children and their families. Further information can be obtained by contacting Gary Smyth on Facebook, texting 0781 4446 179 or to pay use the PayPal address kidswithcancer2020@outlook.com.
---
Blas Festival Online in November
Gaelic music will still be celebrated throughout the Highlands and Islands this November as the Blas Festival will go ahead online, with an impressive line-up of some of Scotland's best loved traditional musicians and singers, writes Katie Mackenzie.
The Blas Festival, which usually celebrates Gaelic culture and the thriving Scottish traditional music scene over eight or nine days of events in venues across the Highlands and Islands, will take place online over 11 days this month, via a variety of livestreamed and pre-recorded concerts, cèilidhs, workshops and other events.
It is hoped that with this year's festival being online, people from around the world will be able to enjoy, and support, some of the Highland's best musical talent from the comfort of their own home. Blas, which means 'taste' or 'sample' and is organised by Fèisean nan Gàidheal in partnership with The Highland Council, will take place from 20-30 November.
It opens with a brand new musical arrangement and culminating in a St Andrew's Night concert including performances of newly composed Gaelic songs inspired by Scotland's Coasts and Waters and a festival finale from Hebridean band, Beinn Lee. Whilst adhering to the restrictions due to Covid-19, the varied programme, which will consist of both ticketed and free events, will feature performances from various Highland venues, providing much needed work for musicians and creative practitioners, as well as offering musical entertainment to help lift people's spirits at this time.  
Opening the festival on 20th November will be a brand new, unique performance, arranged by multi-instrumentalist and producer, Mike Vass, featuring young people from Fèisean across Scotland. As part of a partnership with SEALL Festival of Small Halls, Dunvegan Castle on the Isle of Skye will host an evening on the 27th November with musicians including Hamish Napier, Su-a Lee, Lauren McColl with Gaelic singer  Eilidh Cormack taking the role of Bean an taighe for the evening.  
Other performances on the Isle of Skye, in partnership with SEALL, will take place from Braes Hall (26th November) and Sligachan Hotel (28th November) with other popular traditional musicians including BBC Radio Scotland presenter, Gary Innes and singer and harpist, Rachel Newton.  Sian will be joined by Trail West, who celebrate their 10th anniversary this year, with a livestream concert from Eden Court in Inverness on the 29th November.  
Other highlights of this year's Blas include harpist Ingrid Henderson's commission for Nature Scotland to celebrate the 2020 Year of Coasts and Waters featuring Ingrid alongside Anna Massie, Conal McDonagh and Megan Henderson with film, animations and images by Somhairle MacDonald, streaming live from Mallaig Hall; a birthday celebration for Gaelic singer Christine Primrose who will mark the occasion with friends including Gaelic singer Margaret Stewart, singer and box player Murdo 'Wasp' MacDonald and Highland piper and former Battlefield Band member, Duncan MacGillivray.  
As well as the main concerts and cèilidhs each evening, there will be daytime song sessions, music workshops, talks on various aspects of Gaelic culture, drama performances and film. Three online cèilidhs will take place with, among others, BBC Radio 2 Young Folk Award winner Josie Duncan and Hamish Macleod as well as Ingrid Henderson and Iain MacFarlane. The full programme and ticket info can be found at www.blas.scot.