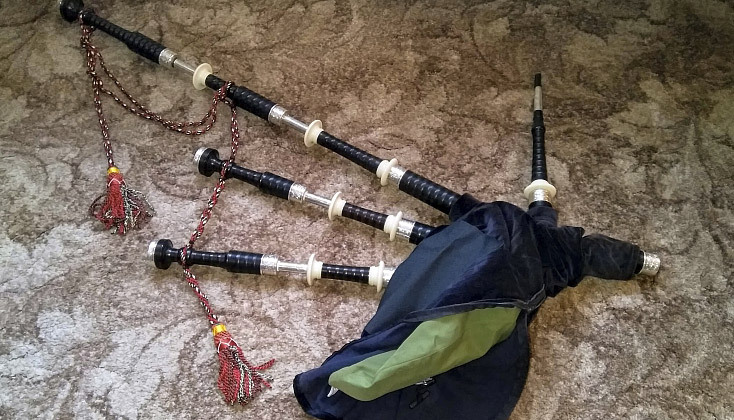 I'm selling my set of Inveran pipes, writes Iain Marshall, Oban. The pipes were were hand made around 2012 in the workshop of master craftsman P/M Brian Donaldson.
They feature African blackwood, imitation ivory projecting mounts, hand-engraved Sterling silver slides, ferrules and ring caps and are presently fitted with a Canmore bag with a moisture control system inside.
This is a fantastic sounding set of drones, which would be an asset to any piper who desires the highest quality. Check out the close ups:
More information and contact details on our Online Ads page here.
Iain Marshall is a noted piper. Taught by Evan MacRae and John MacDougall, Iain has won many top prizes at the Games in Scotland. He has retired from competition but keeps involved with piping volunteering his time at tthe Argyllshire Gathering and elsewhere.

In her book 'Highland Bagpipemakers', Jeannie Campbell states that Inveran House bagpipemakers was formed in the 1970s by Jimmy Tweedie 'a turner' with Wlliam Sinclair. His two apprentices at Inveran were Brian Donaldson and Craig Scott. Brian left the firm in 1978 for a career in the Scots Guards. He retired from the Army in 2000 and bought over the firm. He has since moved his business to the US.