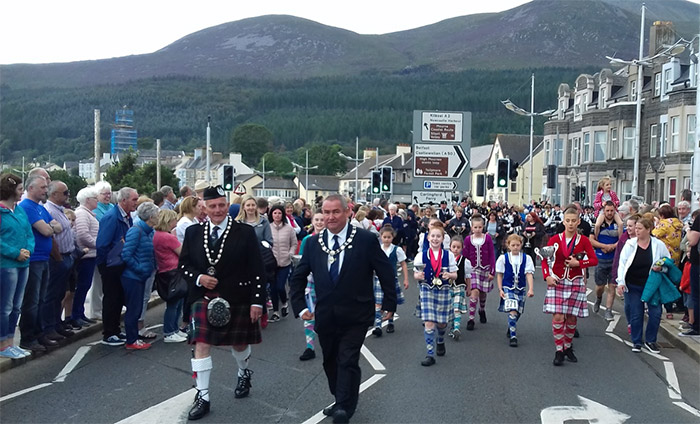 In normal times as we come to the end of August here in Northern Ireland, our competing pipe bands would have been reflecting on a season-ending trip to the seaside resort of Newcastle which would have hosted the NI Branch Champion of Champions contest beneath the magnificent Mountains of Mourne which, as the song says, 'sweep down to the sea'.
Sadly this has been anything but a normal pipe band season due to the Covid-19 pandemic which, with the exception of the Great War, has done what neither World War 2 nor our 'Troubles' could do – wipe it out completely.
Except or a few early season fund raising concerts and a solo competition in the Republic of Ireland which some local players competed in, the only major pipe band event was the very successful Kids for Cancer Charity event held on Saturday 22nd February in Cookstown.
A few weeks later, as many pipe bands prepared for the St Patrick's Day parades, the lockdown rules came into force and, as the severity of the pandemic became more evident, the restrictions on travel and the numbers allowed to gather together brought about the cancellation of all band practices.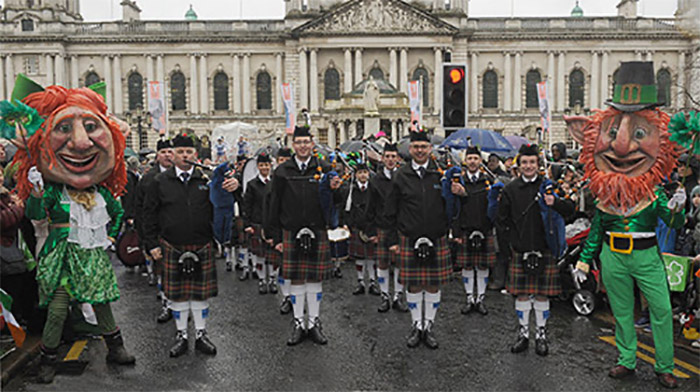 In the same way as the rest of the pipe band world reacted, our pipers, drummers and drum majors, either individually or in small groups, were prominent throughout the 'Clap for Carers' campaign, while others took to Zoom for quizzes and social get togethers.
Reflections on our pipe band history and bands of the past were also extremely popular particularly through the 'We Love Pipe Bands' Facebook page while online publications such as Piping Press and local correspondents kept a level of interest going despite the inactivity.
The Music Service for Pipes and Drums ran an online competition while individual players entered some of the online contests, I am not sure the numbers competing have been great in that respect.
In addition, we all looked forward to the monthly output from St Laurence O'Toole which was brilliant; and just as good was the Tullylagan video to be found on their Facebook page which illustrates the level of talent and excellent tuition emanating from one of our oldest and most successful competing bands.
The Cleland Memorial from Bangor were involved in a 'Peace IV' project initiative with their local council involving 70 musicians and dancers from eleven groups across North Down. A piece entitled 'Wee Green and Blue Belle' can be seen on YouTube or the band's Facebook page.
As we moved into June signs of an easement came, and in early July it was announced that groups of 30 would be allowed to gather outside. This was a signal for some of those bands who traditionally take part in our annual marching season to apply for permission to parade.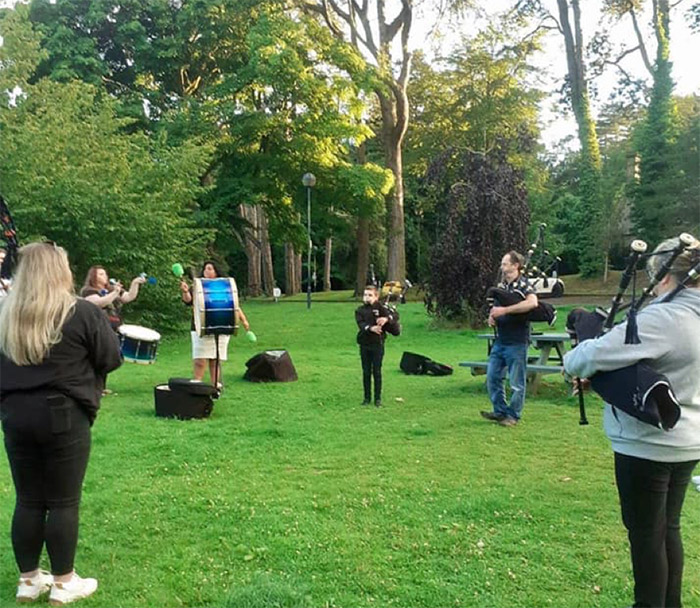 The annual Twelfth of July parades had long been cancelled but many of the bands decided to bring the Twelfth to their supporters by parading within their own areas. A number of pipe bands took part in this initiative while others gathered at their local halls to play a few tunes.
Throughout July and August there was increasing evidence of pipe bands returning to practice or playing at nursing homes, with Cleland Memorial, Cullybackey, Major Sinclair Memorial, McDonald Memorial and Tullylagan amongst those posting pictures and videos of their gatherings.
It seems from what's available on Facebook (and not all bands use it), that most of the bands attempting practices were from the lower grades or indeed non-contesting bands – although I am aware that the drum corps of Ravara has also been practising.
On the 20th of August things suddenly changed when the Health Minister, a piper and piping enthusiast himself, announced that following an increase in Covid-19 cases, the limit on numbers gathering outside (excluding sporting activities) was to be reduced to 15 and numbers gathering inside down to six. This change effectively scuppered any plans bands may have had to get together before the dark and colder evenings return.
Looking forward, the NI Piping and Drumming School and Music Service for Pipes and Drums have both advertised that they will be pursuing online tuition at various levels, and I assume that the RSPBA NI Branch College will follow suit.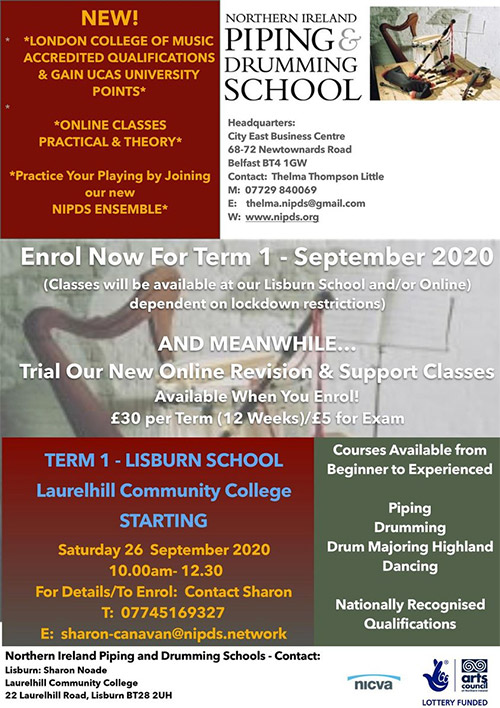 Will there be a 2021 season? This is a question in the thoughts of many pipe band practitioners and enthusiasts, and with a recent statement suggesting that a vaccine may not be available until at least 2021, there have to be major worries about whether it will happen. Looking forward I can envisage numerous obstacles which the pandemic creates for bands, the RSPBA and its Branches.
The following are some of my personal thoughts relating to Northern Ireland which I am sure could apply to other areas. Some may well disagree, which is fair enough, but I imagine others may well be able to add to them.
Resumption of practices: Obviously the safety issues associated with the playing of bagpipes needs to be addresse. However, assuming that it is deemed safe to practice, there could still be problems with some practice venues. Few bands have their own premises, therefore the schools, churches and other organisations where band practices tend to take place may not be keen to hire out facilities given the cleaning protocols required for their own pupils, parishioners or members. This could prove to be a difficult situation for many bands.
What will be the challenges for the 2021 contest season? If bands can get through the winter's practice, then the question has to be what will the contest season actually look like? I raise this point because I have doubts if local councils, who I believe have generally been our main sponsors, will be as generous as in former years.
Over here in Northern Ireland some of them, indeed possibly most of them, have been paying five figure sums per event. It has been reported that many of them are now carrying serious financial deficits which will have been made more severe due to the pandemic. If numbers attending contests are to be restricted – a distinct possibility – it may not make commercial sense for them to provide such support.

If that were to come about, then the question would be whether the NI Branch would be prepared to organise competitions on the basis of reduced or indeed no sponsorship.
Addressing the NI Branch itself, consideration has to be given to the fact that many of the officials are in the same 'senior' age category as me and there could quite possibly be some who have been 'self-isolating' and others who may not be comfortable volunteering at competitions during the pandemic.
NI bands attend a number of the RSPBA majors elsewhere in the United Kingdom, and the Worlds in Glasgow has become a traditional weekend trip for many. Travelling to Scotland presents a problem if the coach industry is not fully up and running. Who really would be comfortable travelling in a packed 50-seater coach for up to six hours or more?
'To lose another year would be a complete disaster for the member bands because some players, particularly the younger ones, may lose interest and seek out other recreation activities……
As long as this pandemic continues the chances of the Worlds being anything like it has been since the 1980s is remote simply because overseas bands will be reluctant to make the trip, whilst travel embargoes and potential quarantine rules would create an impossible barrier for those who would contemplate it.
A 2021 contest season at home? Considering my previous comments, and on the basis that the pandemic will remain with us, it is my opinion that any 2021 contest season will most likely be locally based. If indoor solo competitions early in 2021 are cancelled, it might become an option to run them outdoors in connection with some local band contests. This is something that hasn't happened here for many years.
To lose another year would be a complete disaster for the member bands because some players, particularly the younger ones, may lose interest and seek out other recreation activities.
'In some instances bands may also have to bite the bullet and participate in parades of the host towns as an extra attraction and a means of thanking the local ratepayers for their support.…….
For any band contest to be successful a whole new set of operating procedures will have to be put in place to safeguard players, officials and spectators alike. If councils are to be encouraged to put decent levels of investment into the contests, the attendance of Grade 1 bands would be important, maybe essential, in order to encourage maximum attendance and improve the commercial attraction of the event for the sponsors.
In some instances bands may also have to bite the bullet and participate in parades of the host towns as an extra attraction and a means of thanking the local ratepayers for their support.
In conclusion, I feel it is important that the NI Branch starts planning for the 2021 season immediately due to the fact that they will be trying to operate in a pandemic which requires the active involvement of its member bands.
Indeed not only are suggestions and support required, they should encourage any members who have experience of dealing with Covid-19 in their workplace and elsewhere to assist. Over the coming months protocols will have to be developed for safe performances and the accommodation of spectators.
The approach of the local councils in respect of sponsorship will need to be gauged as early on as possible because it cannot be assumed that they will provide the same level of support as before. We are now in an uncertain period and it is important that if there are to be shocks along the road these are identified early on and alternative avenues pursued.
The NI pipe band scene not only involves bands but it has a number of long established businesses which supply instruments, uniforms and accessories and who have regularly sponsored contests. They sustain a number of jobs so it is important that we have a competition scene to assist them as well.
Would you like to comment on the worrying scenario in Northern Ireland and elsewhere? If so please leave your comments below.
---