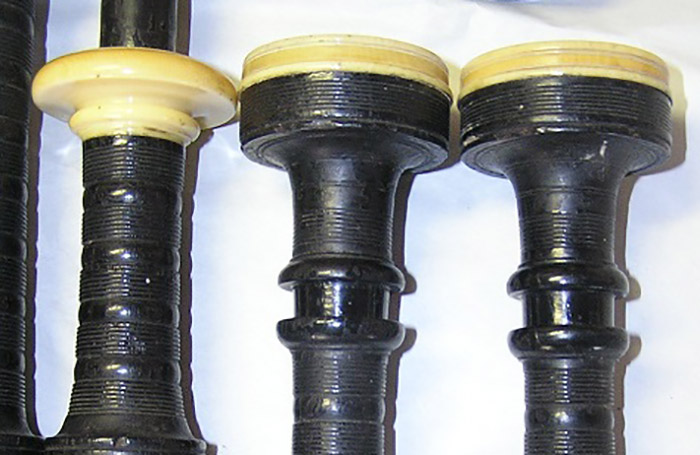 Piper Steve Rooklidge of the Shasta Piping Society in California has acquired a new set of pipes during the lockdown and is looking for some help with the ID. Steve writes: 'A set of drones has come into my possession that I can't identify and I wonder if any of your readers might know the maker by the attached photos.
'They are currently at Dunbar Bagpipes for restoration, and sadly no chanter was included to help narrow the field. The mounts are celluloid and the drone tops are nothing like I've ever seen before.
'I hope someone among your readers has seen or owns a similar set.  A definitive ID of the maker has so far eluded me.' Can anyone help Steve? Please leave any suggestions in our comments box below. Check out the detailed pictures:
New teachers' initiative by piper, instructor, composer and arranger Craig Muirhead: 'This Thursday (tomorrow, July 2) at 4.30pm, Strathallan School are hosting an online forum for piping instructors to discuss how things might look after the summer break in the midst of the Covid 19 pandemic.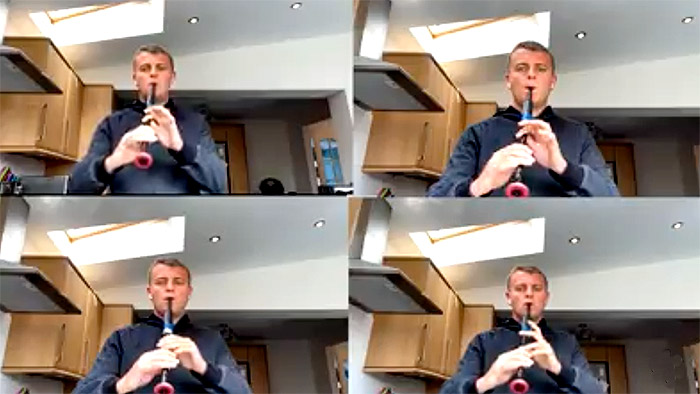 'Thoughts have already turned to next term and how we can offer piping tuition in a safe way for both ourselves and the pupils. I have invited John Hughes and Dr Robert Gray to answer any questions instructors may have.
'I know it's the first week of the summer holidays for most, but it's pouring rain outside so it feels like a good time to do it! Tutors from all backgrounds, schools, bands and other organisations are welcome to join in and should e-mail Alison Duthie our marketing secretary if they'd like to sign up (marketingsecretary@strathallan.co.uk). I would envisage the session lasting around an hour.'
Latest round of Covid cancellations: Germany's BAG School at Burg Breuberg, Northern Winter School scheduled for November also in Germany, Chatsworth Games in September, plus Colchester, Corby, Harpenden & South Gloucester Show, all in England, and Winter Storm, Kansas (Jan 2021).
Let's stay positive: the Argylshire Gathering/ Highland Society of London are running their MacGregor Memorial contest. The Glenfiddich will happen at the end of Oct but with an online audience. Aboyne Games have their own online piping. And Irwin Nathanson reports from upstate New York: 'My band resumes practice next week after four months of shut down. Practice will be outside, limited to 25 people.  All parades here in Up-State NY cancelled this season, same for all Highland Games.'

Piper Caitlin Macdonald: 'I've been putting together a music video [see above] with a school band, Garnock Valley Pipes and Drums in conjunction with Garnock Community Campus Music Department, that pays tribute to key workers who've kept us going during troubled times. 
'The band are very young and new to the whole piping scene but are a great little team that love to keep morale up, especially during times like this with lockdown and the schools being shut!
'I just thought I would send the link to you and see if you would maybe share it on Piping Press? It would be much appreciated, and the kids would absolutely love to see their video being shared amongst the piping world!' 
The East Lothian Courier reported: Haddington Pipe Band has raised more than £1,000 to support the town's Community Kitchen. Band trustee Alastair Bruce said they were delighted to help out in what were challenging circumstances for both organisations.
The pipe band, which has been 25 and 30 members aged from nine to their 80s, would usually be performing at galas and civic celebrations throughout the county at this time of year. 'We were obviously going to miss all these pipe band events,' he said.
'We came up with the idea of having performances in our gardens Saturdays at noon and to keep playing to cheer folk up. We started doing that and got a couple of weeks into it and were aware of what our Community Kitchen was doing. '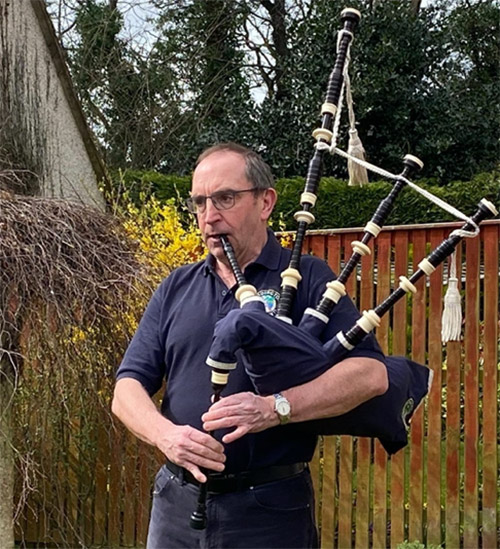 Mr Bruce said the pipe band decided to use their weekly performances as a fundraiser for Our Community Kitchen and set up an online fundraising page. An initial target of £500 has been shattered, with the fundraising figure breaking through the £1,000 barrier.
The Community Kitchen is delivering meals to the needy four times a week. Founder Elaine Gale, said: 'Every Saturday, the band's members play in their gardens or the street and people donate. They have raised more than £1,000, which is unbelievable. I go out and listen to them and it just makes me feel really, really happy and quite tearful and emotional to be honest.'
To support the project go to justgiving.com/fundraising/secretary-haddington-pipe-band