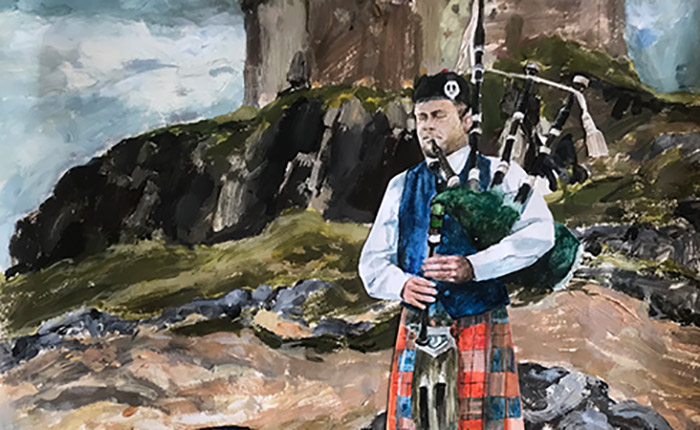 Mull-based artist John Archbold has submitted the above for our lockdown painting challenge. John writes: 'A piper friend of mine wondered if I would be interested in entering. So here it is. Title – The Chief's Piper at Duart Castle; Medium – Mixed Media; Size – A2 (59 x 40 cm approx.). The piper is Calum MacLean, Tobermory.'
John's bio reads: 'John Archbold DA (b. 1954) Studied at Glasgow School of Art in Drawing and Painting. In 1977 he was appointed Itinerant Teacher of Art and Design for the Isle of Mull. In 1983 he was appointed Principal Teacher of Art and Design at Tobermory High.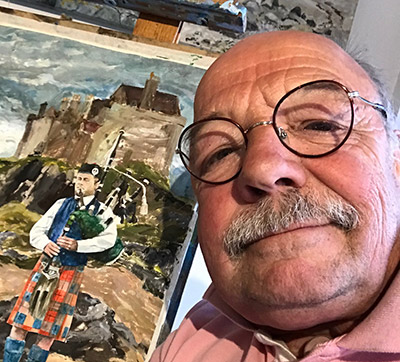 'Throughout his teaching career spanning over 30 years he has always kept developing his own work through drawing and painting. Archbold's work adopts the bluer light of the Hebrides and the rich variety of texture and colours presented by the sea and shore. He believes he takes an 'honest stance to his subjects', which has resulted in powerful statements about the land and seascapes of Mull which he has now adopted as his own.'
John's work will be submitted with all the other submissions to our painting judge Robert Mathieson. There's still time to enter all our Lockdown contests for artworks, essays and new tunes; usual email. Here's John's painting in full size: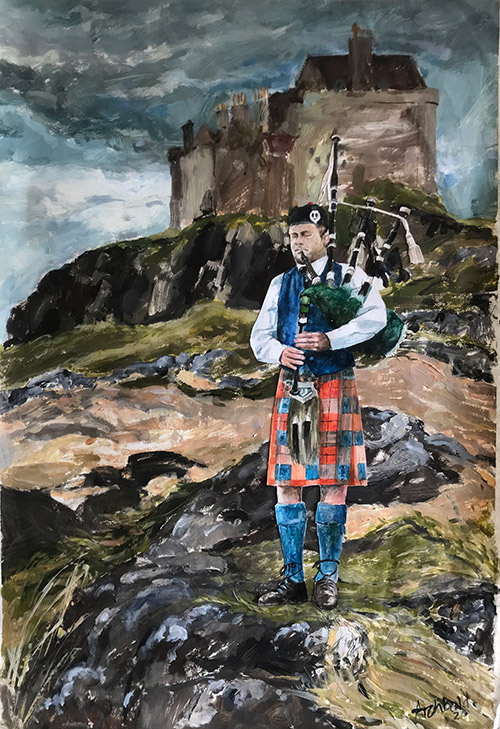 I still find it hard to believe that there won't be ANY live solo or band events this summer. In England lockdown restrictions are far more liberal than in our wee, currently benighted, country. But even with that, why can't there be a solo contest in a Scottish field somewhere with distancing for pipers and listeners say from August?
Is it really beyond our whit to stage some sort of pipe band display along the same lines? Witness the military band playing at the Trooping of the Colour at Windsor last weekend. I think we have been terribly quick to cancel everything. We have all of July, August and September to go before summer ends.
I've probably got this wrong, but from memory Phase 4 of our lockdown easing starts on August 11 when 'Gatherings and occasions: Mass gatherings could resume in line with public health advice' and travel for leisure is allowed.
Reader Ian Forbes has supplied this apropos disinfecting: 'The British Army have been using Citriodiol Spray as a protection against Covid-19. 'It's a lemon eucalyptus oil extract previously marketed as an insect repellent, and was shown to be effective against the SARS virus (another coronavirus).
'The advantage is that it is a spray which is safe and can easily be used in outdoor settings. It can be used on skin, and could also be used on objects that are being touched regularly. Porton Down have been asked to look at its effectiveness in a new study, but to my knowledge they have not yet reported results. It could provide extra protection for pipe band personnel.
More here.'
---
A reader has come across this newspaper clipping from the Scotsman: 'If it was your life dream to be the first to play bagpipes in space – sorry, Kjell Lindgren is the first to gain that accolade as he played Amazing Grace on board the International Space Station, as a tribute to a colleague [a Dr Hurst].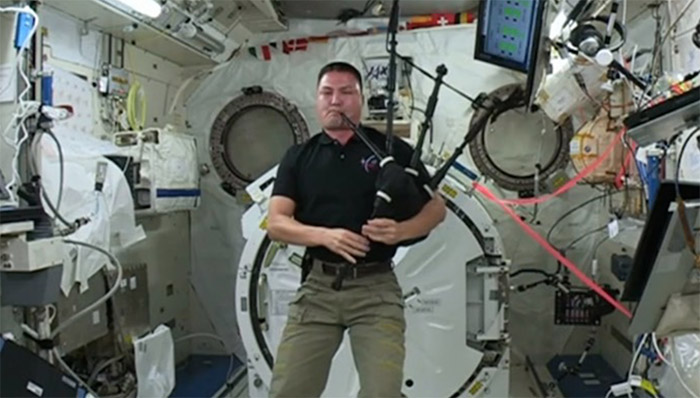 'The bagpipes were made by McCallum Bagpipes, based in Kilmarnock, Scotland. Kenny MacLeod, the proprietor, was delighted that his pipes became the first to be played in space. Mr Macleod told BBC Scotland the 42-year-old astronaut had got in touch two years ago to say he was going to the space station and wanted to play the pipes while he was there.
'In a video recorded in the last few days, Mr Lindgren said all of them had come into contact with Dr Hurst during their training and were 'shocked and saddened' to hear about his death. Dr Hurst worked for US engineering company Wyle Science as a research scientist and instructor.'