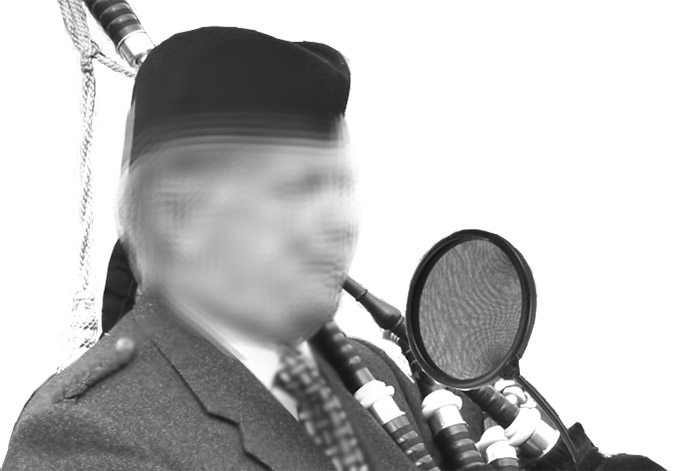 A new report by the University of Munich in Germany offers scientific based advice for singers and musicians which will be relevant for pipe bands and solo pipers.
The report, which does not mentions bagpipes specifically, recommends the use of 'pop' screens, the small, thin circular barriers used on microphones, distancing of 1.5 metres, regular wipe downs of instruments, staggered arrangements for players.
The reports conclusions read: 'Our quantitative measurement results show that the dispersion of droplets when singing and making music with wind instruments is in general relatively small. A safety distance of 12 metres is therefore completely exaggerated.
'However, when singing, the safety distance should in any case be greater than 1.5 m, in order to be largely safe even when people in the vicinity are coughing without observing the rules of hygiene (cough into the crook of your arm and turn away from other people).
'In addition, a staggered positioning of the persons is recommended, as this increases the distance to the person in the direction of flow even more.
'To be sure that the spread of droplets and aerosol is contained, popscreens are highly recommended when singing. In our opinion, this popscreen is absolutely necessary for a transverse flute in order to allow safe playing at moderate distances.
'For the oboe, clarinet and bassoon we also recommend the use of a popscreen for safety reasons. According to our measurements, the large brass instruments are not able to influence the flow over a large area and therefore these instruments can be played without protection.
Watch the video on the report:
'However, we recommend to let out the condensation water more often under consideration of the hygiene standards and to wipe the woodwind instruments as often as possible.
'In addition to these protective measures, which each musician can control himself, it is also very important to ensure that the room is sufficiently large, well ventilated and provided with sufficient fresh air. The automatic fresh air supply should be significantly increased compared to the legal requirements in order to keep the virus load in the room low. An open window cannot replace a high-quality automated fresh air supply.
'If the findings and recommendations derived from our quantitative measurements are taken into account, then making music in a community should be relatively safe.
'However, there is of course no absolute certainty that droplet infections or infections by aerosols are completely excluded by these measures. Risk groups and people with relevant previous diseases should therefore protect themselves as well as possible.
'We would like to point out that we consider compliance with all recommendations to be important in order to minimize the probability of infection. If individual recommendations cannot be followed, e.g. because no suitable room is available, what should be done? It is better to find another room that meets the requirements or to stop singing in the choir than to do without individual protective measures.'
Read the full report here: