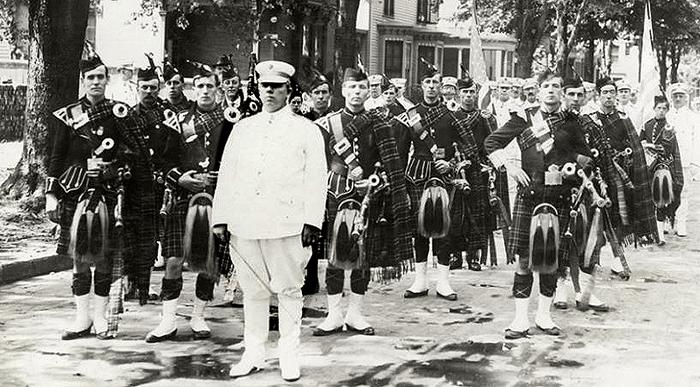 Following on from our articles on the Ford Motor Company Pipe Band and the Detroit Highlanders, correspondent Steve Thomson has forwarded another great picture (above).
Steve writes: 'This one from a parade in Detroit in 1910. Not sure who the players are (perhaps some of your intrepid readers will assist?). At that time these are likely immigrant Scots. The local St Andrews Society here [in Detroit] was founded in 1849 and has held Highland games ever since.'
Yes, the band certainly looks like a bunch of underfed Scots just off the boat Steve. I am sure America wouldn't have been long in fattening them up.
A fitting memorial service for Bruce Thomson at the weekend. Fitting too that it should be held on the day of the Scotland v England Calcutta Cup match given that Bruce was a former Scottish rugby internationalist. Those arriving at the Fowlis Wester Kirk near Crieff were welcomed by the organ playing his outstanding 2/4 march, Tommy MacDonald of Barguilean.
Members of the Royal Scottish Pipers Society were out in force and their Honorary P/M Gordon Wallace played Lochanside and When the Battle O'er as the congregation left the kirk.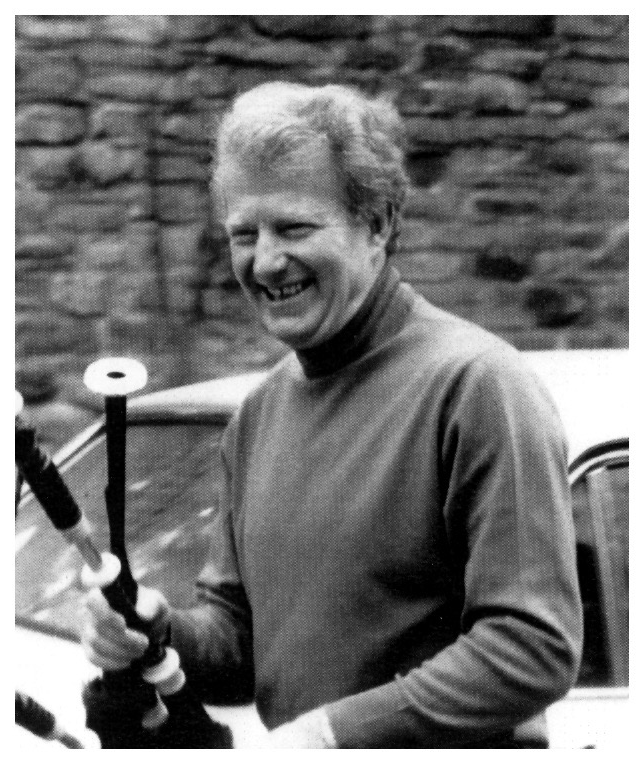 There was a heartfelt eulogy by Bruce's son James. He talked of his father's energy and drive, his predilection for sea bathing in all weathers, his self built homes in the Dordogne and Ireland, a new life once retired in Perthshire, and his stoicism after losing his first wife and a daughter to cancer.
Walter Gray then stepped forward and delivered a poignant tribute from the piping community. Bruce had composed more than 400 tunes said Walter, and these remained his outstanding musical legacy to be enjoyed by future generations of pipers. More than anything he was a true friend, a loving family man and modest to a fault.
---
---
Logan Tannock writes to say that he has just been installed as the new President of the Scottish Pipers' Association. Congratulations to Logan. I am sure he will uphold the best traditions of the SPA, in particular their convention of offering open competition to all levels of piping from juniors to amateur and professional.
Of last Saturday's SPA KO heat, Logan writes: 'On Saturday we hosted the Knockout Semi Final with Steven Leask and John Patrick. Both pipers gave great performances but as always there can only be one winner and when the votes were counted John Patrick was declared the winner and advances to the final where he will play against either Calum Beaumont or Stuart Liddell.
'They go head to head on Friday 6th March, an evening which I'm sure will have more fireworks than Guy Fawkes Night. I've attached some photos from the evening.'
---
The RSPBA have confirmed that their 2020 Summer School will take place in the pristine new surroundings of the new HQ building in Washington Street. No need to hire an alternative building any more – the Association's six-figure investment is paying off already.
The school is entitled 'Back Home' and the Association are expecting a lot of interest so book early. The school runs from Monday 3rd August until Friday 7th August, the cost for tuition £150 (£90 bass and tenor, Weds 5th to Fri 7th). Register here.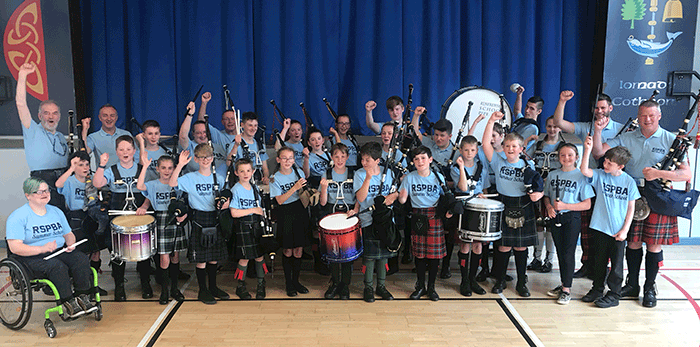 Pat Whelan, RSPBA Education Officer, writes: 'This year we are introducing 'The Chanter Club' and 'Stick and Pad Gang' for young people who are in their first year of learning to play pipes or drums. The second innovation is to introduce a ring-fenced Adult Summer School with a dedicated instructor.
Anyone who requires more information should contact Pat on 0141 221 5414, or by email at pat.whelan@rspba.org
---