Some say his Paisley pattern tie should be outlawed, and we know that for this heathen St Mirren should never have been beatified. One buddy he does have is his notebook and we are grateful that once more he is able to add to Piping Press's unsurpassed coverage of the pipe band majors….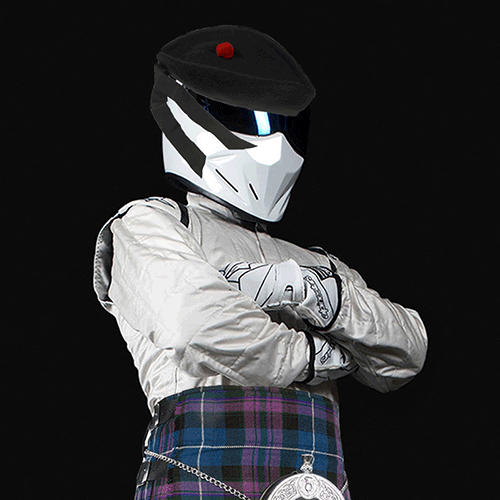 Come on now. A week or more of warm temperatures without rain and the British Pipe Band Championship at Paisley was like the polar opposite. Polar might have been a reasonable description and my hands have just about recovered from a biting wind chill. This was always going to be about survival and which bands could best deal with the conditions.
The cooler temperatures in the early morning might have been simpler to deal with than overcast skies, moisture galore and still 10 degrees cooler than Friday had been. This was all about getting it done and moving along.
Fewer vendors than last year and I felt for the gelato truck in the circumstances. Add to that a broken coffee maker at one of only two supplying caffeine, and it was a lengthy queue to pay £5 for four doughnuts and 350p for a macchiato. Ah yes, it's all culture and vaperetto in Paisley.
Firstly, my thermal hat off to the P/Ms, P/Sgts and teams of tuners simply trying to keep on top of instruments being hammered by unstable conditions. It was almost the same for all and with capes out, and spectators using the tented areas to avoid the smatterings of rain, this was not optimal and at some times thoroughly unpleasant and a game of attrition. And I'll get to the scores later.
[wds id="2″]
Before Grade 2, I did pick up on some of the Juvenile Final (five bands) and the 3B March, Strathspey and Reel Final (kicking off at 11am). Thirteen bands in the latter and some good music for the hardy few who watched on. Interesting to note the piping adjudicators were as one on the top six, but hold that thought.

The RSPBA digital team was freezing its hands off posting the first minute of Juvenile and Grade 2, with full video now on line. Great effort and much appreciated. It was too cold to consult Twitter most of the day.
First up in the marathon Grade 2, Kilchoman Isle of Islay and brand new bass drum heads making their debut. I did recognise elements of the Medley from a year ago and a bit of refresh in tunes and players too. The premature early jump didn't help but by the time The Kesh Jig was nearly done it settled, and there was a bit of adjudicator scribbling for the Devil in the Kitchen strathspey to reel transition – and it was drumming related.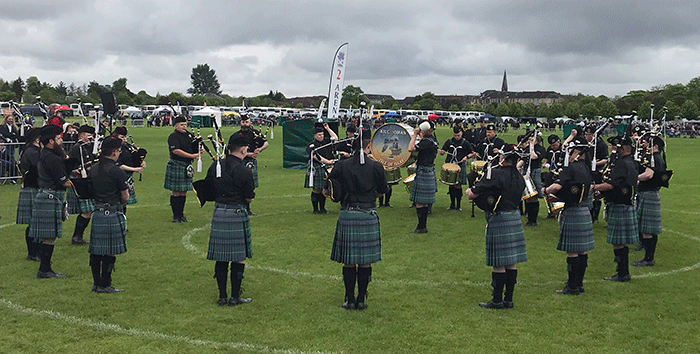 I did see a well kent judge, not on duty in this one, taking in part of the grade and enjoying Islay. Nice assistance from the steward for the tenor drummer in the plaster cast who stood solo at the beginning and march off, with the cast matching the kilt too. Drumming was not to be and the snares sounded flat from my vantage point. Hit the bar on a placing (7th) and in another year would have been nailed on silverware. (6 5 13 5).
At this point the helicopter hovering nearby was making a bit of a racket and thankfully was away by the time the Royal Burgh of Stirling came around the corner. Talking of getting away, a second ranker didn't but the band settled by Skye Jig, having been a bit nervy beforehand. Better Days followed, yes the tune, not the result. A bit of freelancing in an otherwise neat slow air. I noted in the old book 'busy snares and some nice work in the corps'. Exemplary bass with nice timbre. (15 17 5 15) reflecting the good work in drumming.

After missing the Dundee competition last week, City of Discovery (another artistic bass head with the new V&A on it) launched with the Siege of Dubrovnik in stately fashion. A lot of medley changes from previous years and the highlight for me was Haitian Sensation, even if it did lack a bit of drive in parts. With work it will be better. A crisp ending with RattlenRum. A prize for the young tenor drummer perhaps making his debut. (8 9 10 9) for 10th on the day. Silverware must be the target going forward.
Wallacestone & District posted the shortest list of tunes in the programme, but full of clever content. From Gladiator to The High Drive it all sat well together but the sound wasn't there and it wasn't going to be resolved during the run. There was a fair bit of freelance piping at one stage but they managed to get back on track in the slow air. The reprise was mercifully short as they reached the end. 'Not one to trouble the list today' was my immediate thought but I was surprised to see them propping up the table. (18 14 16 18).
As a complete contrast to the band on before them, City of London crammed in a lot to their medley. More transitions to work on with additional risk, some basics that the Juvenile bands I heard earlier simply deliver and much more concentration required. However, the combinations grew on me as the Medley progressed and it's great when there are a couple of tunes that you can rake out of the old memory. Good ending from a nice Tail Toddle to Mrs MacLeod of Raasay. With reprise. Could do with a bigger mid section to complement things but good work in progress. (9 18 15 16) – noting they scored higher from one corner in piping, than the winner.
Earlier I scouted around Closkelt as they warmed up. A quality sound from the off and the point being it didn't waver through a couple of hours to the performance. The set up was just right. The run of tunes from Four Courts, Swallow Tailed Coat, through to a crescendo in The Thief of Lochaber was enough for me to have them on the list. Just a matter of where, not if. They took the British title (13 1 2 2) and might well be scratching their heads too. I'll be listening to the recordings closely again to try and find what I might have missed. I had them up there as the ones to beat.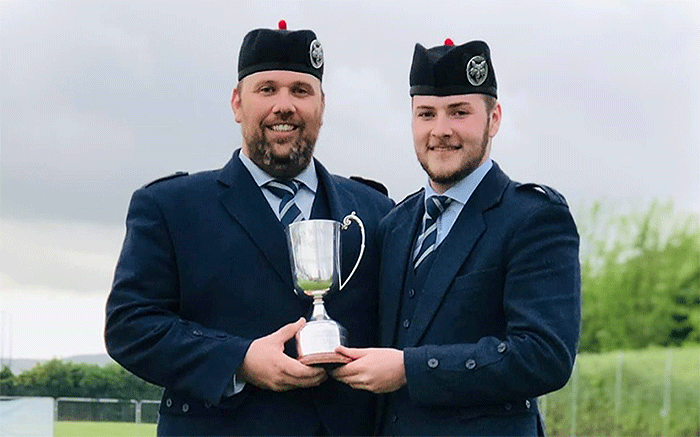 I also sought out Manorcunningham warming up. Impressed with their focus too. The highlights for me were The Cliffs of Doneen and the close out tune Big D MacPhee was ripped big time. Gordon Cardin has a good outfit here and placings will beckon further into the season. The roar straight into the snares, after the rolls, was very effective with good dynamics throughout. The drums at peak ping. Third place (4 13 4 4) and I'll be listening again.
Oban, not to be confused with Oban High School, next up in the MacLean of Duart, with a tidy introduction of Mr & Mrs J Duncan's Golden Wedding Anniversary 2000. Which takes as long to say as it does to play. Tidily through the list and Ballindalloch stood out in a decent piping set up. Not short of a few minor issues but good to hear the band. The bass boom was a bit sonic from time to time and may have contributed to a poor drumming outcome. A well appreciated Medley. (7 4 17 17) – in piping, the combined Oban score beat the top three. Yes it did.
Apparent nerves from the new G2 challengers Uddingston Strathclyde after a win at Gourock last week. The pipey didn't bring the band to attention until reminded, and it may have distracted. It won't be the run they wanted and I was disappointed thinking they would be straight into my book as hopefuls in the drumming – a corps of 15 all in. The pipers took a little to settle into a very musical Wiseman's Exercise.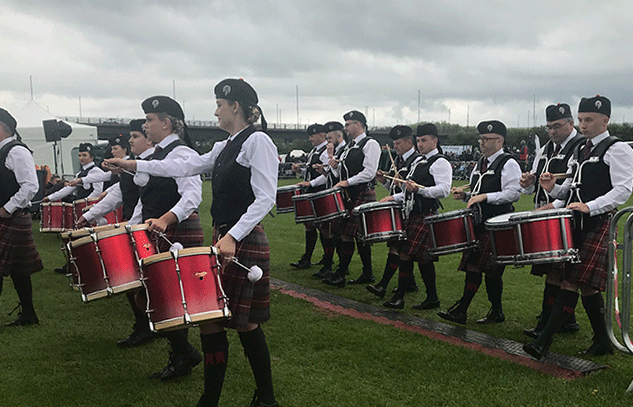 This was also a packed Medley with plenty of transitions and potential pitfalls. Nelson Mandela to close was punchy and certainly underscored the direction. I'll be interested to hear their March, Strathspey and Reel in due course. (17 16 7 11) for 14th.
The first outing for Highland Granite, with all kit now in order, resplendent in their new tartan. Scott Oliphant knows what he is doing and what he wants and there was a very clear link between P/M and lead tip. Often that is amiss, the two 'corps' are doing their thing, and it just happens to come together by accident. The drum score could drive on in my view and is a bit away from the quality of the piping. In the move from Curlew to I Have it Somewhere there might have been something going on – perhaps a premature mover, but it settled and the run to the end via Lochaber to Argyll and closing out with An Drochaid Chluiteach was well presented.
A good debut to build on in my book. (1 12 9 8) will give some hope, or confusion in piping, and perhaps the sheets are forthcoming as to why. I didn't think it was 1st or 12th.
New Ross & District were quick out the gate with a very traditional Medley start with Calum Beag, Redcoat and through in what seemed like no time. The Lexy Macaskill was great from the drum corps – as an aside, the best set snares in my view. (16 11 3 12)

P/M Wilton with his first major for Mackenzie Caledonian had certainly tightened up the medley I heard last week at Dundee. More assured and 'together' but it fell away in parts, other elements good though. For me the highlight was A Jacobite March to the interesting We Were Poor but we Were Miserable. They can take comfort from a single score of three in piping and again the combined piping score (11) was enough to beat the top four. (3 8 12 10) for 9th Place.

More North East Scottish presence with Bucksburn & District kicking off with Gardens of Skye and rattling through their set. Nice strathspey playing in the Strathspey King – it set the tempo well and there was a real forward motion. (14 7 8 13) and 12th overall.
Buchan Peterson under P/M Peter Morrice, next up, looked full of business and clearly out to make a mark. In my view it was the most joined up performance with good light and shade. I'd have had the drumming in the top echelon for sure but thought the Closkelt sound was marginally ahead, but by a bus ticket width of difference. Beaten into second by one point (11 6 1 1) Piping will need to tighten up and the blowing did seem to hit a wall in the third quarter. They should be pleased with the result though.
Followed by near geographical rivals Portlethan who had taken the honours in Banchory last week. Full of vigour I had them on my list of six ahead of some other expected stars. The ensemble was tight and although the run into the slow air wavered, it came out the other side strongly to my ears. I'm not sure where the split piping scores arrived from 5 and 10 as I was at the better end of that spectrum. Drums were looser and I'd have cranked them up a notch, but the conditions maybe didn't allow that luxury. On the silverware list, edging Islay, PortL will be pleased to have landed there (5 10 11 3).
Sam Connolly's Ravara (10 3 6 6) finished fourth on 25 points, like ManorC and Annan – all separated by Ensemble Prefs. I had them in the cluster of the top third with a very musical medley. Again their combined piping score of 13 gives rise to who won piping (on a combined basis it was Annan on four). Neatly set and I marked them up as another season regular on the prize list. Silverware all season long. A very good second outing for Big D MacPhee to close. 
Royal Burgh of Annan, in the grade for the first Major of the season, caught my attention straight away. It was a good drone sound and well ahead of much of what I was hearing. The consistency was evident and the only score the piping adjudicators agreed on across 18 sets. Drumming will need to press on and tighten up, less being more. (2 2 14 7) for a place in the top six – 5th. A great day for the newly promoted band. The season just got interesting.
Scottish Fire & Rescue closed the grade with P/M Brownlow bringing his band on just after 4.30pm. The long wait can't have helped and it was a bit lacklustre from the start, and also a bit unsteady. I couldn't see how it would be pushed on from a slower tempo, which led to a bit of freelancing going on and a spiral. The young P/M will grab this and encourage the older heads around to dig in. I'm hopeful for an uptick. (12 15 18 14).
That was the day that was and I'm still looking at the summary sheet and wondering what just happened. There were four Ensemble Preference tie breakers on the list, including between 3rd, 4th and 6th. The winning score was 18, with three of the four judges totalling five. The best piping score of 4 (2 2) finished 5th overall. I leave you with all of that to ponder.
Next outing will be to Lurgan for the UKs in Northern Ireland for 12 of the 18 at Paisley, and adding in Colmcille, Worcester Kiltie and North Stratton who will all be welcome for a 15 band roster. The far flung travellers of Worcester might just about beat the combined distance and time taken by those travelling down from the North East of Scotland to Paisley. Over and Out.
[wds id="8″]