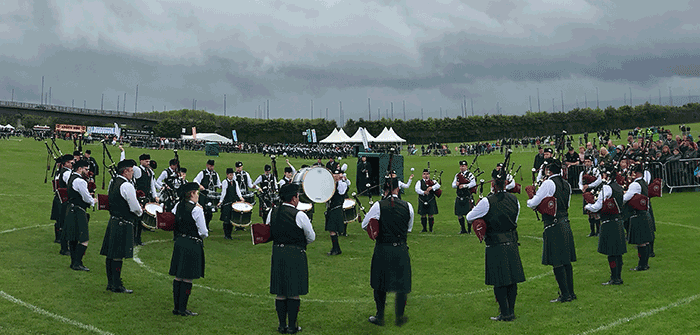 St Laurence O'Toole from Eire (pictured in the circle today) were declared the new British Pipe Band Champions today at a cold, grey St James Playing Fields in Paisley. Just over 120 bands entered for the contest, the first RSPBA major championship of the season.
The G1 prizes:
1 SLoT
2 Scottish Power
3 Inveraray
4 Boghall
5 Field Marshal
6 Fife Police
with the drumming going to SLoT.
Each band had to submit two MSRs, one of which was chosen at the line. The judges in Grade 1 were Cameron Edgar (ensemble), Maurice Rhodes and Bob Worrall (piping) and Paul Brown (drumming).
There will be more on Grade 1 from our Editor and other correspondents later.
---
[wds id="2″]
---
A hotly contested Grade 2 was won by Northern Ireland's Closkelt.
1 Closkelt
2 Buchan Peterson
3 Manorcunningham
4 Ravara
5 Annan
6 Portlethan
Drumming: Buchan Peterson
Stay tuned to PP for MacStig's exclusive take on this very competitive grade.

Other grades:
3a
1 St Mary's, Derrytrasna
2 Highlanders 4 Scots
3 Inverness
4 Stockbridge
5 MacKenzie Cal.
6 St Joseph's
Drumming: St Joseph's
3b
1 Turriff
2 Dunbar
3 Milngavie
4 Oban High
5 Scottish Borders
6 Arbroath
Drumming: Milngavie

Juvenile
1 Dollar Acad.
2 G Watson's
3 G Heriot's
4 Preston Lodge
5 Boghall
Drumming: G Watson's
Juvenile grade live on the RSPBA's YouTube channel
4a
1 Glenrothes
2 Lower Clyde
3 Augharan
4 Rothesay
5 Stirling
6 Stockbridge
Drumming: Glenrothes
---
---
4b
1 Edradour
2 Culter
3 Camelon
4 Strathendrick
5 Kilbarchan
6 Granite City
Drumming: Culter
Novice A
1 N Lanarkshire Schools
2 W Lothian Schools
3 Dollar Acad.
4 G Watson's
5 G Heriot's
6 Stirling Schools
Drumming: N Lanarkshire Schools
Novice B
1 Lochgelly High
2 St Columba's School
3 Renfrewshire
4 Kintyre Schools
5 Oban High
6 N Lanarkshire Schools
Drumming: St Columba's School
Get the full summaries here. Check out the RSPBA's YouTube channel for recordings from the Juvenile and Grade 2.
---
[wds id="8″]