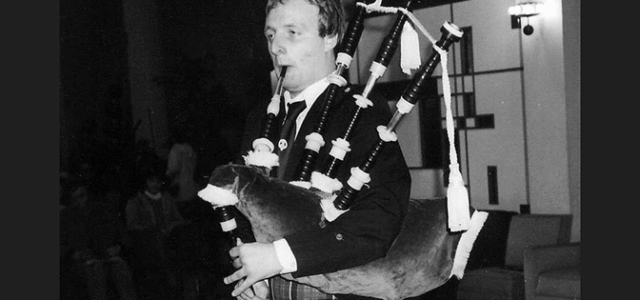 A new archive recording is posted today. It is from US-based Scot Donald McBride.
The excerpts Donald has sent are from a recital he made for the BBC in 1997. Donald is pictured above in 1980.
Donald is currently resident in Kansas City and recently underwent a serious hand operation.
We wish him well and hope he will be back to playing soon.
Donald was taught by his father in the Monktonhall Colliery Pipe Band and later played in Muirhead and Sons under P/M RG Hardie.
---
[wds id="2″]
---
He had solo instruction mainly from Donald MacPherson and then Andrew Wright.
On these recordings he plays on a 1970 Hardie chanter.
Donald is one of those experts who may not have a huge string of awards to his name but who plays as well as and better than many who have.
He begins with a Gaelic air then the hornpipe the Waterhole and the jig Stuart Chisholm's Walkabout by New Zealander Stuart Finlayson.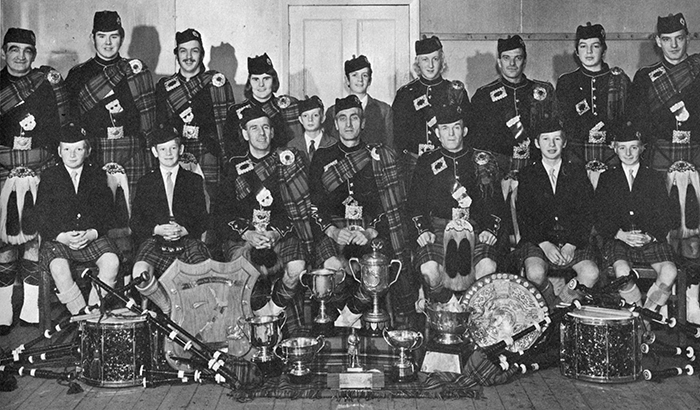 Two 2/4 marches, the Edinburgh Police Pipe Band and John MacDonald's Welcome to South Uist, follow.
Thereafter we have the strathspey Stuan Robertson and the seldom heard Captain Alex M. Fraser by John Scott. Captain Fraser was a stalwart of the Scottish Pipers Association. The tune can be found in my Glasgow Collection.
Two fine 6/8s, John Gordon of Drumuie and Sam Scott, by P/M Donald Shaw Ramsay and Peter MacLeod Snr. respectively, are next and then it is on to one of our shorter piobaireachd, Salute on the Birth of Rory Mor MacLeod.
Of this tune the Piobaireachd Society note in their Book 3 from 1930: 'In the [Campbell] Canntaireachd the name given is 'MacLeod's Dog Short Tail' [sic]. This grotesque title presumably is a mistranslation of some Gaelic phrase which perhaps an ingenious puzzle solver may be able some day to supply.'
Donald finishes with the jigs Donald MacLean, a version of the Jig of Slurs from the flute playing of Matt Malloy, and the Gold Ring.
Check out Donald and more from the PP Audio Archive here.
---
[wds id="8″]