The Northern Ireland Branch of the Royal Scottish Pipe Band Association held their annual 'Ulster Solos' competitions today. It was a very well run event, held in Lisnagarvey High School, Lisburn, with competitions for tenor and snare drumming and piping at all levels from chanter to senior.
There was also a qualifier for the World Solo Drumming Championship, the following going through to the finals on the big day at Glasgow Caledonian University in October: William Glenholmes, Jason Hoy, Gareth McLees and Matthew Wenlock.
Piping champion was Ashley McMichael of Field Marshal Montgomery Pipe Band (top). Ashley took first in MSR and third in Piobaireachd. He is pictured above with judges Alan Forbes, Robert Wallace and Glenn Brown. Runner up was Kris Coyle, also of Field Marshal with Ben Greeves of Drumlough third.
Editor Robert Wallace writes: 'Changes to this competition to bring it more into line with best practice in Scotland are to be welcomed. Competitors in the senior events had to submit three tunes and the final aggregate from the MSR and Piobaireachd decided the final overall placings. The Hornpipe & Jig did not figure in the overall result.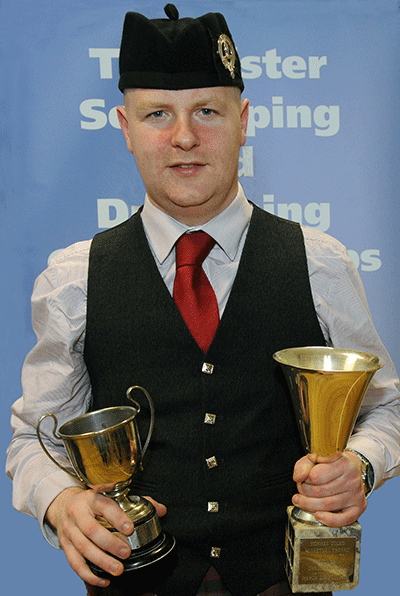 'Ashley McMichael played an outstanding MSR to win that section. His Mrs Duncan MacFadyen, Shepherd's Crook and Kalabakan were a model of technique and control and the bagpipe flawless.
'Kris Coyle with Edinburgh Police Pipe Band, Dora MacLeod and Bessie MacIntyre, and John Frazer with Brigadier Cheape, Tulloch Castle and Fiona MacLeod were not far behind him though Kris's chanter was verging on sharp on the top hand and John missed crucial doublings in his reel. Ben Greeves had a few misses but played a very musical Hugh Alexander Low of Tiree, Ewe Wi' the Crookit Horn and Salmon Leap.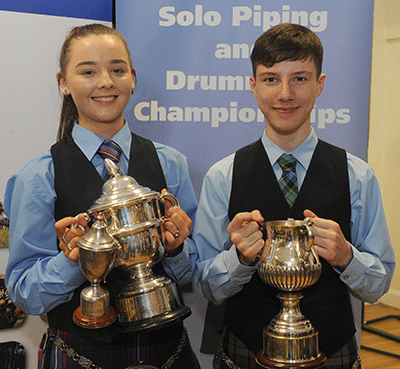 'Piobaireachjd adjudicator Alan Forbes reported a high standard in that event with John McElmurry giving a very strong account.
'In the lower grades quite a few of the pipers played too fast with clipped technique, something they would get away with in their bands but not in solos. However there was strong piping to be heard and clearly all the teaching that is going on will ensure that Ulster piping will continue to improve year on year.'
Results:
U-14 March
1 Jonathan Gibson
2 Jack Hamill
3 Vincent O'Brien
U-16 March
1 Marc Warnock
2 Andrew Pollock
3 Brady Annett
U-18 MSR
1 Beth Preston
2 Emma Livingstone
3 Samantha Coburn
Judge for the above events: R Wallace
C Grade MSR
1 Ryan Cupples-Menendez
2 Desmond Smyth
3 Jake Walker
B Grade MSR
1 John McElmurry
2 Scott McKay
3 Alastair Donaghy
Judge for the above two events: Glenn Brown
---
[wds id="6″]
---
A Grade MSR (three of each)
1 Ashley McMichael
2 Kris Coyle
3 James Frazer, Field Marshal
Judges: G Brown, R Wallace
Adult Hornpipe and Jig: Alastair Donaghy
Judge: H Stevenson
U-16 Piob
1 Emma Ferguson
2 Jake McConnell
3 Adam Brimage
U-18 Piob
1 Emma Livingstone
Judge for above two events: G Brown
B Piobaireachd
1 Beth Preston
2 Desmond Smyth
3 James Stone
A Piobaireachd
1 John McElmurry, Stewart's White Banner
2 Ben Greeves
3 Ashley McMichael
Judge for above two events: A Forbes
Senior Drumming Overall
1 William Glenholmes
2 Jason Hoy
3 Gareth McLees
Judges: I Lawson, S Steele
Junior Drumming
1 Steven McGill
2 Adam McCollum
3 Christopher Hasson
Judge: I Lawson
U-16 Drumming
1 Ashley Fyffe
2 Daniel Mulcahy
3 Conor Lawler
Judge: I Lawson
---
[wds id="10″]