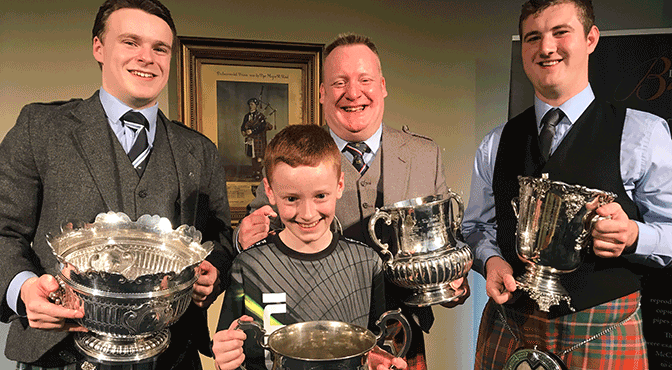 The annual professional competition run by the Scottish Pipers' Association was held at the College of Piping in Glasgow today. There was a good entry in all categories. The picture above shows the main winners with their trophies: l to r – John Dew, Gordon McCready and Cameron MacDougall. The young man with the overall trophy and the big grin is Gordon's son Innes:
Results:
Piob:
1 Cameron MacDougall, Old Men of the Shells
2 Gordon McCready, Battle of the Pass of Crieff
3 John Dew, Earl of Ross's March
4 Darach Urquhart, Big Spree
5 Steven Gray, Lament for the Iolaire
March:
1 Gordon McCready
2 Cameron MacDougall
3 John Dew
4 Dan Nevans
5 Sandy Cameron
S&R:
1 John Dew
2 Dan Nevans
3 Cameron MacDougall
4 Ross Miller
5 Stuart McCallum
MSR Former Winners:
1 Gordon McCready
2 Sarah Muir
3 Allan Russell
4 Steven Leask
5 Ben Duncan
6/8 March (played during the warm up for the piobaireachd): Ashley McMichael
Judges for Ceol Mor were R Livingstone and J Wilson and for
MSR I McLellan and W Morrison.
The playing order: