Next weekend (March 10) sees the annual Duncan Johnstone Memorial competition held at the Piping Centre. A few weeks ago piper, composer and adjudicator Stuart Finlayson, New Zealand, regaled us with tales of the late master piper who was so influential on so many people. Today we have the second part of an interview with Duncan conducted by our Editor Robert Wallace in 1996.….
……Three months later I got home. I'd been in the Med about two years and eight months. I was only 21 and got back into piping in a big way. I started practising like mad and I went to Angus [Campbell] again. By this time he had retired from the police. He was still staying Anderston Cross [in Glasgow] so I went to him for a while until one day he said to me 'listen, Duncan, I can't teach you any more you'll have to go to someone above me'.
I asked who he would suggest and he said that if I wanted to learn piobaireachd I should go to Roddy MacDonald, South Uist, or 'wee' Donald MacLean. I met Donald the following Friday night and he agreed to take me on. I went to him for quite while and then I went to Roddy.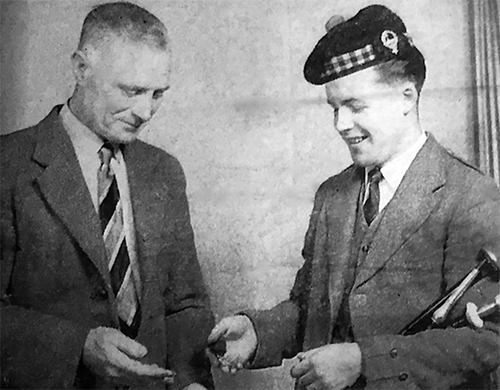 Did you have a lot of empathy with him because of your island background?
That's right, I did. My mother was from Barra but there was no one from there, except Neil Angus MacDonald or Calum Johnstone, who played piobaireachd. Going to Roddy was the next best thing to being taught by someone from Barra. Barra was the poor relation in piping compared to South Uist. In South Uist, for instance, they could all play from music but in Barra it was all learned by ear. South Uist had a background in teaching from John MacDonald, Inverness, and Willie Ross plus many of the pipers had picked up things in the Army.
Did you realise from early on that the music was in your blood and you had a way of playing and certain feel for it?
I used listen to people playing and say 'well that's not the way I would do that'. The way Angus taught me, correct fingering and that, was very important but then I developed my own style. It was just the way it happened. I didn't set out to do that, it just came to me; it was a natural thing.
---
[wds id="2″]
---
Do you find that people from the islands have that ability?
Yes, I do. When I visited Father John MacMillan on Barra during my holidays I used to go to see this old man with him. He was bed-ridden but he used to sit up when I took the practice chanter to him. He couldn't read music and his fingering was as false as hell, but if you didn't look at the fingers and just listened, the music was brilliant. I got a feeling for that type of music.
Did you do much competing? 
I did compete at Uist Games a few times. The big names then were Angus MacAulay, who emigrated to New Zealand, and another Angus Campbell who was an uncle to Ronald and Fred Morrison [Snr.] and was a great piobaireachd player. He was some sight to see. He used to play in plus fours. He used to dander round the boards and come down on his knee when he was expressing a bit of the tune. He wore a big Harris tweed bunnet. He never wore a kilt but all that changed when Sheriff Grant of Rothiemurchus started judging there; you had to be properly dressed for him.
John MacFadyen and I went up to Uist once. We were in the Glasgow Shepherds band at the time. The kilt was just a diced pattern and the same for the Balmoral. I went out to play and the Sheriff shouts at me 'What are you doing wearing that bonnet Johnstone!'. I told him it was the band's uniform and he said I had no business wearing it as it was the Lovat Scouts' bonnet. I found out later he was the Colonel of the Lovat Scouts, so that knocked me out of the list. I was as well going home then. When I came off I said to John to get someone to give him a loan of a balmoral or a glengarry which he did. He got a prize in the marches but I didn't get anything.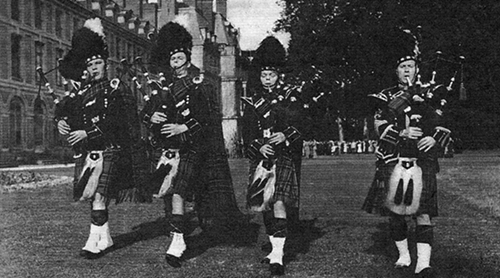 Given that you eschewed much of the competition scene as a young man, what was the mainstay of your career at that time?
I used to play at dances here in Glasgow four nights a week, Monday night in the Cuba Hall in Paisley Road, Wednesday and Friday nights in the Kingston Halls and Saturday in St Margaret's Hall. That's where I did all my practice and where I learned about rhythm.
Angus Campbell used to say playing for an eightsome reel was a long blow and that you had to play a two-parted tune 29 times to complete the dance. Well, I used to play 29 different two-parted reels without any repeats. I used to go into all sorts of stuff. I always played sitting down and had the dance band drummer along with me to keep me going.
Most evenings you ended up with two or three drams in you and I remember on one occasion when I was playing, really going hell for leather, when the hall started spinning. I had to stop and leave the stage to be sick in a waste bin. Fortunately the drum­mer realised what was wrong with me and kept the beat going loudly until I got back into it again. I don't think we missed a step and hardly anyone noticed! I think they thought it was a drum solo. I loved playing for dancers and built up a big repertoire of tunes. I had great practice and the pipes were always singing.
Mind you it wasn't the greatest pipe in the world. When I was young I had to wait a while before I could get a pipe because the old man was only a labour­er and couldn't afford to buy me a set. Do you remember Albert Heath who used to work in Lawries? He emigrated to New Zealand. Well, I was in one day and he told me there was an ivory set of Hendersons going for £15. They did me for the rest of my playing career.
• To be continued. Read the first instalment of this interview here.
---
[wds id="19″]