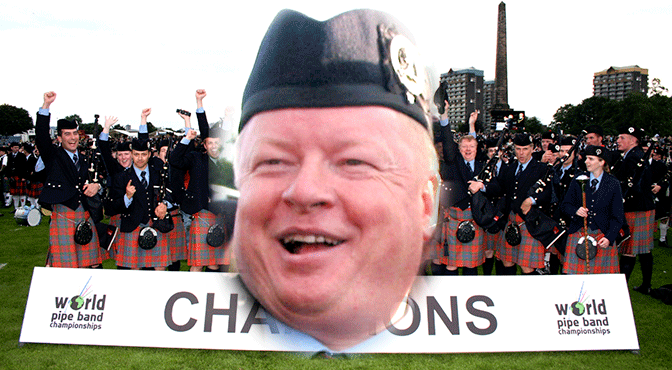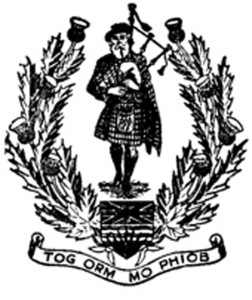 The BC Pipers Association have announced the following….
'With just under a month until the Boney Music Memorial Invitational Piping Competition and Recital, the event is again shaping up to be one of the BC Pipers' Association's highlight events of the year.
'Featuring the top five finishers from the 2017 Open Piping Grand Aggregate standings [James P. Troy, Kevin McLean, Andrew Lee, Alastair Lee and Jori Chisholm], the performers will attempt to dazzle the crowd with top-quality piping on February 24 at SFU Burnaby in support of finding a cure for brain cancer.
'We are very fortunate to be able to showcase this high level of talent in one evening,' says BC Pipers' Association President, Rob MacNeil. 'It is an honour to continue Andrew Bonar's legacy by hosting an event that lives up to the standards he brought to and sought from our piping community.'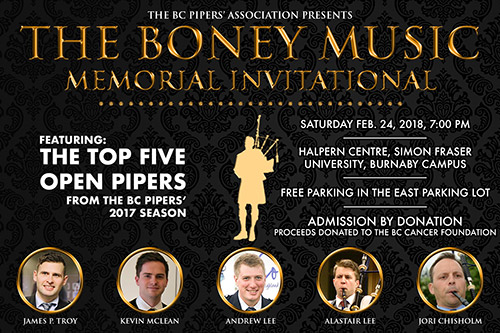 'Andrew Bonar, BCPA Life Member and longtime BCPA Open Piping competitor, started the event in 2016 after being diagnosed with brain cancer. Andrew passed away in October 2017 after a hard-fought battle with the disease.
'His goal was to create an event that engaged and captivated the audience and most importantly to direct the piping world toward a mission of using their music to support charitable causes – and in the past two years, this contest certainly has achieved those aims," MacNeil continued. 'Boney's idea was to create unique and fun tune requirements so competitors can play music that is not often heard in solo piping contests. In turn, he hoped these performances would inspire the audience to contribute to the ultimate goal of conquering brain cancer.'
'This year, competitors are required to play at least one tune composed by Andrew Bonar himself (to be played at the start of the performance), the ground of a piobaireachd, at least two 'two-parted' strathspeys, at least one 'four-parted' 4/4 march, and at least one tune in 9/8 time. Each competitor has 20 minutes to perform, which also includes the time they are allotted to tune.
---
[wds id="2″]
---
'Admission is by donation and all proceeds from this event will be donated to the BC Cancer Foundation. The contest takes place in the Halpern Centre at Simon Fraser University's Burnaby campus and the doors open at 6:30 p.m. for a 7:00 p.m. start time.
'We also hope you will be able to attend our 'pre-contest' dinner from 5:00-7:00 at Club Ilia, located at SFU Burnaby (8902 University High St, Burnaby, BC V5A 4X6), and again after the contest for a refreshment. The dinner menu will be discounted by 10% to attendees of the contest. Free parking will be available in the East Parking Lot from 5:00 pm to 11:30 pm on the day.'
---
P/M Jimmy Banks reports on the latest round of the Scots Guards KO: We had another good day on Sunday. An audience of 50 plus saw Callum Watson win through against Ross Miller. So our semi finals are:
Sunday, 25 February – Callum Watson v Jonathan Simpson
Sunday, 25 March – Ben Duncan v  Dan Nevans
The final is on Sunday 22 April.
---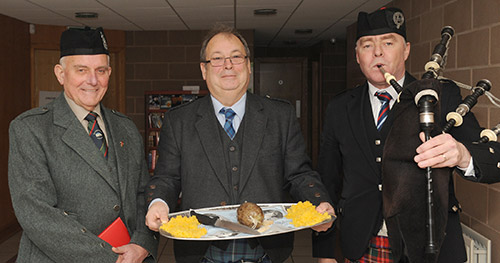 RSPBA Northern Ireland Branch report: On Saturday 27th January in Lisburn,  RSPBANI Project Manager Ian Burrows (Drumlough Pipe Band) played the Burns tune 'A Mans A Man for A' That' as he piped in the haggis. The address was given by Winston Pinkerton (RSPBANI President).  The haggis, neeps & tatties, pavlova/trifle, tea and coffee were prepared and served by Diane Burrows and Cherith O'Sullivan.  The afternoon of food, music and craic was a fitting tribute to the life, works and spirit of the great Scottish bard who was born on 25th January 1759 and died aged just 37 on 21st July 1796.
---
[wds id="3″]