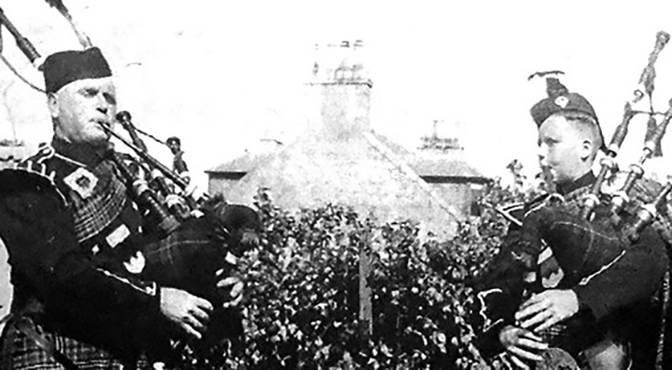 We are grateful to the Aberdeen Evening Express newspaper for publishing the family history of one of the most gifted pipers of the post-WW2 era, the late John MacDougall. The paper reveals interesting details about John's past and how the family tradition is being carried on. It is headlined 'Piping Through the Ages'. The above picture shows John MacDougall as a boy piping with his father in the Bucksburn Pipe Band. The following text is taken from the article…
A piping family has told the story of its generations of bagpipe players – going back 150 years. The MacDougall family's connection with bagpipes began in the 1870s with Sandy MacDougall – a fiddle player and piper who came from Ardnish near Fort William. [Actually a remote peninsula north of Loch Ailort in the West Highlands.]
Sandy moved to Glen Tanar [an estate near Aboyne] to work as a gamekeeper in 1905 and his son, John Snr., also a piper was born there in 1906 and served in the RAF during WW2 from 1943 to 1945. John bought his beloved pipes in 1920 from a shop in Aboyne. He continued to use them when he was conscripted in 1943 after being stationed in Dyce. Later John was posted to Barbados where he spent the remainder of the war.
John snr's. granddaughter Fiona Hay, spoke about the family's piping history which has been carried through to the present day. She said: 'John snr. was born in Glen Tanar. He served in the RAF and the bagpipes were with him while he was away. Once he was home he bought the Station Hotel in Bucksburn. He retired in 1963 and sold the hotel having owned it for nearly 40 years.'
---
[wds id="2″]
---
John snr. had two children John jnr. and Rhoda – and passed on his love of piping to his son. John was born in Bucksburn [near Aberdeen] in 1935 and went on to become one of the most renowned pipers in the world. Fiona's husband, Burgess Hay, said: 'John jnr. inherited his father's love of piping and made a career out of it. He became a world champion piper. His name is still very well known in piping circles.'
Both Johns were members of the Bucksburn & District Pipe Band which celebrated its 70th Anniversary this year. When John snr. died aged 82 he passed on his pipes to his son. These same pipes are now being played by Scott Hay who was taught to play by John jnr. who died in 2015.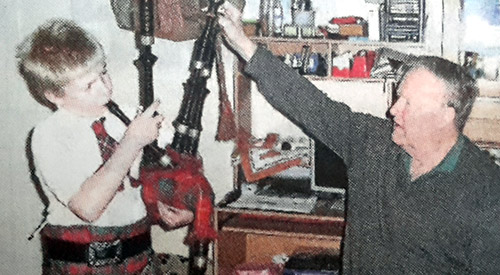 Burgess said: 'My son Scott – who has been around pipes his whole life – will be playing the same pipes his great-grandfather is using in the [accompanying] photos.' The family, who own the shop Burgess Bagpipes in Forres now want to tell the story of their long-standing association with the instrument.
Burgess said: 'We're trying to get the word out about how long the family has been involved with bagpipes. We have a tradition that goes back many generations. It tells people a little about the depth of what it is that we know.'
He added: 'John jnr. also had his own archive, so there is a whole pile of stuff to go back through.' The family hopes that its history will continue onwards from its roots in the Victorian era to the present day. Burgess said: 'It's been a very natural progression that we've had – from playing the pipes to owning a business where we make them. At its heart, it's the story of a family.'
John MacDougall was indeed a Champion Piper. At the time of his passing PP reported: John won all the top prizes during a long career. Known for his immaculate fingering and solid pipe allied to sound musicality, he was considered a leading exponent of the 'Balmoral' school of piping but was always ready to listen and appreciate a different approach.
John started piping in the Boys Brigade aged 10. He joined the Bucksburn band where he was taught by Pipe Major Davie Duncan. John went to him for private lessons and it was Davie who introduced John to Bob Brown, Balmoral, and so began his real piobaireachd education.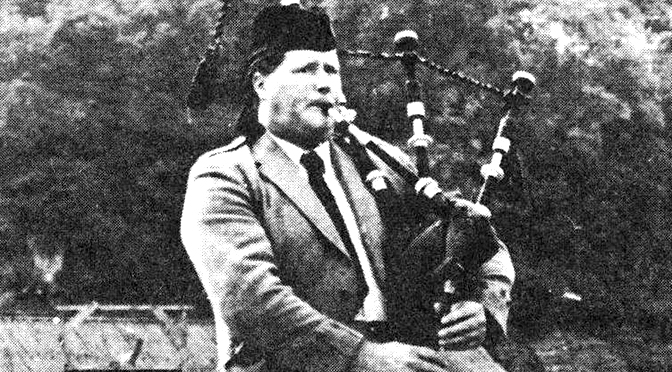 John, trained as a printer, did his National Service with the Queens Own Cameron Highlanders along with other great names such as Iain MacFadyen, playing for a time under Pipe Major Evan McRae.
John was encouraged to compete on the solo circuit and found instant success. He soaked up the prizes and laughed when he heard other pipers describe him as the 'Highland hoover'. But even greater success was to follow when he won the Gold Medal at the Northern Meeting in Inverness in 1960 playing the Lament for Captain MacDougall, and at Oban in 1969 playing the Battle of the Pass of Crieff.
Among other prizes were the Argyllshire Gathering Former Winners March, Strathspey and Reel (5 times), Braemar Gold Medal (three times), Open Piobaireachd at the Argyllshire Gathering twice. In 1978 he won both the Open Piobaireachd and Former Winners' MSR at Oban and the Clasp at Inverness only to miss out on the 'big four' when, in the Northern Meeting Former Winners, he had a slight note error in the last part of Mrs MacPherson of Inveran second time through.
• Read more here. Like to hear John's superb piping? Click here.
---
[wds id="3″]