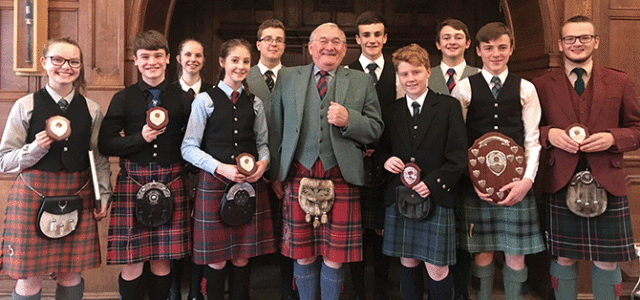 A good entry for the Scots Guards Junior competition held at the Army School of Piping at Inchdrewer House, Edinburgh, today.
Organiser P/M Jimmy Banks MBE thanked everyone for their attendance, the Army School for the premises and stewarding and also the sponsors, the Scots Guards Association, Pipe Dreams and Grants of Dalvey. Judges were: J Banks, B Donaldson, R MacCrindle, P MacGregor, R Wallace.
The picture above shows P/M Banks with most of the prizewinners.
Under 15 Piobaireachd
1 Cameron May
2 Hazel Whyte
3 Brodie Watson-Massey
4 Campbell Stewart
Judge: Ross MacCrindle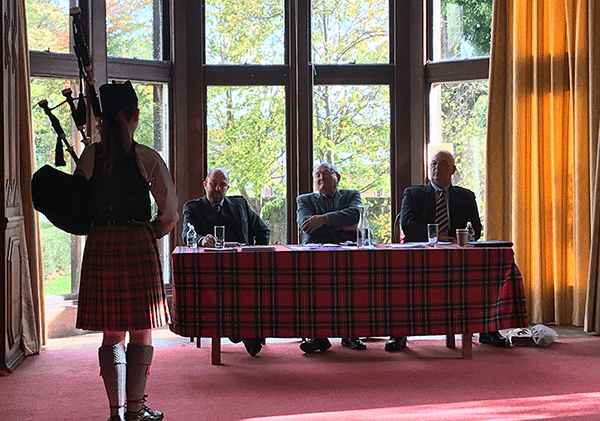 Under 15 March
1 Nicholas Knowles
2 Brodie Watson-Massey
3 Max Grigor
4 Cameron May
Judge: Barry Donaldson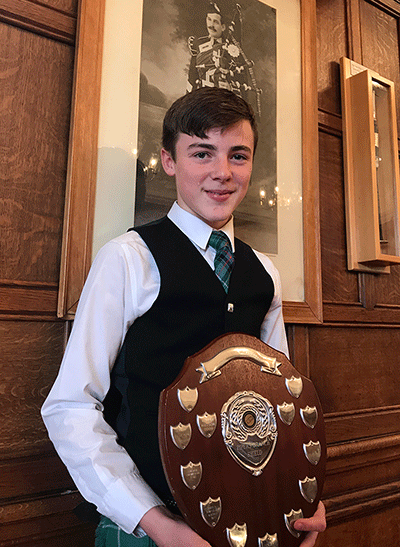 Under 15 Strathspey & Reel
1 Cameron May
2 Nicholas Knowles
3 Brodie Watson-Massey
4 Milly Fox
Judge: Barry Donaldson
Under 18 Piobaireachd (two tunes)
1 Angus MacPhee, Blind Piper's Obstinacy
2 Finlay Cameron, Lament for the Iolaire
3 Andrew Ferguson, Beloved Scotland
4 Emma Hill, MacFarlane's Gathering
Judge: Robert Wallace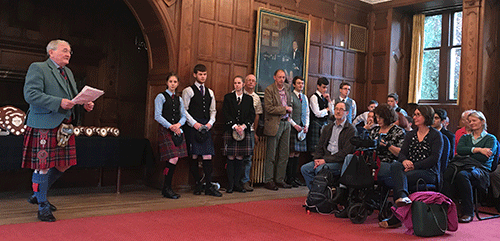 Under 18 MSR (two sets – own choice)
1 Angus MacPhee
2 Finlay Cameron
3 Andrew Ferguson
4 Lewis Russell
Judges: Ross MacCrindle, Robert Wallace
Open Jig: Finlay Cameron
Judges: Jimmy Banks, Barry Donaldson, Peter MacGregor
Robert Wallace writes……There was some good playing today at Inchdrewer but also a lot of indifferent technique from some of the youngsters. The winner of the Under 18 Piob, Angus MacPhee, played a bold tune to take first – despite his wrong note. Finlay Cameron wasn't far away in second with a lovely ground but slowish variations in Lament for the Iolaire by Donald MacLeod. Andrew Ferguson had a good tune too though the crunluath movement was unclear in places. A couple of chokes but musical passages from Emma Hill of the Oban High School Pipe Band. In the U-18 MSR the prizewinners all played well but third and fourth need to get the practice chanter out and sharpen up on the technique. All in all a very enjoyable day and a very well run event.