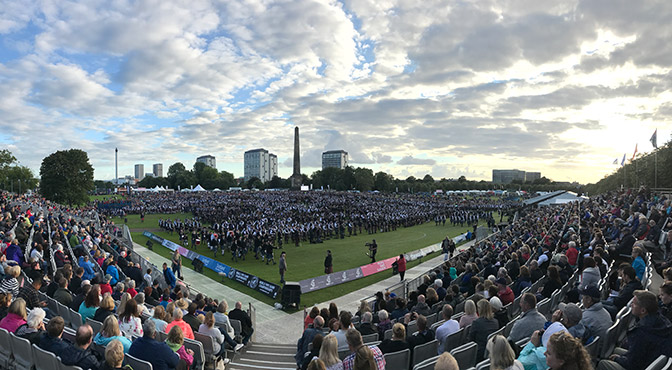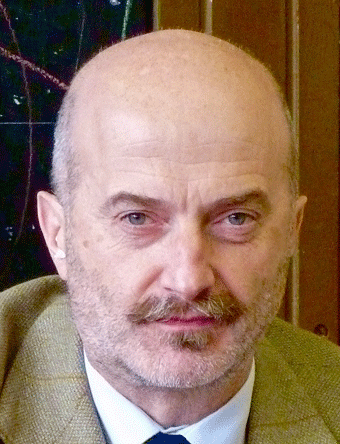 Firstly, congratulations to all the bands who made the prizes last Saturday and commiserations to those who didn't. The latter can console themselves with the fact that they made their contribution to what was a spectacular occasion carried off with some elan by the Royal Scottish Pipe Band Association and its army of dedicated officials and adjudicators.
This is the biggest participative musical event in the country with 8,000 bandsmen and women and it all went as smoothly as could be hoped for. The weather was kind too, things  warming up nicely in the afternoon and giving the photographers some sunshine to play with.
The Worlds is also a social occasion and I would like to thank all of those from all over the world who were kind enough to offer their gratitude and compliments to Piping Press for the quality piping and pipe band journalism we supply free of charge.
So that's the good guy stuff out of the way……….

I am sure there were many like me who felt for the eight Grade 1 bands who were excluded from the Saturday after failing to qualify on the Friday, the overseas bands in particular. Something must now be done to accommodate them on the main day. Personally I would favour a 'best of the rest contest', a Grade 1b, using retired judges. There must be a suitable patch of grass on Glasgow Green for an extra ring. Piping Press will help organise a trophy if needs be. We cannot have bands travelling thousands of miles to Glasgow and not have them involved on the Saturday. Auckland & District, a good band, travelled 12,000 miles from New Zealand, spent thousands of dollars and yet come 4.30pm on Friday Aug 11th it was all over for them.
To the Grade 1 arena now. With this March, Strathspey and Reel contest I believe we hit a new low in the discipline. The standard was poor with only the prizewinners producing anything like the music we should be entitled to expect at the Worlds. The half empty stands told their own story. The public can't be bothered with the MSR. There are too many runs of the same tunes and too many bands are playing safe.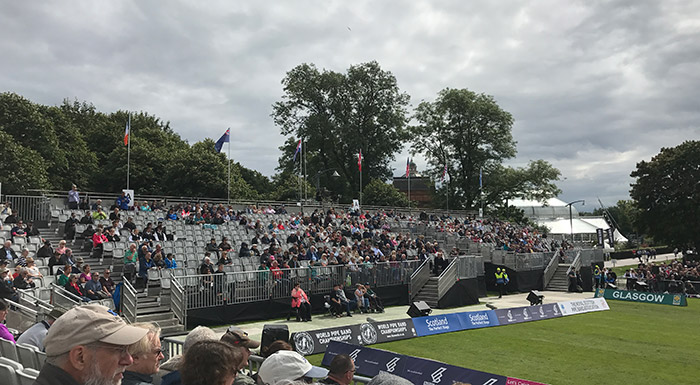 The MSR is the most stringent test of playing yet I believe it has now become a rather dull hors d'oeuvre to the medley main course. Talking to SFU's lead drummer Reid Maxwell, he suggested bands be required to submit one four-parted and one six-parted set. Reid's logic is sound. There are very few six-parted MSRs but stacks of four-parters. Instantly we would have more variety.
Bands today have super sound, massive corps. Give that to the bands of the 60s, 70s and 80s and they would show how it should be done. Urgent action is needed. Let's have MSR Preference in the event of any tie. That might sharpen things up a bit and give us something better to listen to. Now the weather didn't help. It was cold and damp and some bands got the worst of the rain. But that shouldn't be put forward as an excuse for the underlying musical malaise that stalks the MSR arena.
Like the two piping judges I had Field Marshal in pole position with Inveraray close by. Shotts were first on with a high pitch but strong drones. Well fingered but sluggish playing. Inveraray had a much better sound but again were on the cautious side of safe. I wrote in my book 'can be beat'.

I was delighted Glasgow Police made the final but on the day had a weak sound, pipes just not good enough. Fife Police were the poorest I've heard them all season. They came alive a little in the strathspey with very good bottom hand work. The reel was slow with drums and pipes fighting each other.
Dowco had the brightest tempo to their march so far but sacrificed precision in technique. Good on them for playing closer to the edge than many. They need to smooth out the runs in Caledonian Society of London. Playing ragged by the end; ditto the tone.
PSNI had good lift in Balmoral Highlanders (joy o' joys!) but thereafter things became a struggle, cohesion lacking. High A suspect? SLoT gave us the first correct tempo for the march (Balmoral Highlanders) but I wasn't sure about their sound. In the stands you can get all sorts of noises bleeding in from other arenas. Overall a good attempt. The Vale next and nice drones and a good tempo at the start; fingering suspect in strathspey and overdone broken time from bass failing to provide required pulse.
Good breaks from Boghall but the strathspey lacked lift and the tone  was thin. Superb bottom hand work from Field Marshal in their strathspey. Lovely drones and fingering throughout. Could have been on edge more however. SFU were another of the few bands who set a correct tempo for the march. I thought bass and tenor a bit overpowering at times. Tone suffered when they got the worst of the weather but I wrote in my book 'this band is back'.
Scottish Power had a fine sound and precise execution but should have gone for it more. They could have won it had they done so.
In summary, a poor contest not helped by the weather. My final notebook entry? 'The art of MSR playing is dead.'
---
[wds id="6″]
---
The Medley contest couldn't have been more different. The sun came out, the stands filled, the bands shook off the MSR miseries and started to play with the relaxed brilliance we knew they were capable of. I had St Laurence first with I'ray and FMM close behind.

Shotts' pipes were not so shrill as they had been earlier and they played beautifully with cracking discipline and sparkle, dragged down by indifferent content. A beautiful sound from Inveraray. Hector the Hero was tear-jerkingly poignant. Poise, precision, and power brought things to a resounding conclusion.
Glasgow Police can play alright; they just need a tone. Some tunes of indifferent quality. The tone was better from Fife Police and there were high points of enjoyment in their performance but a few lows too – the jigs noticeably lacking in momentum. Didn't like the opening tune from Dowco Triumph Street. The slow air made it obvious that their sound was suffering – maybe too much blowing earlier on. A more recognisable set of tunes would serve them better.
PSNI went right at it from the first. What a difference in confidence from the MSR. This is a band making progress and they are now one of the top 12 in the world – and deservedly so. At times I was confused by the seconds they employed – the tune got lost, the ending a case in point.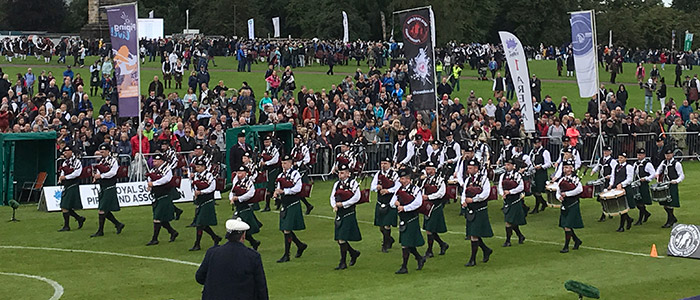 SLoT had us all on the edges of our seats. This was lively, interesting pipe band music. Hardly a duff tune in earshot. I kept finding my attention drawn to Stephen Creighton's corps – how they drove things on with super dynamics. The judges may have heard things differently, but up in the stands SLoT were cheered all the way.
I liked the Vale's opening tune but from where I was sitting I felt the drummers were overbearing at times during their set. Tone suffered on D and the reprise of the slow air at the end killed some of the climax. The Vale were not alone in this. It's clever mind, but maybe too clever.
A good performance overall from Boghall and their tone noticeably better than in the morning but shading off, however, in their strathspeys yet, amazingly, returning in the reels! Strathspeys do that to you – blowing altering with what can be a difficult rhythm for some pipers. Like the Vale, Boghall have had a good season even if the prizes have been hard to come by. I am not alone in enjoying both bands this summer.
Field Marshal next. Their sound seemed to grow from about half way. Fingering and precision unison is a given with this band and what an ending they produced. Fantastic playing (Fred Morrison's Hard Drive), playing that almost brought the crowd to its feet. I couldn't believe one judge had them sixth in the medley contest. Looking at both summaries this did not, however, affect the final outcome.
I said earlier that SFU were a band on the way back and their medley confirmed that this was, indeed, the case. They don't yet have the big sound of yesteryear but their playing is every bit as cohesive. They go back to BC knowing that their 5th prize was well deserved.
Scottish Power started with a lovely evocative retreat, John MacLellan's Dream Valley of Glendaruel. However I prefer an opener with more drive and impact – the overture approach. An excellent sound from this band but another over-complex ending with vanishing melodic threads.
Over the two legs, Inveraray were worthy winners of the 2017 Worlds. All the bands who made the final did very well to get there – you are in the top 12 in the world and no one can gainsay that. Anyone who made the top six did especially well.
• Get full summaries courtesy the RSPBA here. Read full results through all grades here. Reaction from P/M Stuart Liddell here.
---
[wds id="13″]