Grateful to piping historian Keith Sanger for forwarding this letter from the Blair Castle archives. It is dated 1830 and is by Perthshire piper John McGregor. It mentions his (McGregor's) winning the prize pipe and Angus MacKay (pictured above) coming second. MacKay is intimated as piper to the Duke of Gordon which is news to me. I understood that before royal service with Queen Victoria he was with the Laird of Islay, hence his tune Farewell to the Laird of Islay. 
In 1830 Angus would have been aged just 17 or 18 and perhaps already working on his monumental collection of piobaireachd. I would be interested in anything further on his time as piper to the Duke of Gordon if anyone has the time to research the muniments. As regards the letter it is clear that a piper in service in the 1830s was a busy man.
The letter reads: 'Drumcharry, 15th August 1830: 'Sir, I take the liberty of writing the following lines to inform you that I regret much that I happened to be from home when Mr Graham and Dr Niven was [sic] in this country. I have been from home all last week. I was at Taymouth on Monday and at Bridge of Tilt on Tuesday night, at Edradour on Wednesday, on Thursday at Urrard and at Foss on Friday, so it was Saturday before I got home. I find that Mr Graham was very anxious for to see me but first time you write him please to let him know that if I had known of his being in this country that I would certainly be home in time for to see him.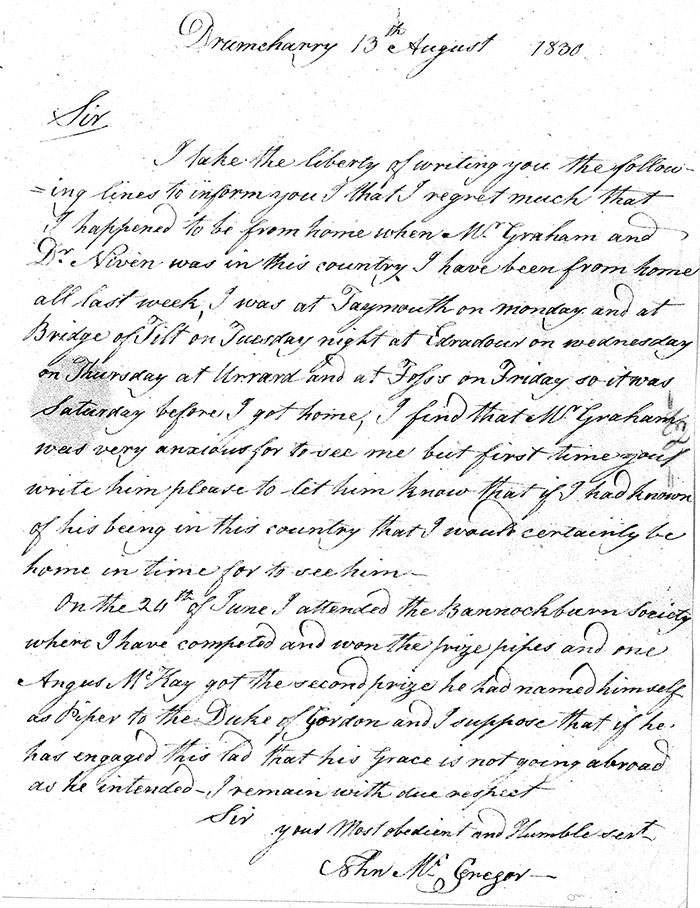 'On the 24th of June I attended the Bannockburn Society where I have competed and won the prize pipes and one Angus MacKay got the second prize. He had named himself as PIper to the Duke of Gordon and I suppose that if he has engaged this lad that his Grace is not going abroad as he intended. I remain with due respect, Sir, your most obedient and humble servant, John McGregor.'
Read more about Angus here and read about his memorial on the banks of the River Nith in Dumfriesshire here.
---
Still on letters from illustrious pipers, read Duncan Watson on the new pipes v old article of a couple of weeks ago here.
---

Reminder for all those planning to play at the National Mod in Lochaber in October – entries close on July 7.
---
Patrick Molard tells me that he will be in Skye this summer filming more footage for his piobaireachd film. It's due out in 2018.
---
The Scots Guards Junior Solos will be held on October 21 at the Army School, Inchdrewer House, Edinburgh. This is a very well run event and I would encourage all young pipers to give it their support. Under 15 and 18 events. Entry form here.
---
[wds id="2″]
---
John Milne Fine Arts Highland League placings after Drumtochty Games:

Piobaireachd:
1 equal Gordon McCready and Faye Henderson on 4 points                          2 equal Eddie Gaul and Ben Duncan on 3
3 equal Calum Brown and Allan Russell on 2
4 equal Bruce Macdonald and Alan Clark on 1
MSR:
1 Calum Brown                                       17
2 Eddie Gaul                                             10
3 Brighde Chaimbeul                           8
4 Gordon McCready                            6
4 Allan Russell                                         6
4 Lewis White                                          6
5 Ben Duncan                                           5
6 John MacDonald                                3
6 Alan Clark                                               3
---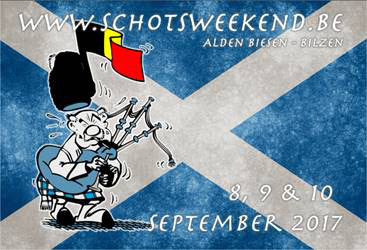 Rudi Schils of the Scottish Weekend, Alden Biesen, Belgium, has sent this: 'Every year, about 20,000 Scotland lovers and Celtic culture enthusiasts descend to the Scottish Weekend at Alden Biesen to be submerged in the Scottish-Celtic culture. Visitors will be able to enjoy the Belgian Pipe Band competition, the Highland Dancing competition, the Highland Games, the folk artists, the Scottish market and different (children's) entertainment all weekend long!  Folks wanting to participate in the Highland Games, Pipe band competition, Dance competition, etc…..you can register now through our website.
The organisation is proud to offer our visitors a chance to enjoy the Band of Welsh Guards, one of the best military bands in the world, visiting the Scottish Weekend on both Saturday and Sunday. As part of The Massed Bands of the Household Division, they accompany the Queen in the UK at all official gatherings. They will perform for us on Saturday and Sunday! Book your tickets and camp site allotment now in pre-sale and enjoy special discounts.
More information at: www.scottish-weekend.be. As you can see, a visit to the Scottish Weekend will certainly be worth your while on September 8, 9 or 10, at the Landcommandery of Alden Biesen.
---
[wds id="17″]