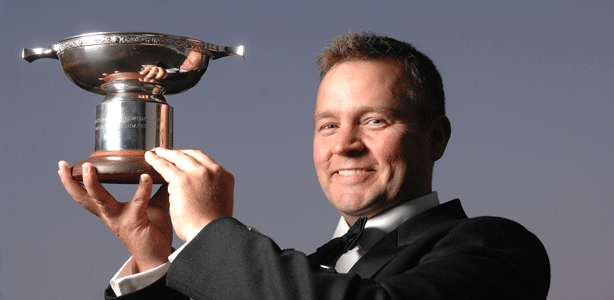 This year's Clan Donald Quaich competition, one of the most lucrative in world solo piping, will be held on June 2 in the Clan Donald Centre, Sleat, Skye. It is sponsored by the Glencoe Foundation.
First prize is £1,000 with each piper receiving £750 'appearance money'. They are Callum Beaumont, Finlay Johnston, Stuart Liddell (a previous winner and pictured above with the Quaich),  Ian K. MacDonald and Iain Speirs.
The chosen tunes from the Donald MacDonald Book or MSS are Lament for Samuel (aka Stewarts' White Banner (Callum), Lament for the Only Son (Finlay), The Groat (Stuart), Glengarry's March (Ian K), Pipers Warning (Iain).
Each tune is usally interspersed with Gaeilc song or tunes from local instrumentalists.