One has to be careful about treading in areas where one's knowledge is limited, but did anyone else notice that of the top six solo pipe band drummers from Saturday's World Solos not one is Scottish? Is this something we should be concerned about?
I don't know about other grades, but in the Adult Final we had: 1 Steven McWhirter (Northern Ireland), 2 Michael McKenna (Ireland) 3 Jake Jørgensen (Denmark) 4 Stephen Creighton (Ireland) 5 Blair Brown (Canada) and 6 William Glenholmes (Northern Ireland).
Add to that the fact that the World Drum Corps Champions are Stephen Creighton and his team from St Laurence O'Toole and Scots could be forgiven for forming the view that we no longer are the centre of world pipe band drumming and that we need to do more teaching here. Four of the top six all from the island of Ireland! Stephen is pictured up top with the 2016 World Corps trophy. He and his fellow Irishmen are laughing all the way to the trophy room!
I know there is a large and highly organised teaching programme carried out by the Northern Ireland Branch of the RSPBA and maybe we will have to get used to the idea of all these prizes going over the water. Can anyone here offer reassurance?
---
Sorry to report the passing of former 214BB and Red Hackle piper Angus MacLennan. Angus, whose family hailed from Scalpay in the Wester Isles, passed away in Canada on October 11. Gus and his brothers John, Donald and Finlay were all former 214 BB boys. Gus was a larger than life character. The picture below shows him playing on stage with fellow 214 piper Iain MacDonald (left) and singer Brian Ferry of Roxy Music in 1973. Condolences to Gus's family at this time.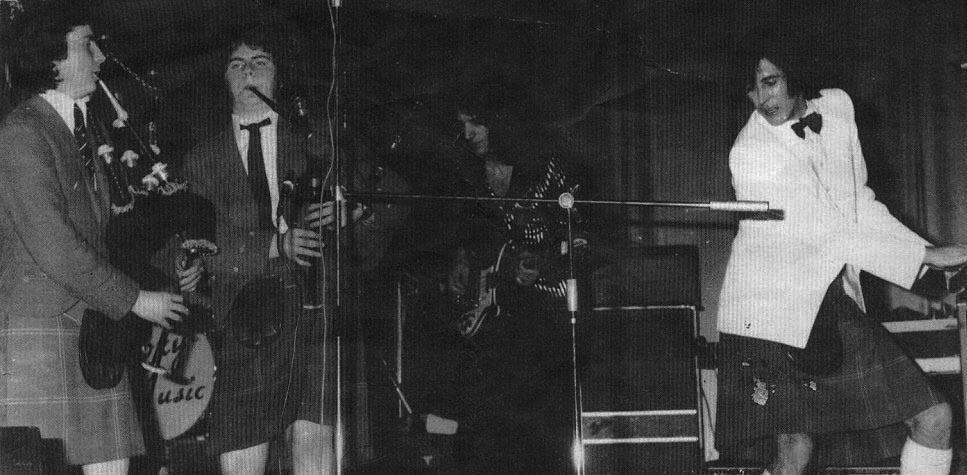 ---
Many comments on the Nick Hudson/ Bagad Brieg picture here.
---
A top line up of pipers for the Jean Appleton-Seymour Invitational Piping Competition to be held at the University of Queensland, Brisbane,  this Saturday at 7pm. Pipers are: Laura MacMillan (holder), Matt Fraser, Chris Cloete, Stuart Easton, Chris McLeish, Jim Allan, Jamie Hawke, Jason Palfrey, Nick Tomkins and Wayne Kennedy. Click on the poster for more.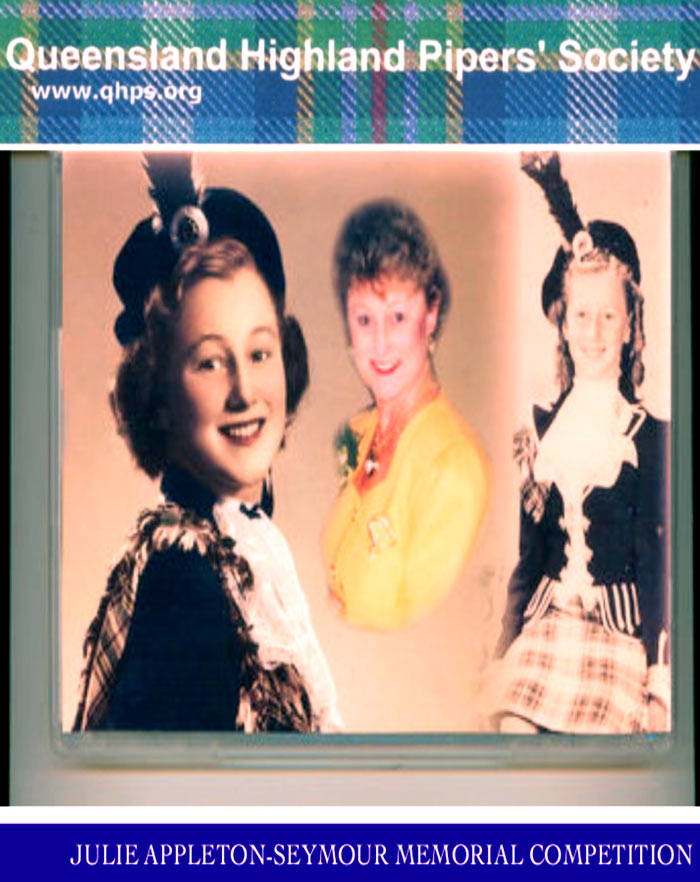 ---
Three letters published today on Glenfiddich's support for piping, Jean-Francois Allain and Angus MacPherson and Jimmy and Joyce McIntosh in Hong Kong. Read them here.