The new season of Northern Ireland's Blackthorn Pipers' Society gatherings, previously held in Dromore, Co Down, got off to a great start last night, 21st September, in a new Belfast city centre venue, the Discover Ulster-Scots Centre in Gordon Street, writes John Kelly.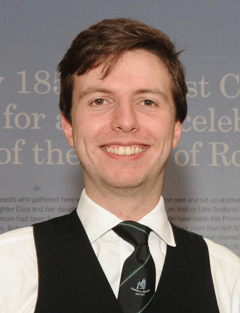 Grahame Harris, who has succeeded Andy Wilson as the Society's Secretary, welcomed the piping enthusiasts to the new venue.  Taking part in the great evening's craic were the main recitalist Kris Coyle (Field Marshal Montgomery Pipe Band), Harry Stevenson, Samantha Coburn, Andy Wilson, Nathan Coburn and Mark Hasson. Kris is pictured above during his performance.
Grahame is a member of Major Sinclair Memorial Pipe Band, has been a composer, performer and teacher of the Highland bagpipe for over 10 years and has travelled the world playing throughout the United States, Europe and Asia.  He has performed with the Cross Border Orchestra of Ireland and the National Youth Pipe Band of Scotland and his solo piping awards include the All Ireland Open Piobaireachd in 2010.  Since August 2013, Grahame has been owner of Harris Piping, a business providing traditional music at both corporate and private events.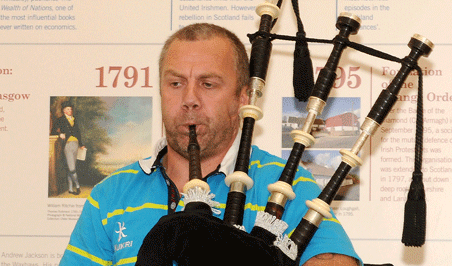 Former Blackthorn Pipers' Society Secretary and Treasurer Andy Wilson, originally from Belfast, now lives in Dromore, Co Down.  He started piping at 18 years of age when he enlisted in the Army.  He attained his Pipe Major's Certificate in 1998 from the Ministry of Defence at Edinburgh Castle, gaining distinction in both Piping Theory and Practical.  He also holds other notable qualifications by way of The Institute of Piping Teaching Certificate, Graduate Certificate and Senior Certificate.

Now in its sixth year, the Blackthorn Pipers' Society hold gatherings on the third Wednesday of the month so that pipers of all ages and abilities can enjoy the Highland bagpipe.  The Society invite anyone with an interest in bagpipe music to join them at their gatherings to play, to listen or to simply to enjoy their company and a great night's craic.  Various members perform at each Blackthorn Gathering which features a main performance and finishing with a Blackthorn Piper playing a short recital and a full piobaireachd.  The Society are keen to point out that the Blackthorn Gatherings are not a place to come and be judged, nor a place to come and judge. The gatherings are meant to celebrate the great Highland bagpipe and all that comes with it.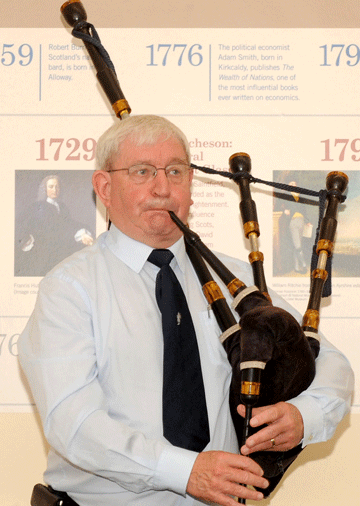 The tunes played by each performer were:
Harry Stevenson: The Children of Larbert, Jeanette's Wedding, Angels from the Ashes, Jimmy McLaughlin, Mary Grant of Lochgelly, Glasgow Highlanders, Maggie Duncan, Raven's Rock and the Periwig.
Samantha Coburn: Ragtime Pipers, Stirlingshire Militia, Devil in the Kitchen, The High Drive, Pumpkin's Fancy, Sleepy Tune and Banjo Breakdown Jig & Reel.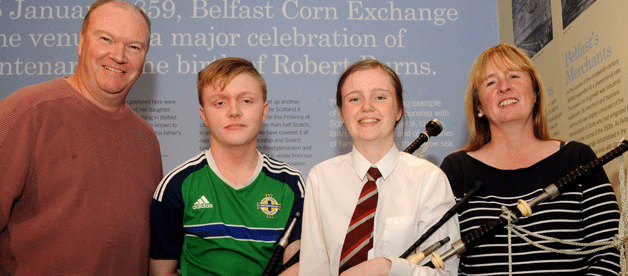 Andy Wilson: The Dark Island, The Man From Skye, Ina MacKenzie, Angus John's Fancy, Brae Riach, Alex MacDonald, Donald MacLean, Murdo's Wedding and Caber Feidh.
Nathan Coburn: Captain Buster, Richard Dwyers, Better Day, John Keith Lang, Sandy's New Chanter, Kenny Gillies of Portnalong and Donald MacLean's Farewell to Oban.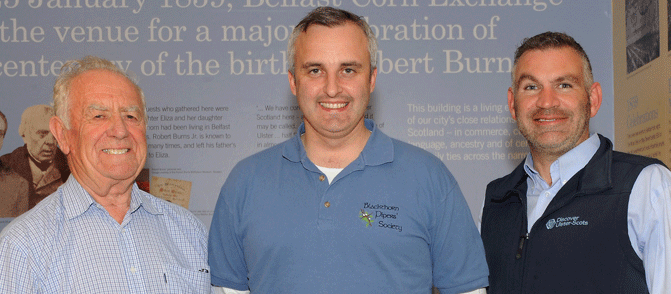 Mark Hasson: Miss Lindsay Hasson, The Dream Valley of Glendaruel, Mal na Mara, Atholl Highlanders, The Conundrum, Marquis of Huntly, MacKay from Skye, Mr & Mrs J Duncan's Wedding 2000 and the Old Grey Wife of Raasay.
Kris Coyle:  Donald MacLellan of Rothesay (Donald MacLeod) and Duncan MacColl (Donald MacLeod);  Glasgow City Police Pipers (Donald MacLeod), The Curlew (Donald MacPherson) and John Patterson's Mare (Donald MacLeod setting);  Lady Louden, Dora MacLeod (Peter MacLeod), The Grey Bob and Dr MacPhail's Reel; Sarah's Song (Phil Cunningham), Pumpkin Fancy (Terry Tully) and Michael Grey (Bill Livingstone); Clan MacColl (John MacColl), Maggie Cameron and the Rejected Suitor; St Niamh's Parish Church (Bob Worrall) and the Rakes of Kildare (Kris Coyle arr.).  Kris finished off the evening with the piobaireachd The Lament for the Viscount of Dundee.
•  Do you run a piping society similar to the Blackthorn? Then why not share your evenings with the rest of the piping and pipe band world by sending a story and pictures to Piping Press? Grateful thanks to John Kelly for supplying this report and pictures.