A hearty well done all the local senior bands who supported the North Berwick contest last Saturday: Inveraray, Fife Police, Boghall. All reports say there was a very high standard of competition in Grade 1 with an exceptional performance by Grade 2 Johnstone Pipe Band putting them in fourth ahead of Canada's 78th Frasers and  New Zealand's Manawatu.
However Johnstone were pushed into second place in Grade 2 by the St Thomas Alumni band from Houston in Texas.
Grade 1 was won by Inveraray, with Fife second and Boghall third.
Manawatu are an outstanding band from NZ and can be heard in Glasgow's George Square from 4.15pm on Wednesday.
Support (or lack of it) for Scotland's minor pipe band contests has been the subject of much debate in the pages of Piping Press. Many are suffering or have had to be cancelled due to a lack of interest.
Check out the North Berwick summaries here. Going to the Worlds? Check out the finalised lists of all bands taking part. And don't forget to stay tuned for photographs and informed comment on the big day.
The five day weather forecast makes the outlook for next weekend fairly positive.
---

---
Glengarry Highland Games, Maxville
Our correspondent 'Canada Dry' writes: Established in 1948, one of the principal gatherings in the North American calendar, the Glengarry Highland Games, Maxville, Ontario, kicked off on Friday 30th July with a large field in the amateur solo competitions for piping and drumming with Gold Medal and Bar for open piping

The remaining professional piping and drumming competitions featured early on Saturday morning, before the band competition in the afternoon. Friday's conditions were warm (70-80s throughout the day) with some cloud cover, albeit no humidity.
In solo piping, the lengthy bench of judges included Hal Senyk, Bob Worrall, James W. Troy, Robert MacCrimmon, Glenna Mackay-Johnstone, John Elliot and John Cairns. The amateur ranks, over five grades in light music and piobaireachd, numbered over 150 competitors with over 300 performances during Friday. The competition matrix was a sight to behold, with an 8am start and tea-time finish.
Headline prizewinners were:
Piobaireachd Society Gold Medal (Canada):
Glenn Walpole, 'In Praise of Morag'
Bar to Medal: Andrew Hayes, 'Isabel Mackay'
Judge: Bill Livingstone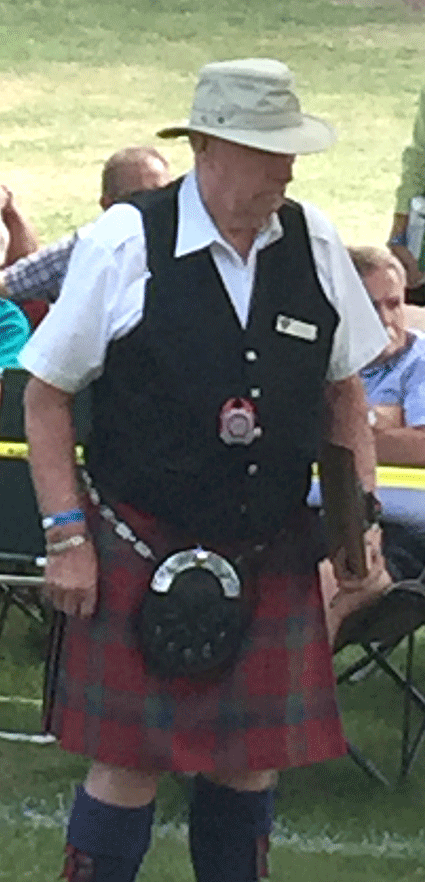 Saturday was more of the same weather as an estimated 30,000 people descended upon Maxville, a small town which exists for farming and the annual Highland games. Under head steward, the legendary Andy Donnachie (left) with his remnant Scottish burr, the bands were marshalled to line on time and in good order. For those who remember Andy, he is in fine form and with stopwatch in hand is, to the second, perfect in timing medleys.
Band Competition – Saturday
As temperatures ebbed and flowed in the 80s, due to some much needed cloud cover, a large field of bands from Grades 1 to 5 competed. Circle 2 was shaded with terraced 'bleacher' seating for the near 3,000 spectators gathering for the band event in the makeshift arena. The crowd was close enough to almost touch the bands and judges. Circle 1, in an adjoining field, was more in direct sun and much warmer, with raised seating again provided.  The Grade 1 bands were no doubt thankful that they remained in the shaded arena for both MSR and Medley.
In Maxville, for Grade 1, the MSR is drawn from two submitted, but the Medley is selected at the line by the pipe major. This facilitates a run of what might be the preferred Medley to use in the Qualifier at the Worlds this Friday.
Having had the Royal Canadian Military Police, the widescale heavy events and a stadium full of activity, the near huge crowd gathered for the results. The closing ceremony is poignant and upbeat. The largest Massed Band in North America had salutes to the Chieftain, Amazing Grace, and tributes to members who had passed.
Grade 1 was punchy and the results show the two bands that ran close. It was also great to see Bill Livingstone, after leading the Live in '87 Revival Concert in Glasgow earlier in the year, in the ranks of the Toronto Police, just as it was to see two generations of Gandy in the 78th Highlanders.  But it was Pipe Major MacRae of the 78th Frasers (pictured competing, top) who took the honours, to continue the unbeaten run, and on to Scotland.
Overall North American Grade 1 Championship:
78th Fraser Highlanders: Med 2 1 1 1  (1st)/ MSR 4 2 1 4 (2nd)
78th Hdrs. Halifax Citadel: Med 1 5 2 3 (2nd)/ MSR 2 1 3 1 (1st)
Toronto Police
Peel Regional Police
In Grade 2, the spread of scoring across the MSR and Medley was wider, with some excellent playing and innovation, a word not often heard. In the Medley set from the 400 Tactical Helicopter Squadron, the mid section used rhythmic tenor only and played some mesmerizing beatings. It was innovative to those under 30 and old school to those over 45. Whatever next, flourishing bass players?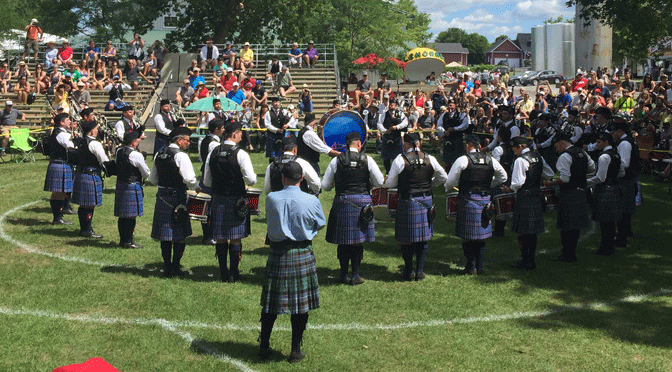 In the MacMillan Medley set, there was some back sticking, if you looked close enough. It was good enough for a 3rd in Medley drumming and 1st in MSR drumming. City of Dunedin, Florida delivered strong sets, and solid piping under Iain Donaldson, and a decent showing in the MSR drumming from Eric MacNeill's corps set them up for a win. City of Dunedin was also the largest band by some way, 11 snares and a very creative mid section complemented the pipe corps. A 1st in MSR and 2nd in Medley
The MSR from College of Piping, Summerside, Prince Edward Island, was sweet, tying with Dunedin on piping score, fifth in Medley, second in MSR. New York Metro are always good to listen to with almost a hint of St Laurence in there, and had the large crowd nodding and tapping along with the Medley,  a good sign. It was enough to win the Medley, but third in the MSR put them into overall second.
Overall North American Grade 2 Championship:
1 City of Dunedin, Florida, Med 2 3 7 2 (2nd)/ MSR 4 1 3 1 (1st)
2 New York Metro, Med 1 2 5 1 (1st)/ MSR 1 6 2 6 (3rd)
3 College of Piping, Summerside
4 400 Squadron
5 MacMillan
Safe journey to all the above bands travelling over for the Worlds – if not already there – and good luck on Friday and Saturday.
---
Lisburn and Castlereagh PB Championships
Andrew Cromie reports: The New Zealand Police Pipe Band made a clean sweep of the silverware on offer in grade one at the Lisburn City and Castlereagh Pipe Band Championships held in Moira Demesne on Saturday 6th August.  The visiting band were clear and comfortable winners, seven points ahead of Bleary & District in second, The Pipes and Drums of the Police Service of Northern Ireland in third and Ravara in fourth.  New Zealand Police also lifted prizes for best drums corps and bass section.
The New Zealand Police, under the direction of Northern Ireland's Pipe Major Emmett Conway, will no doubt take great encouragement from this result as they move on to Scotland for the World Pipe Band Championships this weekend.  Pipe Major Conway said: 'I'm very happy with the result today.  We set out to win and we achieved that quite comfortably.  We have a lot of work to do for next weekend. We will work hard and get our performance tighter each day and give it our all.  I'm very proud of the band and the direction we are going in. I have a great team and we will be trying our best to qualify for the final at the Worlds next week.'    He added: 'I would like to thank the RSPBA NI Branch and the Irish supporters for their warm welcome.'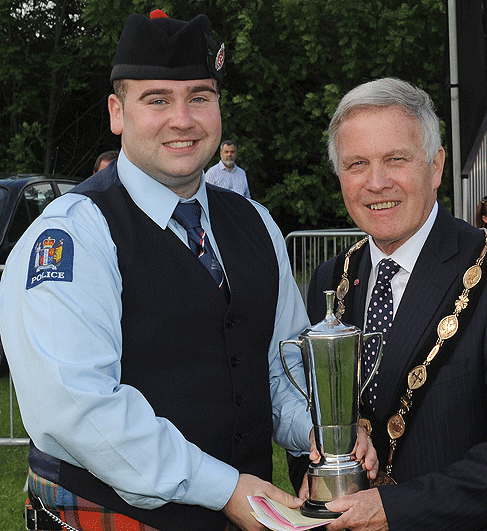 In Grade 2 the PSNI made a clean sweep of the prizes with six points to spare over second place Closkelt.  The PSNI also collected the prizes for best drum corps and bass section.  Completing the prize list in Grade 2 were Aughintober and Thiepval Memorial.  Aughintober continue to show fine form in Grade 3a where they again took first place and the prize for best drums. Colmcille were second and claimed the best bass section award ahead of New Ross & District and Raffrey.  Marlacoo & District dominated grade 3b where they ran out overall winners and went home with silverware for best drum corps and bass section.  Matt Boyd Memorial, Major Sinclair Memorial and Finvoy completed the prize list.  On-form Battlehill made it four wins on the spin in Grade 4a. The Co Armagh band was followed by Cleland Memorial, McDonald Memorial, also best drums, Portavogie and Cullybackey in the top five.  Best bass section went to St Lawrence Howth.  Gilnahirk dominated the prizes in Grade 4b winning the grade outright and picking up prizes for best drums corps and bass section.  Kildoag, Bessbrook Crimson Arrow, Sgt Walker Memorial, Gransha and Clontibret also featured in the top six.  The winning drum majors at Moira Demesne were Andrea McKeown (Battlehill); Caitlin Graham (Upper Crossgare); Kathryn McKeown (Battlehill) and Lee Nicholl (Tullylagan).
 Results
Grade 1: 1, New Zealand Police, also best drums and bass section; 2, Bleary & District; 3, PSNI, best M&D; 4, Ravara.  Grade 2: 1, PSNI, also best drums, bass and M&D; 2, Closkelt; 3, Aughintober; 4, Thiepval Memorial.  Grade 3a: 1, Aughintober, also best drums; 2, Colmcille, also best bass; 3, New Ross & District; 4, Raffrey, best M&D.  Grade 3b: 1, Marlacoo & District, also best drums and bass; 2, Matt Boyd Memorial; 3, Major Sinclair Memorial, best M&D; 4, Finvoy.  Grade 4a: 1, Battlehill, best M&D; 2, Cleland Memorial; 3, McDonald Memorial, also best drums; 4, Portavogie; 5, Cullybackey. Best bass: St Lawrence Howth.  Grade 4b: 1, Gilnahirk, also best drums and bass; 2, Kildoag; 3, Bessbrook Crimson Arrow; 4, Sgt Walker Memorial; 5, Gransha; 6, Clontibret. Best M&D: Achill.
Pictures courtesy John Kelly.