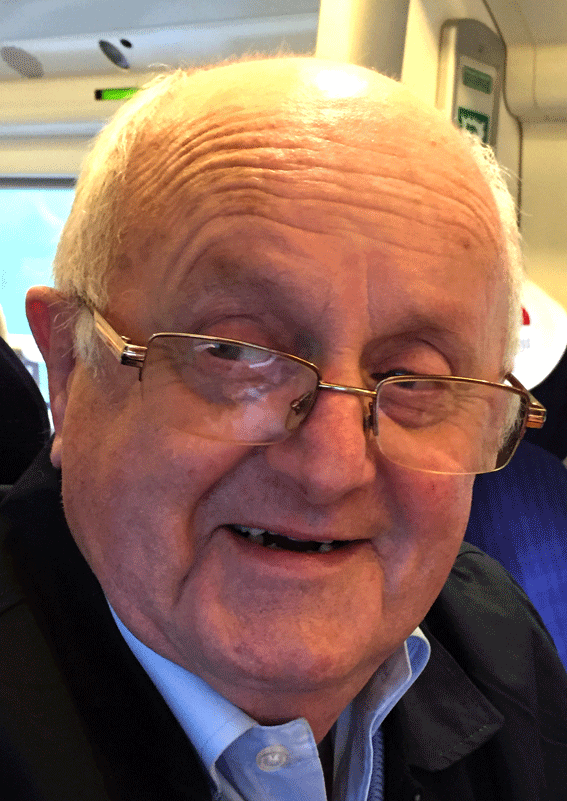 One thing I forgot to mention in my report on the London Championship 10 days or so ago was breakfast. Not what I had, but who I was sitting with: three Grade Two World Pipe Band Champions no less. They were Dr Jack Taylor who lifted the trophy with Buchan Petersen in 2013, Walter Cowan (left) who did the same as P/M of the Annan Ex-Servicemen's band and Archie Maclean a victor with the late lamented Clan MacRae Society.
Archie's pipe major was, I believe John Finlay who was mentioned in the story on John Burgess yesterday. Please correct any of the above info gents, heard as it was via munching of toast etc.
---
---
One picture I hadn't space for in that feature on John Burgess is the one above of John in charge of the Edinburgh City Police Band. He's pictured bottom left and the trophy in front of the Chief Constable is the Argyll Shield, presented to the winners of the Garde 1 Cowal Championship. In the picture I could spot Harry McNulty (who went on to lead the band and the distinguished British Caledonian Airways band), Bob Montgomery the leading tip, John Percival, John MacIntosh, Norman Johnston (still going strong and organising the games up in North Uist), and possibly George Lumsden as P/Sgt but I may be wrong on that one. Would appreciate a complete left to right if anyone can supply. The pic below is of John handing over a retirement clock to P/M Donald Shaw Ramsay his predecessor.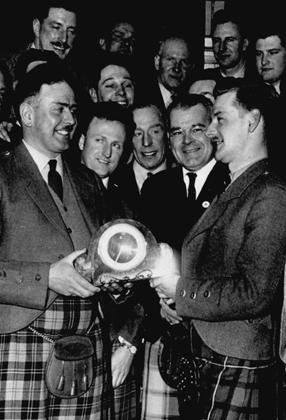 ---
A few stories yesterday – not surprisingly – about the death of drummer Andy White. Andy (pictured below with Beatles LP cover)  was a drummer with the B Cal band in London I believe and also tutored the New York Metro Pipe Band:
'RIP Drumming Adjudicator, Session Drummer who played with the Beatles and all round Gentleman Andy White who passed away yesterday in NJ at 85 yrs old.' 
'Andy White, the Scottish session drummer hired by producer George Martin to play on the first Beatles single, Love Me Do and P.S. I Love You, passed away Monday in New Jersey at the age of 85. George hired Andy to play drums because he was unsure as to Ringo Starr's ability. Andy's version of Love Me Do made the American pressing of the single (where Ringo can be heard on tambourine), but Ringo's take was used early on in the UK. Andy went on to play for many other sessions, including Tom Jones' It's Not Unusual, Lulu's version of Shout and recordings by Tom Jones, Englebert Humperdinck, Dusty Springfield, Herman's Hermits and Petula Clark.'
---
Best regards to Donald MacPherson's widow Gwen who is recovering at home in Midlothian following a bad fall which left her with a broken hip.
---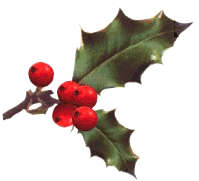 Reminder: Anyone wishing pipes from the Piping Press Shop needs to order them now to get them before Xmas. The shop is offering a 5% discount on all items over £20 until December 24. Enter 'Christmas Cracker' at checkout to get the discount.
---
Here's the draw for the John MacLellan contest to be held at the Army School, Inchdrewer House, Edinburgh from 9am on Saturday.
P/A Piobaireachd:
J Hazzard, D Urquhart, C Sutherland, J Greenlees, C Drummond
G Bruce, E McIlwaine, I Smith
B Piob:
K Belcher, G Barclay, D Beattie, J Cameron, A Hall, S Muir, J Elder
R Cowan, B MacDonald, K Coyle, G Mulholland, S Leask, E Gaul, D Gardiner, S Gray, R Tierney, P Hunt, C Martin, G Canning, M Fraser
A Kummerlow
C Piob:
A Bova, S Ross, B Mulhearn, D Nevans, A Gehrig, S McCabe, S MacRae, L Dick, J McDonald, C Maclean, R Telfer, R MacKay, J Macleod, J Simpson, A Graham
P&A MSR:
S Gray, P Hunt, D Urquhart, C Drummond, I Smith, S Leask, S Muir, G Drummond, G Bruce, C Sutherland, J Greenlees, J Hazzard
B MSR:
C Martin, A Kummerlow, R Cowan, A Hall, G Canning, L Dick, K Coyle, R Tierney, S McCallum, J Cameron, A Bova, M Fraser, D Beattie, J Lumberton, J Elder, G Mulholland
C MSR:
B MacDonald, G Barclay, J McDonald, C Maclean, S McCabe, H McInnes, B Mulhearn, R Telfer, N Robertson, A Gehrig, K Belcher, C Ross, A Graham, J Macleod, R MacKay, E Gaul, J Simpson, S MacRae, D Nevans
An Open Hornpipe & Jig contest follows the above. Please get along and support this very worthwhile contest if you can. It is very well run by the Army School under the direction of Major Steven Small and a fitting commemoration of the School's first director Captain John.
---
Only three months to go!
[wds id="3″]