World Champion Pipe Band, Shotts & Dykehead, held their Annual Junior Piping and Drumming Championship in the town's Calderhead High School today.
There was a very healthy increase in competitors from 103 last year to 154 this. Pipe Major Ryan Canning and Leading Drummer Blair Brown were in Canada on a teaching trip but the event went like clockwork in their absence. North Lanarkshire Council, the local authority, are very supportive of piping and drumming with a well-funded programme of tuition for pipers and drummers. They also have their own juvenile pipe band and this is something the Director of Music Mr Jim Park said the authority was very proud of.
Many of the band's pipers and drummers were forward today to compete They joined children from many other school bands, namely Dollar Academy, West Lothian Schools, West Fife Schools, George Watson's, Dunoon Grammar, City of Edinburgh Schools, Ross & Cromarty and George Heriot's. Bands such as Boghall & Bathgate were also well represented.
Shotts Chairman, Ewan McAllister, also highlighted the support the competition gets from other Grade 1 pipe bands namely Glasgow Police, St Laurence O'Toole, Scottish Power and Inveraray; indeed many of the adjudicators were from these bands.
As a diversion from the tension of competing the youngsters were offered the opportunity of having 'selfie' picture taken with the World Championship Trophy won by Shotts at Glasgow Green last August; just one of the lighter touches that makes the Shotts contest so appealing to youngsters.
Before announcing the prizes Chairman McAllister thanked the many sponsors who had made the competition possible: Asset Guardian Solutions, McCallum Bagpipes, Xtreme Reeds, Canning Reeds, RJ MacLeod and the Pipes and Drums website.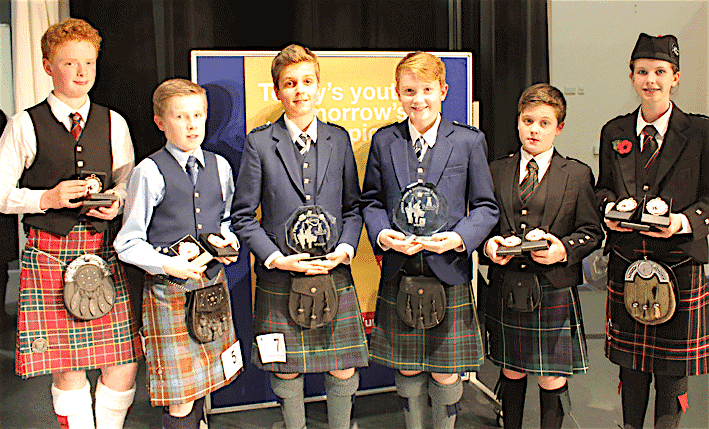 13 & Under March
1 C Happs 2 B Watson-Massay 3 J Smith 4 M Grieve 5 H Whyte 6 L Kennedy
13 & Under S&R
1 B Watson-Massay 2 C Happs 3 M Grieve 4 J Smith 5 H Whyte 6 L Kennedy
Judges: G Brown, P Hunt
15 & Under March
1 F Cameron 2 L Russell 3 C Craib 4 A MacPhee 5 J Edrie 6 J N Campbell
15 & Under S&R
1 L Russell 2 F Cameron 3 A MacPhee 4 A Ferguson 5 C Craib 6 JN Campbell
Judges: F Johnston, C Drummond
---
15 & Under Piob. Ground
1 R Brown 2 RA Paterson 3 M Grieve 4 A Knowles 5 H Whyte 6 B Traynor
Judges: W Geddes, G McCready
15 & Under Piob.
1 A MacPhee 2 F Cameron 3 L Russell 4 C Craib 5 J Ednie 6 A Ferguson
Judges: W Geddes, G McCready
U-15 Champion: Finlay Cameron, Dollar Academy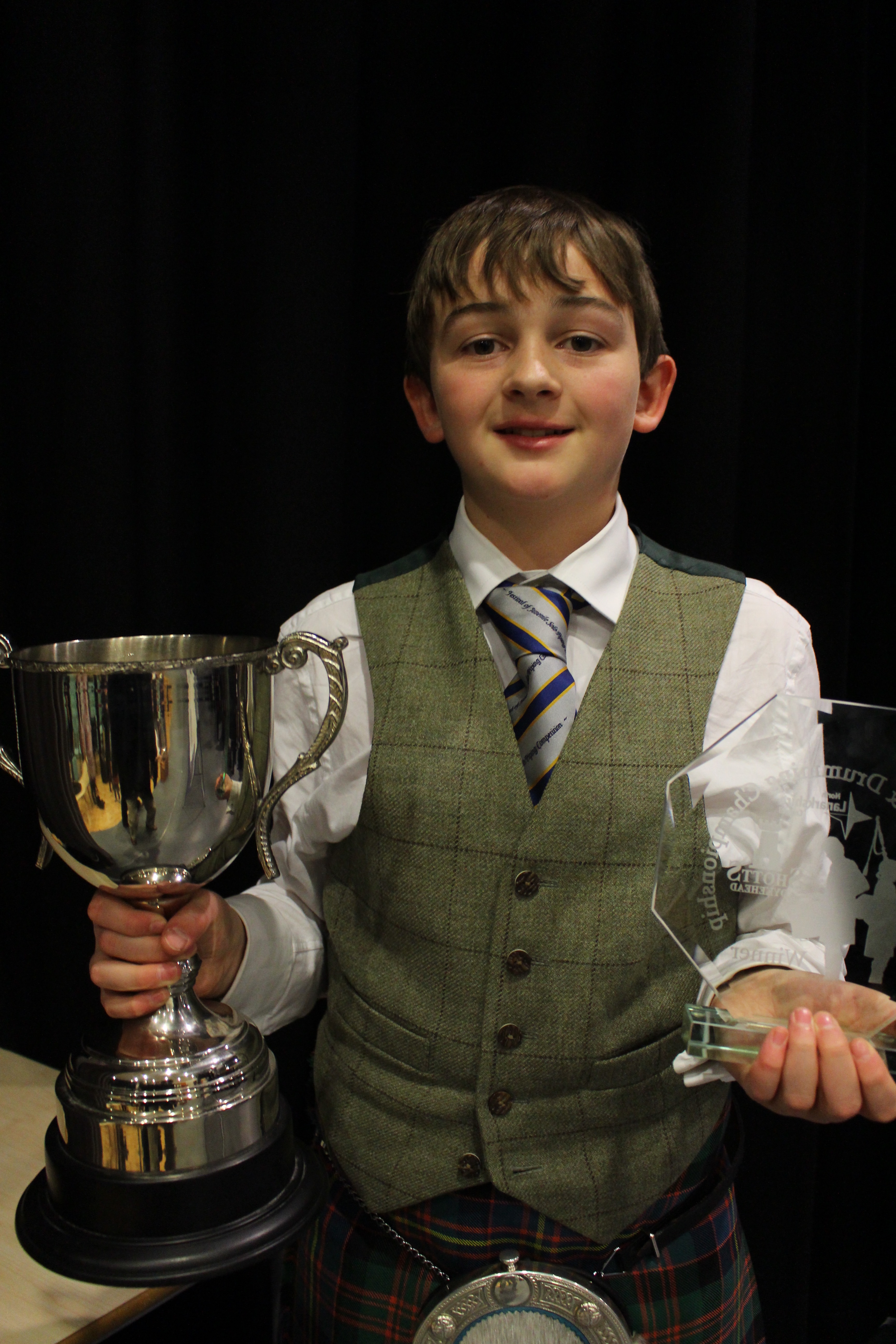 18 & Under March
1 J Campbell 2 C Jardine 3 D Mair 4 R Dick 5 B Scott 6 F Frame
18 & Under S&R
1 J Campbell 2 C Jardine 3 F MacFadyean 4 D Mair 5 R Dick 6 F Frame
Judges: A Henderson, G McAllister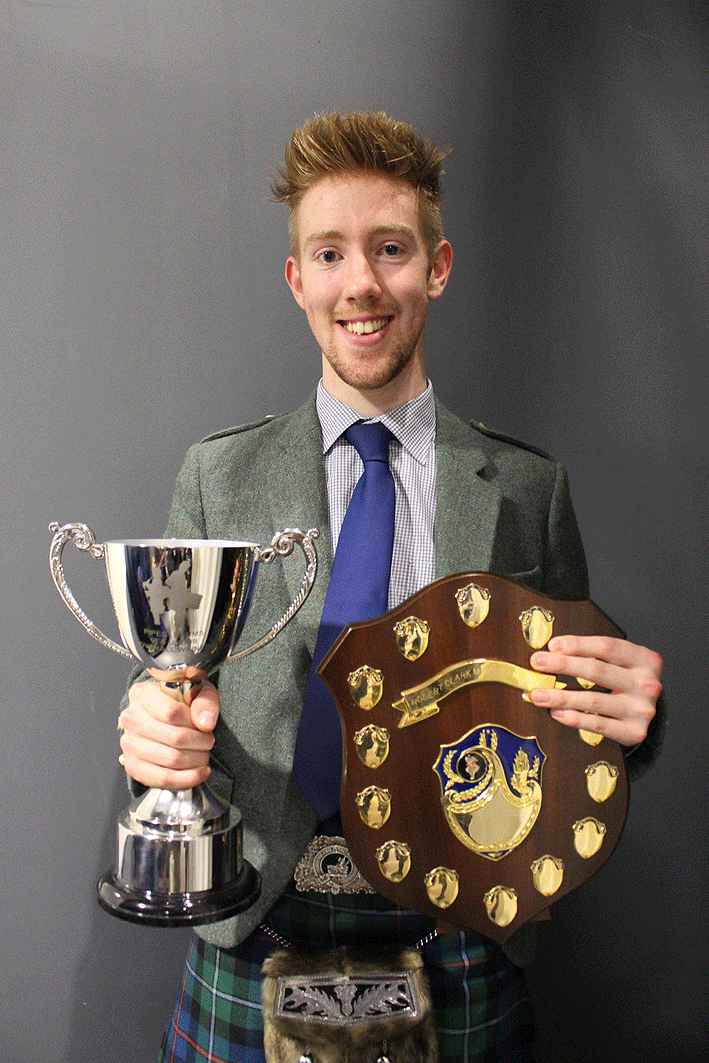 18 & Under Piob.
1 C Jardine (MacCrimmon's Sweetheart)
2 J Campbell
Judges: M Fitzhenry, A Henderson
U-18 Champion: John Campbell, Johnstone Pipe Band
Robert Clark Memorial Trophy for Piper of the Day: John Campbell
Drumming
15 & Under 2/4 March four parts
1 D Knowles 2 R Biggart 3 C Nelson 4 N Jordan 5 C Malloy 6 A Faulds
Judges: J Baxter, P Brown
15 & Under MSR
1 J Taylor 2 R Thom 3 R Power 4 C McCall 5 R Espie 6 L Kyle
Judges: BW Black, A Cook
15 & Under Tenor March (any time signature)
1 L Letham 2 H Harrison 3 J Merrilees 4 L Carroll 5 L Merrilees 6 equal H McIntyre, J Mitchell
18 & Under Tenor MSR
1 R McAleese 2 A Johnston 3 E Wynd
---
[wds id="19″]