Piobaireachd authority and renowned teacher Jimmy McIntosh has a superb set of Robertson pipes for sale. Check out PP Classifieds.
James Robertson was an Edinburgh based pipe maker who took over the business of John and James Center when they emigrated to Australia in 1908. His instruments are distinguished by the large, heavy projecting mounts and a deep, steady tone (see pic above).
---
The RSPBA have issued the playing requirements for all of next year's major championships. Here's what bands must play at the first, the British Championships on Saturday 21st May, Paisley:
Novice Juvenile B & Grade 4B – 4 x 2 parted marches from the RSPBA list of prescribed tunes
Novice Juvenile A & Grade 4A – 1 x 4 parted marches or 2 x 2 parted marches, 1 x 4 parted strathspey or 2 x 2 parted strathspeys and 1 x 4 parted reel or 2 x 2 parted reels from the RSPBA list of prescribed tunes
Juvenile – MSR
Grade 3A & 3B – Medley
Grade 2 – MSR (submit 2)
Grade 1 – Medley (submit 2)
Full list here.
---
The Scots Guards KO scheduled for Nov 1 in the SGA's Haymarket club, Edinburgh, has been cancelled due to a competitors' work commitments. New date soon.
---
Competing pipers around the world are busy working on the set tunes for Oban and Inverness next year.
---
Congratulations to Catherine Paton of Strachur on winning the Balvenie Medal for Services to Piping at Blair Castle last Saturday. Kate has done sterling work for piping in that part of Argyll, teaching and organising. If I remember correctly, she herself was taught by the late Niall Campbell, 'Mr Niall', another unsung hero of Argyll piping, especially in the early days of schools tuition. Congratulations too to Angus MacColl the Champion Piper. Angus has been in tremendous form lately taking second in the Clasp at Inverness and first in the Former Winners' MSR at Oban. Have a listen to the latter here.
---
Thanks to everyone who entered our caption contest. Some funny contributions proving once more than piping and humour are not mutually exclusive. We've picked out the top eight, but firstly the picture and then the finalists…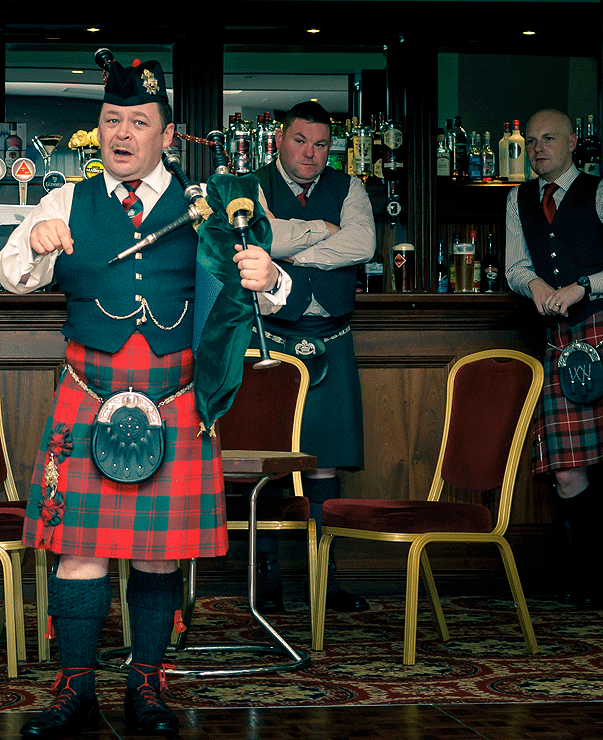 'Bella, Bella' sent…'What do you mean you want a jig? I'm playing piobaireachd, end of!'
Andy Donaldson…'Noo I'm gonna stawnd here fer youz that want a photie so's a look the same size as they big fellas ower at the bawr.'
William MacConnachie…'Listen carefully, I'm only going to say this once. Will ye stop eatin' crisps when I'm playing!'
Neil McNaughton….'Did I tell you the wan aboot me changin' the wheel on ma camper van?'
Jonathon Simpson…Gordon is saying: 'And another thing – why do I get called 'wee Gordon' when I'm actually the same height as Kevin Rogers!'
Janette Montague: The two men at the back 'Will ye give us another MMMSSSRRR'. Gordon: 'Am no strikin' up till a get a plate a' tattie soup and a taxi hame.'
Andy Wilson..'Yer no watchin' ma fit…get it sorted!'
Christophe Guilloteau…'And that's how ye get a sound like mine'. Kevin: 'They don't know, but I can see his middle drone is plugged!'
We think they're all pretty good and couldn't decide on a winner so here's a poll where you can vote for your favourite. The winner gets a £20 voucher for the Piping Press Shop:[polldaddy poll=9145612]
---
[wds id="3″]