Forty years ago I was at Corby, in Northants, for the World Pipe Band Championships (yes, the fated we wuz robbed event). Last weekend saw me back there almost to the day to judge the solo piping.
Thanks to the influx of steelworkers in the 50s and 60s, Corby has a strong Scottish heritage, and a few thousand turned out for the games and pipe band competition. Before proceedings got underway I had a chat with RSPBA adjudicator Cameron Edgar. Cameron was at Corby as part of his pipe band ensemble training. At the moment he is confined to judging piping but next year, all things being equal, he will have the ensemble string to his bow.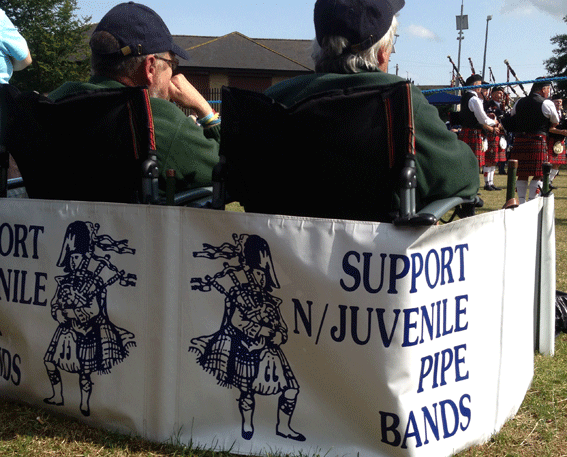 Cameron was on that trip to Corby 40 years ago too. He reminded me that his band, Red Hackle, had shared a plane down with Muirheads. The day after the championships we flew out to Toronto for the CNE Tattoo and the Intercontinental Championship which I thought the Hackle had won but he wasn't so sure I was correct on the year.
No matter; no time for further pondering – the solo contest had to start. It was a mixed bag with some good playing from the two professional pipers on show, James Stewart and Roger Huth, but I am afraid the performances in the Adult Amateur and Juvenile classes left a lot to be desired.
Not enough work is being done on the basics. Youngsters are being shoved into uniform and on to the street way before their time and the consequence is that the fingering is nothing short of, how can I put this, extremely disappointing. Later one pipe major admitted that this is what he does just to get the band on parade. Far better said I, to have a year off waiting until the pipers are up to the mark.
There is good teaching in the south of England but there needs to be much more; this is perhaps something that the RSPBA branch might like to address.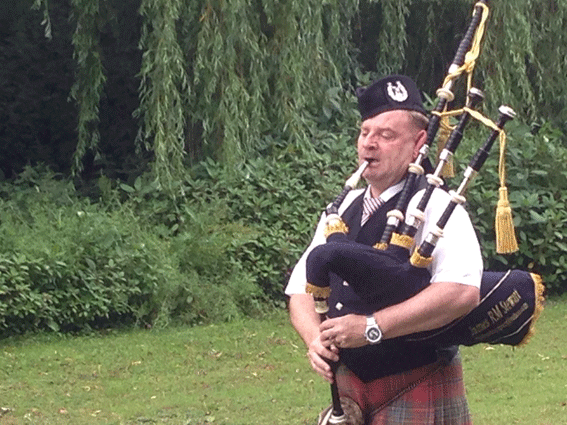 As I said, the playing in the professionals was of a good standard with quality instruments from Roger and James. Unfortunately P/M Huth got caught in a considerable downpour and this seriously affected his performances. His MacFarlane's Gathering was an enjoyable tune however, just needing more pointing in the pendulum variation, and more time on the high A theme notes in the T & C. The winner of all pro events, 6/8 march, MSR, H&J and Piobaireachd, was Jimmy Stewart. His MacKay's Banner was very competently played and would certainly have been in contention for a prize at the games in Scotland. Good, clean finger, nicely balanced pipe and well phrased melody.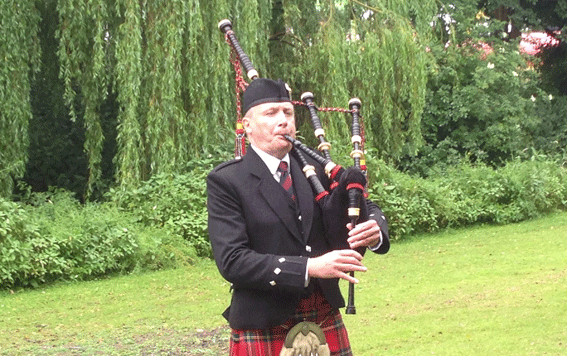 Jimmy's pupil, Cameron Park, won all the Adult Amateur contests and was the one beacon of correctness in this class. In the bands the major honours went to RAF Halton under P/M Iain Westgate. The Scots Guards Association (South) under P/M Steve Duffy won the Grade 3 Medley and the MSR. I wonder where they get that rather odd setting of Peter MacLeod's 'Conundrum' from?
The sun came out for the massed bands (pictured up top) and a large audience cheered on the winners. All in all a good day out in the south, well marshalled by Branch Chairman Walter MacGregor.
---
Results from Germany:
Bagpipes Association Germany Pipes and Drums Competition at the International Highland Games in Angelbachtal, Germany.
Adjudicator:
Drumming: Jim Baxter – Scotland
Piping: Willy Garrett – Northern Ireland
Ratings:
Grade 4
3rd Place – Clan Pipers Frankfurt, Germany
2nd Place – Pipes and Drums of Basel, Switzerland
1st Place – MaClaren Pipe Band, Holland
Grade 4 MSR
1st place – Pipes and Drums of Basel, Switzerland
Grade 3
3rd Place – Claymore pipes and drums Munch, Germany
2nd Place – Heidelberg and District Pipes and Drums, Germany
1st Place – Odenwald Pipes and Drums, Germany
Grade 2
1st Place – Odenwald Pipes and Drums, Germany
Open Grade
3rd Place – Heidelberg and Pipes and Drums, Germany
2nd Place – Claymore Pipes and Drums, Germany
1st Place – Odenwald Pipes and Drums, Germany
---
Inverness Games this Saturday, 18th July, are back at Bught Park after a few years in the grounds of Eden Court Theatre. The piping contests at the games are run by Inverness Piping Society.
http://www.invernesspipingsociety.co.uk/inverness-games.html
This year they have an under-15 March competition, under-18 MSR and  Piobaireachd, plus Senior Piobaireachd, MSR  and Hornpipe/Jig.