Readers could be forgiven for thinking I had a downer on Roderick Campbell's fine tune 'The Royal Scottish Pipers' Society'. I don't. I think it a wonderful composition and I am sure the eponymous Society is delighted with a tune that has guaranteed their immortality.
However, as I said in my crit on the British Pipe Band Championships, I do not think it is of sufficient difficulty for Grade 1 pipe bands today. Things have moved on from 40 years ago when it was a staple of P/M Ian Macleod's City of Edinburgh Police band. Given the quality of players, and the extremely high standard bands need to achieve if they are going to be successful these days, this tune just does not provide the required test of technique or timing. But nevertheless, it is a composition of real merit. The only thing the composer got wrong, in my view, is the anacrusis to the first part. This should be high G/F and not high A/F, the first more in keeping with the mode of the tune.
---
[wds id="11″]
---
But who are we to suggest such changes? There's enough of it going on as it is. Those who have listened to Donald MacPherson on our new audio archive page will hear that he is playing the plain low A from B in 'John MacFadyen of Melfort' instead of the G gracenote birl as John MacColl wrote it. This may be acceptable to some, and who will argue with Donald MacPherson?, but it is not as the composer penned it, and is a much easier passage to execute. It would have been a breeze for someone as technically brilliant as Donald – which makes it all the more surprising that he chose this setting to play.

Then we can look at another John MacColl march, 'Jeannie Carruthers'. John Burgess insisted on, and played, a long low A in the third part instead of the composer's low A taorluath! I don't think it enhances the tune at all; do you? It has been known for composers, excited about a new piece, to rush out a copy to their peers for approval. This often scribbled manuscript is cherished by the recipient and in the meantime the writer goes about some polishing work. This may be to where we can trace alternatives such as that played by John and that highlighted in my earlier piece on GS's masterpiece 'Inveran'.
Another tune we hear often with wild variations from what the composer wrote is Willie Lawrie's 'John MacDonald of Glencoe'. The worst piece of mangling is often in the final phrase of each part, a cut from D to low G substituted for the much more difficult doubling on D/low G. The serious player will have each of the prescribed doublings on C, D and B, those that follow the C to E grip, matched to perfection. Highly musical, a unique characteristic of the tune, absolutely essential - and as P/M Lawrie gave us it.
One of the great Peter MacLeod tunes is his 2/4 'Hugh Kennedy MA BSc'. Most people today play a high G in the last part, but if we look carefully at the original publication in the Edcath Book 1 (below), we can see that the intention was for it to be a high A, in keeping with the rest of the tune. The printer has, for whatever technical reason, missed the ledger line (never trust an inky)! Now here is an example of serendipity if ever there was one. I think it adds to the melodic interest in the tune. Pipers instinctively recognise this and that is why these days  the high G is heard more often than the high A.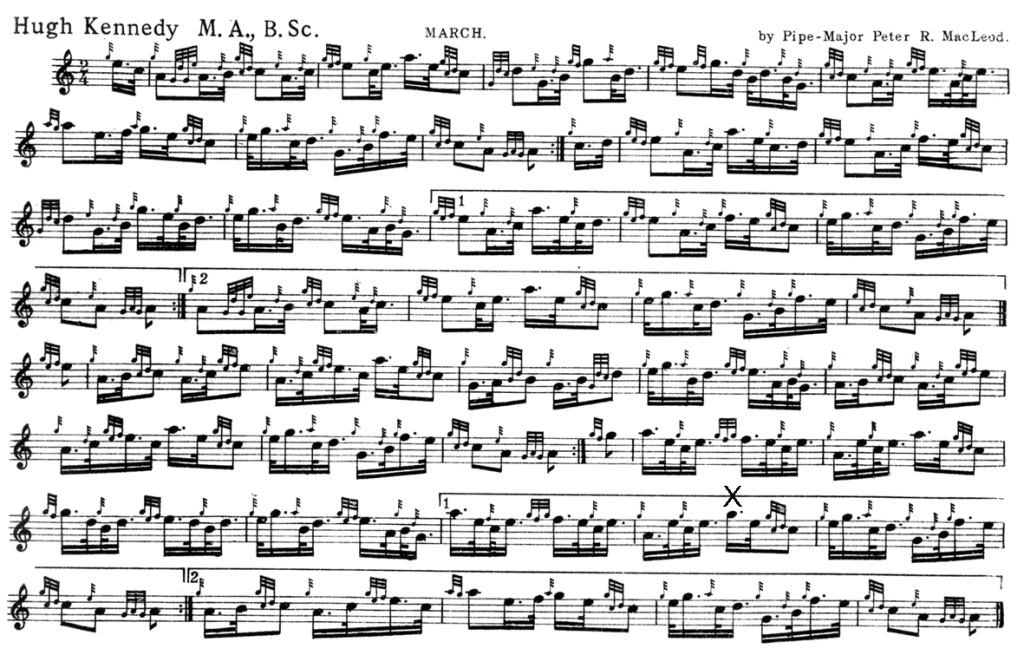 Finally we have the Highland Wedding. Robert Reid was famous for birling up to the high A in the first part. Yet when we learned the tune from his protégé P/M RG Hardie, we were taught us to play it as per Willie Ross - Reid's setting was not for a band said Bob. Where Reid got his version from who knows (MacDougall Gillies?), but it is attractive nevertheless and one thing is for sure - he was not treading on any composer's toes. 'Highland Wedding' was reputedly adapted by Angus MacKay from the simple folk air used by Burns for his risqué  'Reel of Stumpie' song. (Readers might like to hear an interesting fiddle version here on the splendid Rare Tunes website, and you can hear it played on the mountain dulcimer here.)

One of our finest march players today is Angus MacColl (pictured top) and he has a nice line in compromise when it comes to the first part of 'Highland Wedding', birling up to the second high A but not the first. Here he is from his highly acclaimed 'Live' CD:
We all stand or fall by changes we make to accepted versions of traditional tunes such as 'Highland Wedding'. If it's considered an improvement it will generally stand the proof of ages and be accepted by judges and audience alike. If not, it quickly falls to ground. We should bear in mind that the 2/4 'competition' pipe march has only been with us for 180 years or so, the product of the fertile brains of the Angus MacKay mentioned above, and his fellow clansman Hugh. We have the scores for most, if not all, of the original tunes written since and pipers and bands are on dangerous ground when they start their meddling.