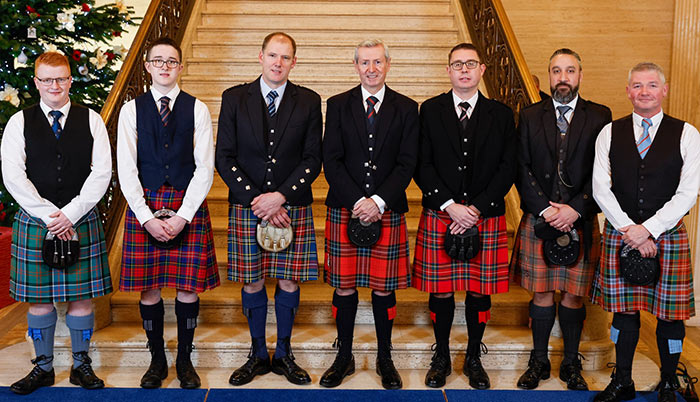 Ulster's pipe bands are set to benefit from a new masterclass featuring 13 times World Champion, Pipe Major Richard Parkes.
The new initiative was announced at Stormont when Ulster-Scots musicians from across Northern Ireland came together at Parliament Buildings to mark their success at last year's World Pipe Band Championships, in a celebration organised by the Ulster-Scots Agency.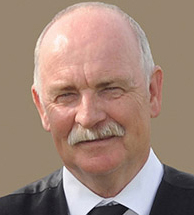 The Great Hall was packed to capacity with pipers, drummers and drum majors in a gathering that included two winners, three runners-up and two third place finishers in their respective grades Field Marshal Montgomery, Ravara, Matt Boyd Memorial, Major Sinclair Memorial, Kildoag, Gransha and Syerla (see picture, top).
Speaking at the event, Ulster-Scots Agency Chief Executive Ian Crozier reserved a special accolade for Richard Parkes MBE, who achieved a record-breaking 13th World title in his role as Pipe Major of FMM.
Richard received a special presentation from Ian who announced a new Ulster-Scots Agency supported 'Richard Parkes Pipe Majors Masterclass', where the FM man is set to guide Ulster's current and future pipe band leaders. What a tremendous project this will be for all bands. More details later.
In addition to Ulster's top-performing bands, the gathering also included many of our top drum majors: reigning Adult World Champion, Tyrone-born Kara Gilmour (Police Scotland and Federation), Mia Buckley (Joseph Forde Memorial), Carys Graham (Glasgow Skye), Abigail Wenlock (Shotts and Dykehead) and Kathy Hunter (Manorcunningham – Eire).
---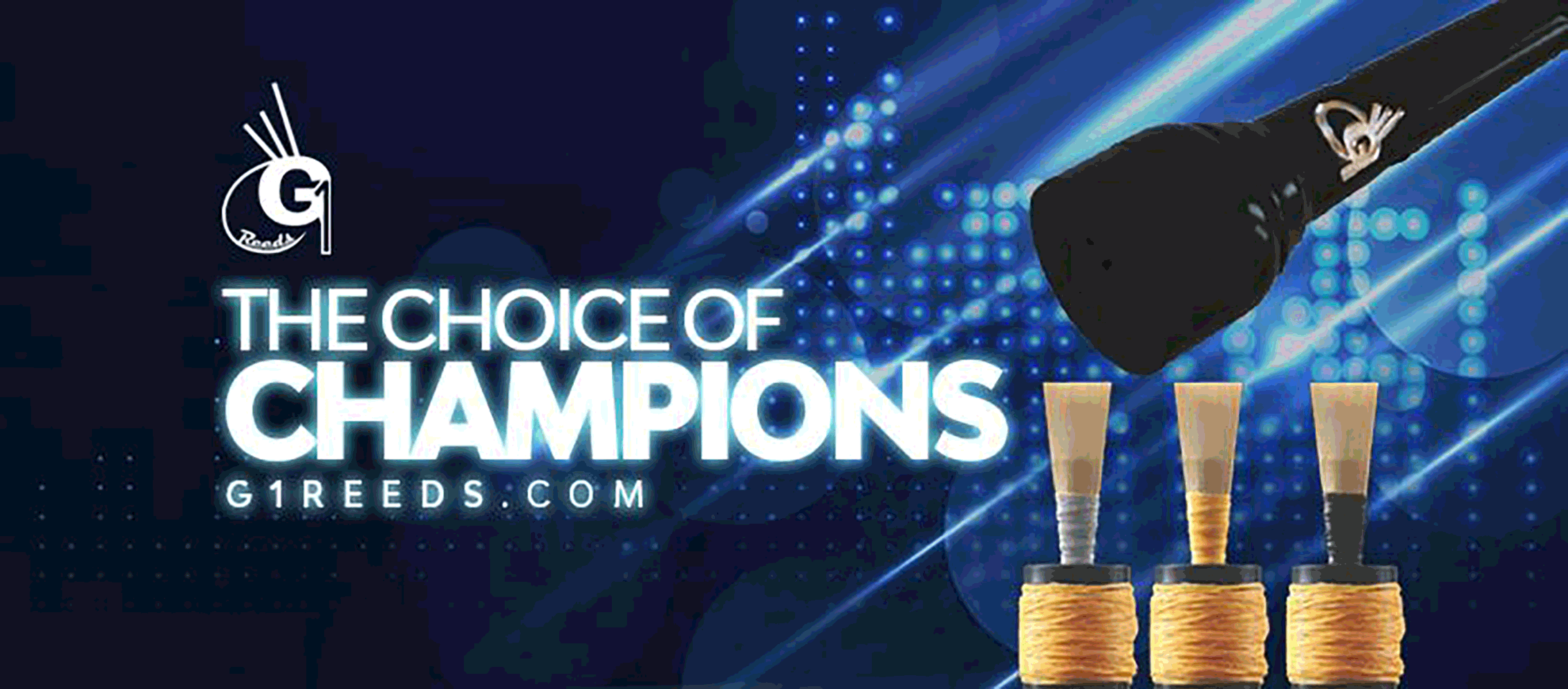 RGH-Heritage-pipingpress-800×300
MacRaeBanner '19

Ayrshire Bagpipes Nov 2020
Selcraft-UK—Piping-Press—Advert
2023_BalmoralClassic_Ad_PipingPres_Rv
---
Ian Crozier said, 'The pipe band movement is one of the most visible and obvious manifestations of our Ulster-Scots identity and a very tangible connection to Scotland, with Northern Ireland the world's strongest piping jurisdiction outside the mother country.
'Around 150 bands and thousands of musicians and supporters are a vital source of cohesion in communities across Ulster and our world-beating bands are a great source of pride to the entire Ulster-Scots community.'
Speakers at the event also included Sir Nigel Hamilton KBE, the former head of the Northern Ireland Civil Service, who is Patron of the Royal Scottish Pipe Band Association (Northern Ireland).
---
The All-Ireland Solos and JAC Solos: These contests had originally been scheduled to take place on Saturday 17 September 2022 but were cancelled because of the death of HM The Queen. They will now take place in Lisnagarvey High School, Lisburn, Co. Antrim, on February 18.
Entries will open soon and prospective competitors are asked to keep an eye on the website and social media. The first half of every season normally includes a few solo events and with this competition now being rescheduled to February it will act as a serious warm up for the Ulster Solos which usually take place in April and maybe also the long running Cullybackey Solos which will also resume.
---




---
Jim Graham: It is with sadness that I must report the passing of one of the great characters of the local piping scene in the person of Jim Graham who was a bass drummer of exceptional quality. In addition to adding his skills to the various drum corps that he played with over the years he often lifted best bass drummer or bass section prizes throughout a long and illustrious career.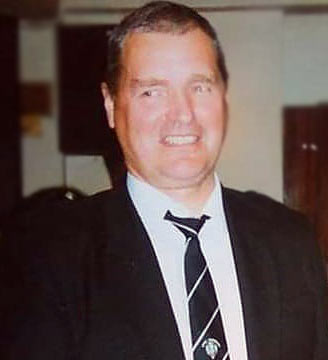 It was no surprise that when P/M Mark Rodgers of Upper Crossgare Pipe Band posted a tribute online that so many who had known him responded with their own reminiscences: 'gentleman', 'legend' , fantastic musician', 'role model' and 'a lovely human being'. Jim honed his skills with his local Ballynahinch Pipe Band before taking a break when it folded.
He was persuaded by Upper Crossgare to return, competing for the last time at Newcastle in 2019. I am sure that many will remember the 'Veteran Drummers Nights' organised by Upper Crossgare when, with the microphone in his hand as compere, Jim was in his element. I will long remember his impersonations of some of the notable side drummers of the era which brought the house down.
---
On April 15th, 2023, the Tullylagan Pipe Band will be celebrating its 100th Anniversary with a concert in the Burnavon Theatre, Cookstown, featuring both the Tullylagan Senior and Junior bands along with Cullybackey and Closkelt. The programme book is very well illustrated and provides a unique record of the band's history from its formation in 1923.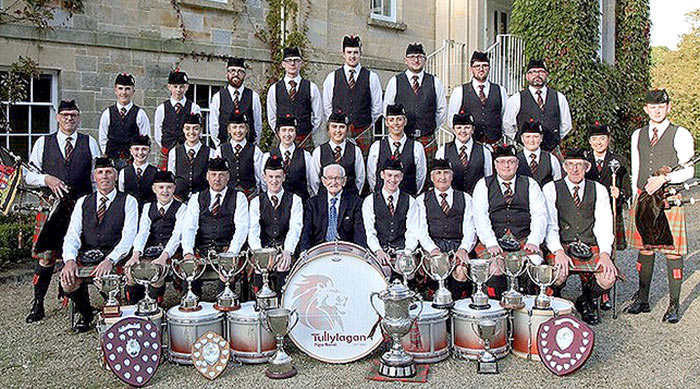 I am fairly sure that Tullylagan is amongst the longest running competition pipe bands in Northern Ireland making their debut in the NIBA Championships of Ireland competition which they first won in 1933, 1934, 1936, 1937 and 1947. Tickets for the concert (£10) can be purchased here.
---
My attention was drawn recently to an initiative being pursued by the Irish Pipe Band Association as they try to attract lapsed bands back into the organisation or encourage bands that might never have considered joining the Association to come in.
In launching this initiative they acknowledge that the pipe band scene in Ireland has deteriorated at an alarming rate mainly through inactivity with the main reason being the inability of bands to attract new members. The pandemic has also had a serous effect on recruitment.
As part of an initiative to begin growing the pipe band scene they are planning that no branch fees are to be charged for 2023 and that any band that has lapsed its membership (or is registering for the first time) and decides to return to the association will only be levied a €50 fee for 2023.
If you have any news from the piping and pipe band scene you'd like to pass on to Gilbert please email him here.
---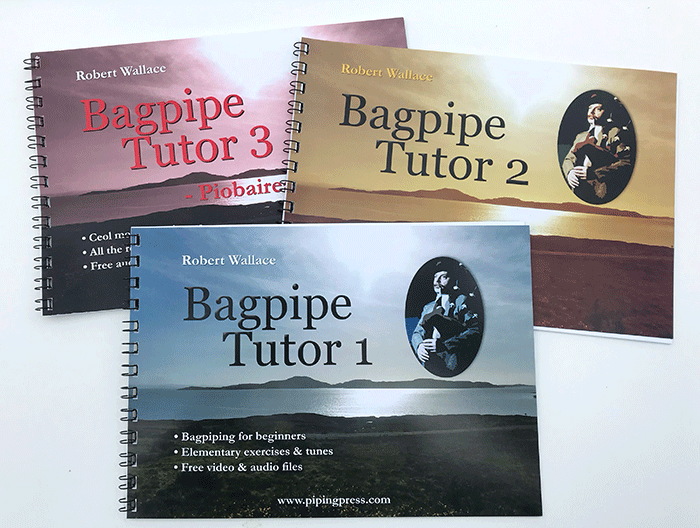 60 lessons in three outstanding tutor books taking the complete beginner to intermediate level and introducing the classical music of the pipes, piobaireachd. All books have free audio and/or video back-up fully explaining the exercises, tunes and the required expression. Since they first appeared in 2015 these books have sold hundreds of copies worldwide. Price includes mailing of £12.
Click here to purchase.
---