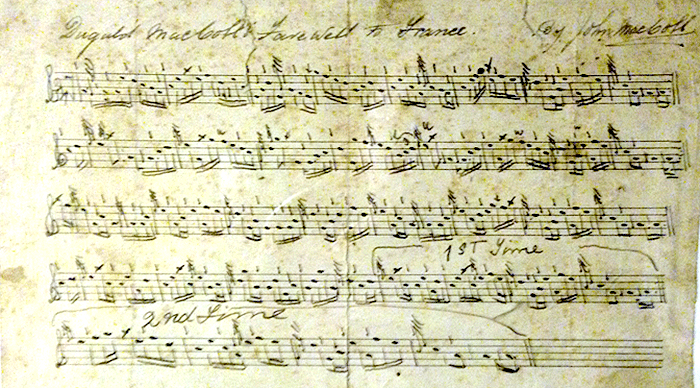 I suspect that what I write will attract comments from others who do not share my opinion. I hope we can have an interesting dialogue. 
GS McLennan, John MacColl, Willie Lawrie, Roddy Campbell, where have you gone? We miss your music, your composing genius. (That's MacColl's masterpiece, Dugald MacColl's Farewell to France, in the composer's hand above.)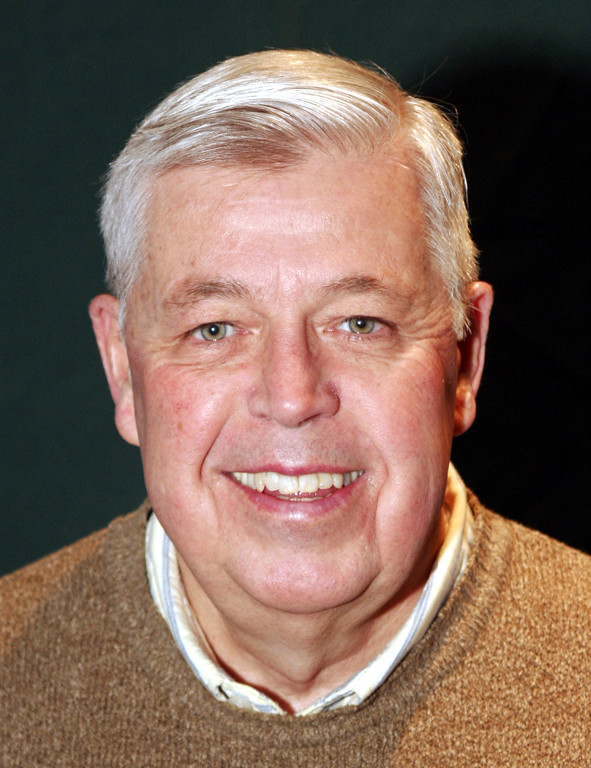 By Dale Brown
Today's new music seems concentrated on hornpipes and jigs. Admittedly, they often have a flair that is a pleasure to listen to and play.
In many cases they are of quite a different style from those of a passed era. Fine, but what we are missing today are new marches, 2/4s and 6/8s, strathspeys and reels.
The repertoires of these idioms have become stagnant. The MSR music at Oban, Inverness and Glenfiddich is close to, if not completely, predictable.
And it's not much different for Grade One bands who use almost exclusively use the same few six-parted tunes in their MSRs.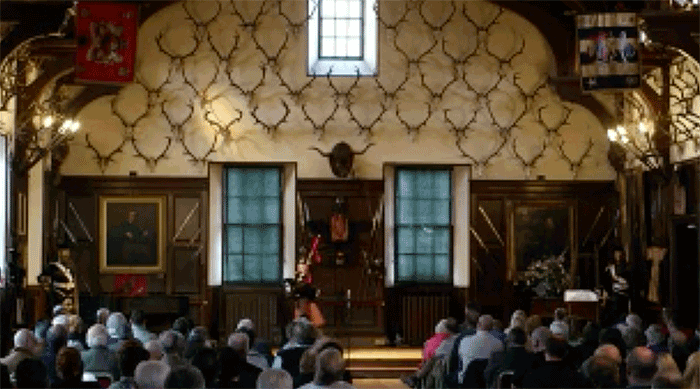 With the exceptions of P/M Donald MacLeod and Captain John A. MacLellan, when have you seen a piper in the top echelon do any serious composing in the last fifty years or longer?
I have heard that when Robert Reid was asked why he didn't compose he replied (I paraphrase), 'there is already enough music'.
The Bobs of Balmoral? Maybe two tunes between them. John MacFadyen? I see a few arrangements, but no compositions.
Seumas MacNeill? I have seen one 6/8 march.  Donald MacPherson? A few good tunes but, all things considered, not that much. Today's top luminaries? I have seen very little.
What conclusion can be drawn? It would appear great players seldom have possessed in equal measure a superb creative composing skill set – the legends mentioned at the head of this article excepted.
In the time afforded during this covid period, has very good (possibly even great) existing music that has lain dormant and unplayed in some cases for over 100 years been examined and tried?
It would be a shame when events open up again that we have to describe the tunes being played as 'same old, same old'.
US piper Dale Brown, Troy, Michigan, is the compiler of 'complete collection' music books by John McLellan DCM and John MacColl. He started piping aged 12 taught by Walter Rose, former Seaforth Highlander and student of Archie MacNeill the blind piper. Dale is a former USAF officer who served during the Vietnam War. Now retired from commercial banking, he is active in teaching piping and judging in the Midwestern US. If you would like to reply to his article please do so in our Comments section.