A request for information on focal dystonia from one of our Australian readers, Ken MacDonald, has prompted a good deal of interest and response, some already carried in our comments section but repeated here.
Clive Douglas: 'Good to hear some positive comments regarding focal dystonia. I've suffered for over 30 years and I've never managed to overcome the condition. I noticed a woman called Ruth Chiles claims to be able to cure 95% of musicians that suffer from dystonia. I think she might be based in Granada, Spain. Best of luck Ken. I hope you manage to beat this horrible condition.'
Ruth Chiles' website is here. She describes the condition thus: 'It is a type of dystonia that affects a muscle or group of muscles in a specific part of the body (thus the term 'focal'). It causes undesired and involuntary muscular contraction or twisting. Focal dystonia can affect the muscles of the eyes, mouth, vocal chords, neck, hands and feet.
'It is commonly assumed that the cause of the problem is in the affected muscle or muscle group. However, whilst the symptoms manifest in the muscles, the root cause is a complex of erroneous neuronal connections. Musician's focal dystonia can affect any part of the musician's body in a way that impedes him or her playing their instrument.'
Bob Low offered this translation from M Tesniere who responded in French: 'Roughly, M Tesnière is saying that he had a similar problem with dystonia on his left hand and that after many experiments, personal research and consulting with a friend who had lost his birl, he hit on a solution that worked.
---
[wds id="9″]
---
'That was to wrap a light elastic band between his thumb and each finger on his hand, strong enough to make him relearn how to move the fingers without totally preventing movement. He adds it's important to exercise the muscles on the fingers.
'I can add that my experience was similar. I totally lost my birl at age 31 in the space of a few months and didn't get it back until I was 46 and had the internet to guide me. I didn't play pipes more than six or seven times in total (family weddings mostly) in the intervening years because of it. I used a rubber band and taught myself to do tap/drag birls working against the resistance. Eventually I could play again and can now play adequately and in a conventional birl style.'
David Waterton-Anderson offered a more literal translation: 'I had worries of dystonia in the left hand; I had not the possibility anymore to play with my middle and left index finger; they didn't respond anymore as I wished it. After a lot of attempts and personal research I found a simple solution so that my brain recognizes these two fingers. My solution I put around the middle and left index finger, a small rubber band on each finger without compromising the fingering to play.
'I advised a friend this solution he had lost the control of his birl finger. With the help of a small ring he recovered his game. It is important to make the exercises to our fingers as well as building the muscles to the finger that has a weakness.'

This conditions seems to be more widespread among pipers than is commonly understood. If any reader has has similar symptoms please share.
---
[wds id="2″]
---
After an extensive search, Carnegie Mellon University is pleased to announce Miles Bennington as its new Drumming Instructor.
Professor of Music and Director of the band Andrew Carlisle said: 'Miles will be providing regular individual instruction to the student drummers, directing the drum corps during rehearsals, performances, and competitions, and will take on a leadership role in building a cohesive and talented drum corps.
'I am looking forward to working with Miles. He is clearly very passionate about teaching drumming. His background and experience as an educator along with his involvement with top level bands will be skills that will serve him in good stead at Carnegie Mellon. I have no doubt that he will be an asset to our students, the University and its Pipes and Drums.'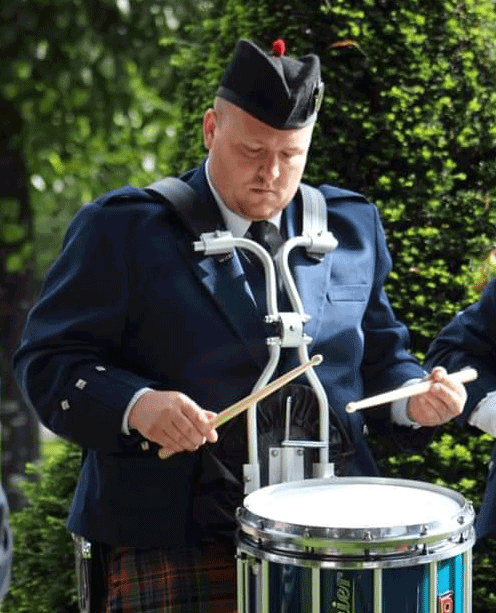 Miles Bennington is a professional snare drummer and special education teacher from Pittsburgh, Pennsylvania. He began pipe band drumming at the age of 16 under the instruction of his father, James.
That same year, Miles joined Jimmy McIntosh's Balmoral Highlanders Pipe Band. The following season, Miles joined the Grade 2 Great Lakes Pipe Band where he helped propel the drum corps to multiple awards including the US Open Championships, Canadian Championships, and North American Championships.
Miles later joined the Grade One Toronto Police Pipe Band where he contributed to more titles such as the North American Championships and PPBSO Champion Supreme. He has also been the instructor of the North Coast Pipe Band in Kent, Ohio for several years. Miles is currently a drummer with the Grade One 78th Fraser Highlanders Pipe Band.
He said: 'I am excited for the opportunity to work with the Carnegie Mellon University Pipes and Drums. Having grown up in the greater Pittsburgh pipe band community, I've been able to observe firsthand what a massive impact Carnegie Mellon has made in our community here and abroad.
'The opportunity to collaborate with someone as esteemed as Andrew on the development of the program and its members is truly an honor. I look forward to diving in and helping to continue developing an already prestigious program.'
---