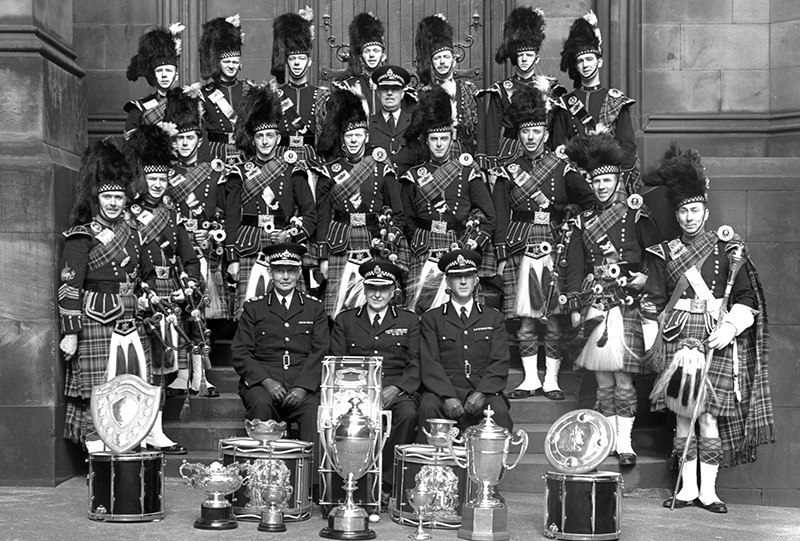 In looking for things to do to break the monotony of the latest lockdown restrictions in Scotland I came across copies of two articles relating to the teaching of pipe band drumming which were given to me a long time ago by Allan Chatto from Sydney in Australia.
The articles, written probably in the 1940s or 50s for the then Piping, Drumming and Highland Dancing Journal, were by two of the all-time great pipe band drummers, Jimmy Catherwood and George (Geordie) Pryde, both former Leading Drummers of the Edinburgh Police Pipe Band. George Pryde is pictured back row second from the left in the above picture of the band under P/M DS Ramsay.
Some of the drummer readers of Piping Press might find it interesting to read about advice these great individuals were providing all these years ago.
I met Jimmy Catherwood on a number of occasions. I found him to be a very knowledgeable, infectious and funny character who was always so obviously passionate about drumming and pipe bands. My fondest memory of him was when he joined the drum corps of the Lothian and Borders Police Pipe Band on a visit to the Premier Drum Company in Leicester, arranged by Jim Kilpatrick MBE.
---
---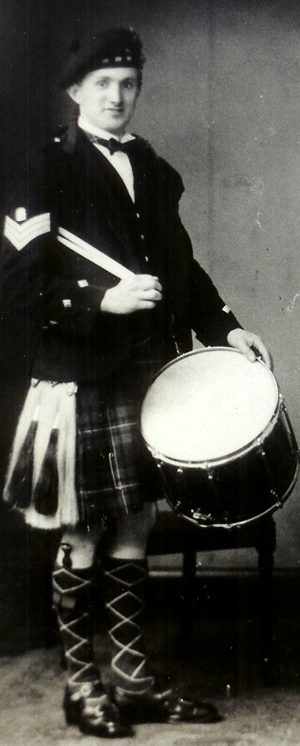 The banter was good during a hilarious journey there and back by minibus. I was also privileged to play with the band at Jimmy's funeral in 1983 in Rosebank Cemetery, Pilrig Street, Edinburgh. Jimmy is pictured left.
I met George Pryde on two occasions in 1976, Iain McLeod's last year as Pipe Major of the Edinburgh City Police Pipe Band, the band having been renamed Lothian and Borders Police Pipe Band the previous year. George was on a visit to Scotland and he travelled with the band to the World Pipe Band Championships at Hawick and to Cowal Games in Dunoon. I learned a great deal by listening to his passionate stories about pipe band drumming. I was also very impressed after the World Championships when he showed some of us the detailed notes he had made on all the Grade 1 performances and had the results in exactly the same order as the final placings of the adjudicators. I also witnessed on the way back from Cowal Games a brief demonstration of his playing ability, which was very impressive.
I have reproduced both articles below. Both emphasise things which are just as relevant and important today, such as :
the fact that good drummers do not necessarily make good teachers;
the importance of learning to play drum rolls and rudiments properly;
the need for the learner to have patience, perseverance and regular practice;
the importance of liaison between Pipe Major and Leading Drummer to ensure the musical effect of the combined pipes and drums (interesting that 'ensemble' was being talked about all these years ago); and
the difference between a technical drummer and a musical drummer (musician).
---
Listen to brilliant modern drumming from Steven McWhirter accompanied by Stuart Liddell, World Solo Drumming 2014. The tunes are Lord Alexander Kennedy, Cameronian Rant and Pretty Marion:
---
I also found it interesting to read about George Pryde's method of teaching the Long Roll (or Closed Roll). My original drumming teacher, the late Drew Hennessey of the Borthwick and District Pipe Band, who was also employed in the mining industry and from Gorebridge not far from Newtongrange, had a different method of teaching the Long Roll.
He made us hold a book under each arm to prevent too much arm movement, with the objective of developing wrist flexibility and control, to achieve a smoother transition between open and closed roll. We were also expected to adopt wrist twisting exercises designed to enhance wrist strength and control.
He always argued that this method produced rolls of quality, with consistent, equidistant and closely executed pulsations with a smooth and unforced overall texture. I am conscious that other methods of roll development are used, such as playing a buzz with each hand and gradually playing these faster until they develop into a roll. Others may disagree but in my view possible dangers of that method are forced, pulsating or slightly accented closed rolls.
You can access both of these very interesting documents by clicking the link below.