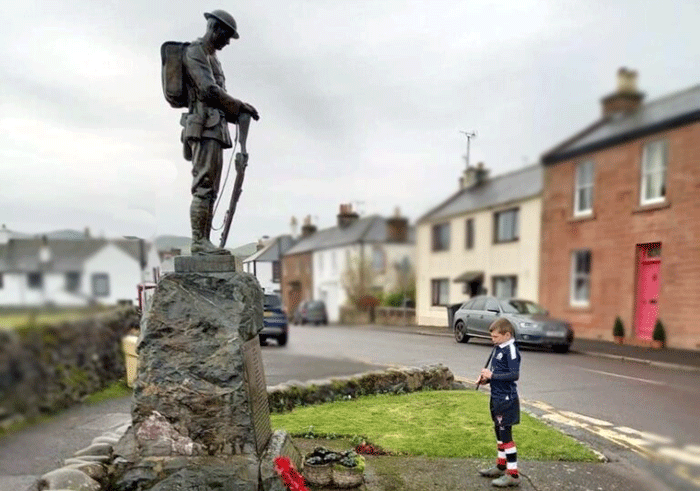 This touching story is from Andy McCartney of the South West Scotland Pipe & Drum Academy: 'Just prior to the beginning of lockdown in 2020, William Marchant a 9-year-old pupil at Penpont Primary School, started chanter lessons with me. They were done via the internet to his home.
'Both William's dad and his grandfather are pipers, so it seemed natural that William would also want to play pipes. He was very keen and made very good progress. However, things changed a little when William returned to school and had extra pressure on his home time, but he got back on track and continued from where he left off.
'He is also keen on rugby and his mother Aileen takes him to training on Sunday mornings at Dumfries Rugby Club. Last Remembrance Sunday William put his practice chanter in his kit bag and on the way back home he asked his mother to stop at the War Memorial in the village.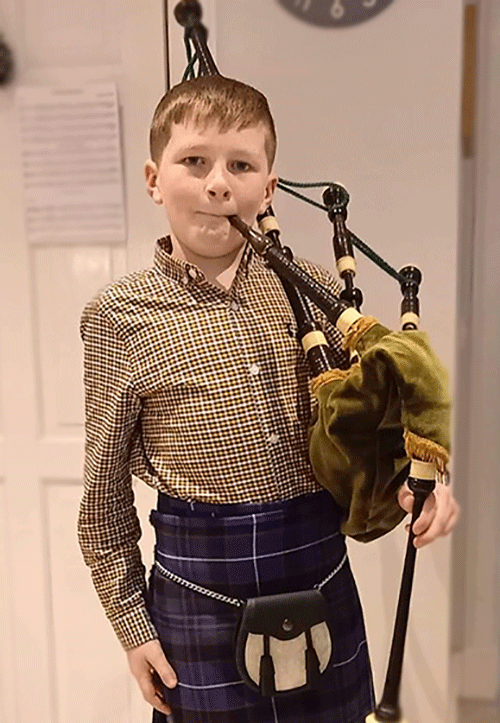 'He got his chanter out, went to the memorial, stood in front of it and played one of his first tunes, Bonnie Galloway. A lady in the village saw and heard William, and took this photograph (above) and sent it in to the local newspaper.
'Since then William has continued to make good progress and a 6/8 pipe tune, written by Pipe Major Alistair Cuthbertson for William's great-grandfather, has now emerged. It is called RSM E.H.Marchant, 2nd Battalion Scots Guards.
'It is a four- parted 6/8, a nice tune, which William will play in time. However, it would be great for this wee boy to know the story behind the tune. So if anyone knows Alistair Cuthbertson, who was HM The Queen's piper from 2006 – 2008, perhaps they could ask him.'
I am sure someone among our readership will know the story Andy. Email pipingpress@gmail.com please.
---
---
I sent my latest newsletter to members of the Piobaireachd Society last weekend. If you are a member but didn't receive it please get in touch. It covers the ongoing 'Talk Piobaireachd' sessions with a link to the latest report on Duncan Watson's December session on MacLeod's Controversy and MacLeod's Salute.
There have been extensive additions to the Society's outstanding music archive and the work done by Jack Taylor on this is listed in full. Some important recordings and recordings of new compositions included. The newsletter goes on to discuss the forthcoming AGM, the Archie Kenneth Quaich and sponsorship for the NPC. It concludes with correspondence from members. 
---
Chris Lee in Hong Kong: 'Thanks very much for the articles and video of Tony Crease. Very sad to hear the news. I didn't know about the background about Amazing Grace for the pipes till I read the articles. 
'I am wondering if you would know the bagpipe version of the Amazing Grace was an arrangement by Tony himself? The version that we always hear on the pipes is different to the song version. Would be interesting to know, for me. Best wishes to you and yours for 2021.' Chris has supplied these scores:
I am sure it was Tony, Chris, but someone closer to the event may have more solid information.
---
Something for piobaireachd fans now. Breton piper Patrick Molard has recorded this version of the ground of Lament for the Children from Donald MacDonald's MS. He plays it on a replica Donald MacDonald pipe from 1806:
---
Results from the games in 1975:
Arisaig
Piob: 1 John MacDougall 2 Iain MacFadyen 3 James MacGregor 4 Evan MacRae
March: 1 John MacDougall 2 Arthur Gillies 3 Dougie Ferguson 4 Iain MacFadyen
S&R: 1 Arthur Gillies 2 Hugh MacInnes 3 James MacGregor 4 Dougie Ferguson
Jig: 1 John MacDougall 2 Iain MacFadyen 3 Hugh MacInnes 4 James MacGregor
Local March: 1 Angus MacDonald 2 Iain MacDonald
Local S&R: 1 Angus MacDonald 2 Iain MacDonald
Tobermory
Piob: 1 Arthur Gillies 2 P/M Angus MacDonald 3 Murray Henderson
March: 1 Hugh MacInnes 2 Arthur Gillies 3 P/M Angus MacDonald
S&R: 1 P/M Angus MacDonald 2 Arthur Gillies 3 Hugh MacInnes
Local Piob: 1 Ronald MacShannon 2 Hugh Campbell 3 Anne Sinclair
Local March: 1 Ronald MacShannon 2 Hugh Campbell 3 Iain MacIntyre
Local S&R: 1 Ronald MacShannon 2 Iain MacIntyre 3 Iain Hurst

---
[wds id="9″]