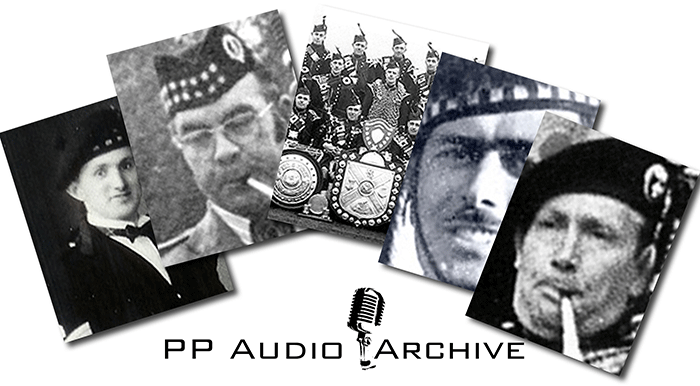 The archive has been made more accessible and is now self contained on the PP website. Access is free to all readers. We believe the quality of the recordings has been maintained during transfer.
There are recordings from some of the great pipers of the past and also some recent tunes from up and coming young players such as Cameron MacDougall.
Light music is very well represented with contributions from Alasdair Gillies, Andrew Pitkeathly, RU Brown, Donald Shaw Ramsay, Donald MacPherson, John MacDougall, Hugh MacCallum and Donald MacBride to name but a few. Then there is Ronald Lawrie playing his own popular tune Glenfinnan Highland Gathering and Angus MacColl's winning peformance from the 2015 'big' MSR at Oban. Listen to Angus now:
There is a limited pipe band archive with recordings of Muirhead and Sons to the fore. There is something for the drummers with recordings of Jimmy Catherwood, Alex Duthart and Steven McWhirter. The archive also has what is proibably the first ever recording made by a pipe band, that of Govan Police captured on wax cylinder.
In speech mode we have James Campbell on the 'Elusive Appogiatura' and Angus Nicol helping us with Gaelic pronunciation of some ceòl mòr tune titles. Of particular interest will be Seumas MacNeill's 'Masters of Piping' radio recordings from the BBC in the 1970s featuring Willie Lawrie, Robert Reid (playing here from RG Hardie) and Willie Ross (music illustrations from John D Burgess). These are accepted as some of the finest piping programmes ever made for radio.
PP Editor Robert Wallace said: 'There is much in the archive to help wile away the long winter evenings, something for everyone we hope. If any reader has a recording they feel may be suitable for the archive please forward it to PP at the usual email address.'
Access the archive here. There's a link on the page for the band recordings. If you enjoy the free archive please consider supporting the Pipng Press Shop or making a donation to help towards upkeep.