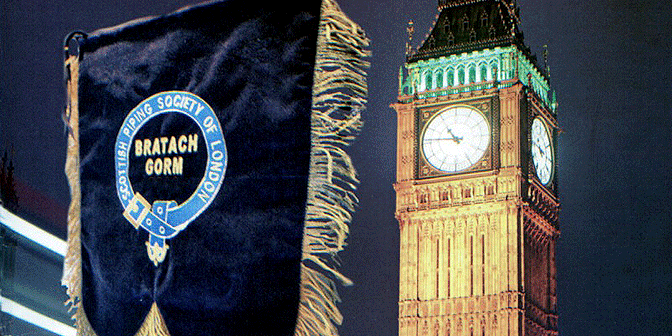 By Alison Gilmour
Entries for the Scottish Piping Society of London Online Competition are now open! On the weekend of 7th November, the Society is excited to be hosting its first online competition.
Entries are open to C Grade competitors (Piobaireachd and MSR) as well as Amateur players and SPSL members (Piobaireachd, March, Strathspey and Reel, and 6/8 March). There will be a specific prize in the Amateur competition for Best Overall SPSL Member. 
SPSL President Michael Fitzhenry comments: 'I'm delighted to be able to announce that the entries for our first online competition are now open.
'Since taking the decision to remove the C Grade events from the Annual Competition, the SPSL Committee has been keen to provide competitive opportunities for this group of players, as well as Amateur players and SPSL Members, particularly those based in the South East. I'm hopeful that this online event provides a welcomed opportunity to the piping community.' 
Prize money will be in line with CPA sponsored games. More information on the competition categories, format, and entry is available via our website. 
The details for the SPSL Online Competition are now available on our website http://www.scottishpipingsocietyoflondon.co.uk/2020/09/20/entries-open-for-online-competition/  and will be promoted on our social media today.
C Grade competitors must submit three of each and must be submitted with entry for MSR and Piob.
To retain some of the spirit of a normal competition the following format will be followed:
Competitors will video record their performance. Competitors will submit links to each video to the SPSL. Judges will adjudicate by viewing the videos.
Competitors should provide a separate video for each event entered.
Competitors should record and upload their competition videos as unlisted videos on YouTube. These videos will only be available to those with the specific link. See here for guidance on uploading unlisted videos to YouTube. It is advised that you familiarise yourself with this prior to the weekend of the Competition.
On Friday 6 November, competitors will receive an email including full instructions on how to submit their recording links. In this email, competitors will also be notified of random (automated) allocation of tunes.
The email on Friday 6th November will include a link to a Google Form, which competitors will use to submit the links to their competition recordings. This will be time bound and must be completed by 09:00 GMT 9 November. Note: there will be unique instructions to ensure that performances have been recorded within the competition window.
Highland dress is optional.

NB: The main London Contest for the Bratach Gorm has been postponed until March next year.
---