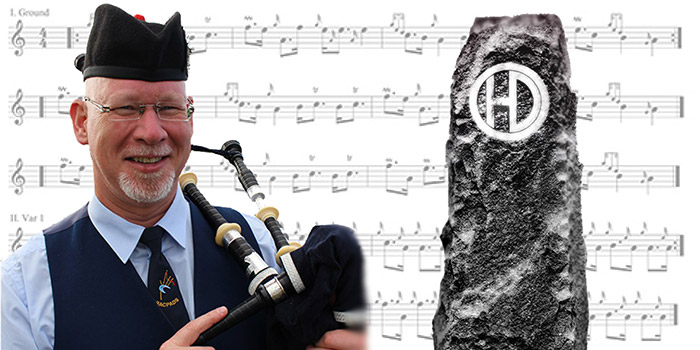 It seems that with this fallow period in piping and pipe band competition, when participants are stuck at home, capable pipers with fertile minds have made good use of the time and turned to composition. The results are that we have many new piping pieces for us to study and play.
By Duncan Watson
Some old tunes have certainly stood the test of time and doubtless some of the new ones will also succeed. Among the able pipers who have taken to doing more composing is double Gold Medallist Niall Matheson, a teacher of the bagpipe in the Highland Region.
Niall has produced a fine piobaireachd named for the 51st Highland Division whose heroic surrender at St Valery en Caux 80 years ago was recently commemorated by pipers around the world.
Niall served with the Queen's Own Highlanders for a number of years. The antecedents of his regiment were the Queen's Own Cameron Highlanders and the Seaforth Highlanders. Many of the men in these regiments came from the north area of Scotland, though soldiers from elsewhere also joined their ranks.
In common with other locally based regiments there was an extended family aspect with successive generations serving in the colours. Niall was originally from Newtonmore, a recruiting area for the Cameron Highlanders, and thus it was not surprising that he joined the Queen's Own and of course was prominent in the pipe band.
There were some very talented individuals in the band then and in recent times Niall produced a piece of ceòl mòr in tribute to Alasdair Gillies who served as the Pipe Major in the regiment.
Listen to Niall playing part of his new tune:
The official commemoration ceremonies for St Valery took place on the 12th of last month both here and on mainland Europe. Re-reading the history we find that in June 1940 during WW2 the 51st Highland Division had been overwhelmed at St Valery en Caux by the German army under General Erwin Rommel and forced to surrender.
The 51st included contingents from The Queen's Own Cameron Highlanders, the Seaforth Highlanders, the Gordon Highlanders and other regiments. Among those captured were soldiers who hailed from the Newtonmore area.
The composer had kindly made his new work availasble free to readers of Piping Press. You can study it and download it here: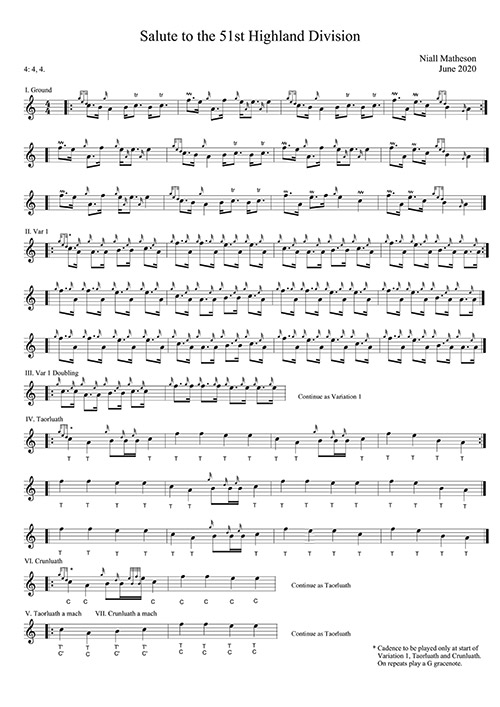 A tune composed by the late Pipe Major Donald MacLean, The Heroes of St Valery, who was himself captured, was played at various places for the commemoration.
Niall Matheson has now added to this musical commemoration by producing a tribute in the shape of a piobaireachd. It is entitled 'Salute to the 51st Division.' I have already played the piece and there is every likelihood that it will stand the test of time.