By Dr Jack Taylor
The following maybe shows piobaireachd is alive and kicking in some way. At what must be the last such gathering for a while, I was at Ballater Games Dinner in late March. 
I had been asked to play a piobaireachd, which I did (Duke of Atholl's Salute). I sat down next to the renowned fiddler Paul Anderson who said he'd just composed a piobaireachd and had played it in Migvie Kirk, now Paul's own performance venue, that afternoon. What did I think?
So he pulled out a bit of manuscript paper and played it over. Effective I thought. Later in the evening I asked him to hold up the paper and I'd try it on the pipes. And little did I know that he'd videod my playing and it's on YouTube – type in Paul Anderson, Jack Taylor Tomb of the Kings:
That's piobaireachd in the making in this day and age for sure. And fascinating to do – I put in the embellishents where I wanted, and next time I played it they were in different places…..  
I attach the manuscript to which I've added the theme notes so that folk can try it themselves and add their own variations: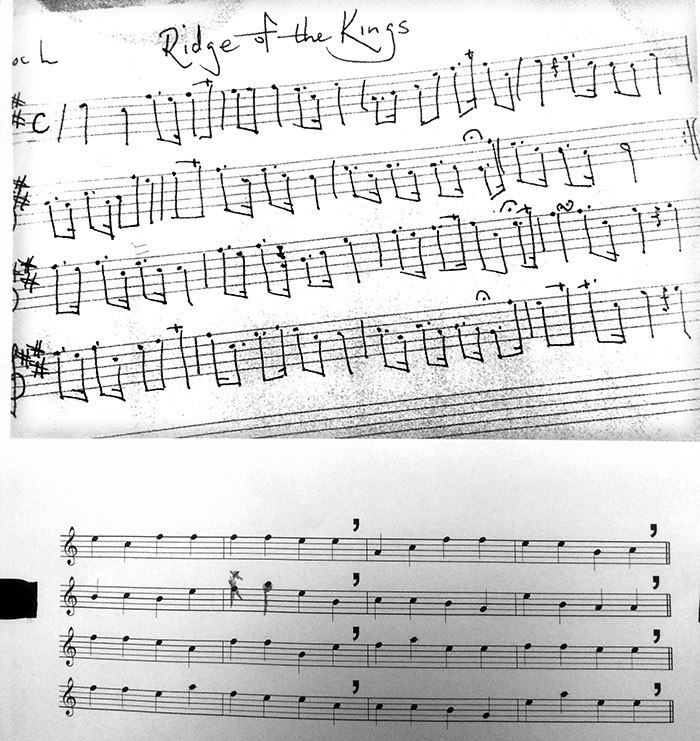 Paul changed the name from 'Ridge of the Kings' to 'Tomb of the Kings' a couple of days later. He composed it for an event in Iona Abbey planned for the end of the year.
If you enjoy Scots fiddle music have a listen to Paul playing here:
---