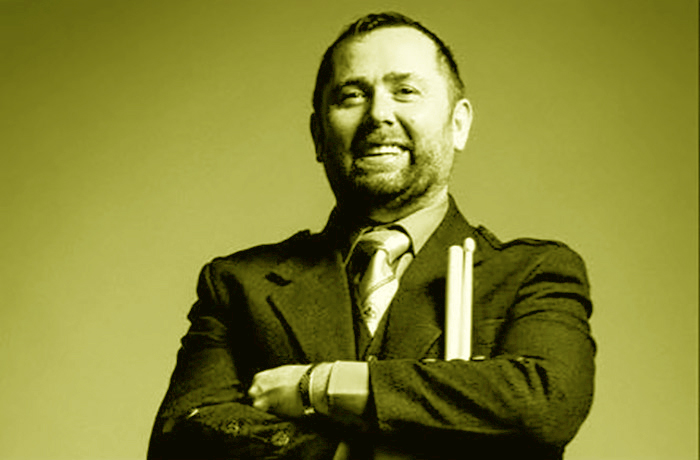 In 2002 FMM won the drumming in the Medley at the Worlds. It set me on my road with what I was going to do with the corps; more hard work, a few extra players, looking at our instruments, how our instruments worked, checking the final detail of our presentation of our drumming by introducing dynamics.
The great Shotts & Dykehead were, in my book, losing some of their lights and shades. I started working on extremes and presentation of dynamics. We then started to attract players locally that were playing in good bands but weren't getting the kick out of it: Julian Mordaunt, Adrian Mordaunt Paul Grace, the Sherry twins and Rhona Saunders to name a few.
And we had Conor McNally as my right hand man and John Dunne looking after the bass/tenor section.
People were astonished to see how our drum corps had improved in Grade 1, beating Field Marshal Montgomery; they wanted to be part of it. I started with six snare drummers then all of a sudden we were seven and eight. The amalgamation finally broke down 2002-3. 
St Joseph's went off the road because I said 'guys I have unfinished business here [at SLOT]; I need to continue this'. Terry asked me to stay on board and I did and so did the pipers from St Joseph's, so it was just St Laurence O'Toole thereafter.
I swore that one day I would go back and get St Joseph's back on the road because that was very important to me and close to my heart. And that has happened now and they've got a pretty strong unit so everything came good in the end.
I've been teaching them for the past two years but they've a new leading drummer there, Aaron McLean, who was the flank drummer with FMM for 14 years; so now I'm mentoring the snares, not teaching them. Aaron's living in the south now and I thought it very important that the band found an up-and-coming player to take on the role because I couldn't go back to Grade 2. My place in Grade 1 is stamped now until it's over in O'Toole's.
In 2004, after winning the All Irelands in Kilkenny in 2003, we got even better. Results in drumming and piping were pretty steady but the big jump up happened in 2006 when we were standing in the arena at Glasgow Green at the Worlds and we were called out for winning the drumming for the first time on an MSR preference.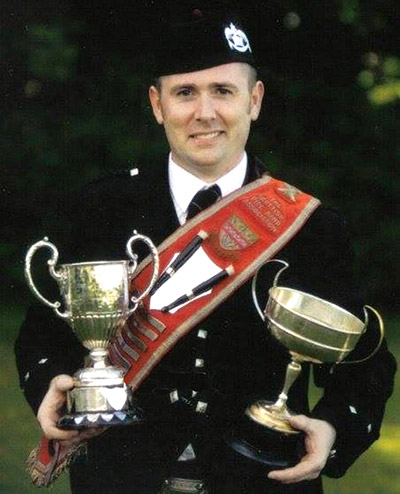 I mean, you grow up looking at Jim Kilpatrick, hearing about Alex Duthart, though I never heard him play, and the history of St Laurence O'Toole, and the great Frank Saunders, who was the leading drummer with the Fintan Lalor, and, well I felt I had just made history.
Shotts had two thirds in drumming that day; we won the MSR and we had a fifth in the Medley. Eric Ward had a first in the Medley with Gordon Parkes judging but he had a ninth off Billy Dunlop in the MSR. When they called out our name I was in complete shock but at the same time not really surprised because I had started paying attention to what was going on around me and I felt that we were definitely in the hunt for thge big titles.
That win in the All Irelands set us off and up until last year we've now won that 13 times. It's the most any drum corps has ever won that trophy. I think the next in line is Field Marshal with five.
After the Worlds win I said to myself 'I've made it!', but the problem is that when you win it once you don't want to give it back, so you spend the rest of your life chasing that trophy, and provided you have your health, you're dedicated and you're really driven you can achieve that.

The corps just got stronger and stronger. In the meantime I'm married with a full-time job working as a cabinet maker, four young children from the child we had in 1990 to last one in 2004, all living together in a very small house. I had to get out of that house and find a bigger place and at the same time focus on the drum corps and the band.
I never really went into St Laurence O'Toole's to win drumming prizes – I went in there to beat my own pipe corps! They were doing really well in piping but they struggled in drumming, so my job was to finish either level with them or beat them so that I wasn't responsible for the band not doing well.
Because the placing system was in by then, you could have a second in piping and seventh in drumming and not even get in the top six. That's the way it was. The bands at the top were so tight on piping and drumming.
So my job was to stay ahead of the pipe corps, but by doing that I ended up winning drumming trophies because I drove the drum corps on to finish as high as we could and so we became the best.
Sustaining that over the years, losing players, bringing in new faces, all came down to management. Keeping the right template, keeping the right style, keeping the same practice nights, Tuesday and Thursday, never changing no matter who came in. Be there first and be last out…..
To be concluded. Read Part 1 of this fascinating interview here.
---