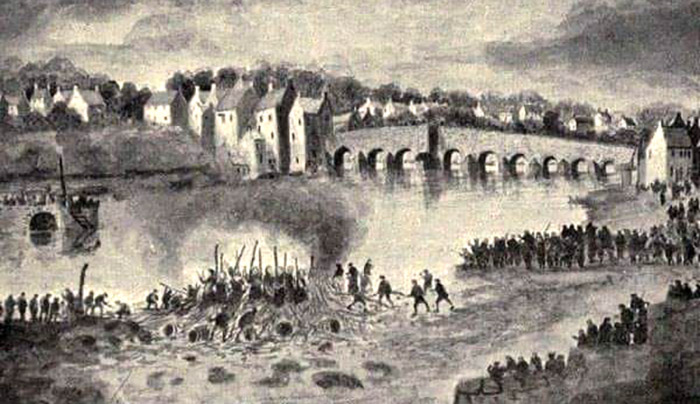 The Shasta Piping Society commissioned this piobaireachd from Karen McCrindle Warren some time ago. Three artists have been solicited for commissioned work to commemorate historical events or persons with stories not often told. Karen accepted and produced her work knowing the SPS's goal of spreading piobaireachd to as many listeners and players as possible.
I knew Karen's composing work from our writing contests and knew well her affection for the Lowlands of Scotland. I had read an article about a recent project at Edinburgh University to document all the locations of the Scottish witch trials, some of which surpassed the better known trials in Salem, Mass. I couldn't think of anyone better to compose a piobaireachd in remembrance of these events and to tell a story that would inspire listeners to learn more about the results of those tumultuous times.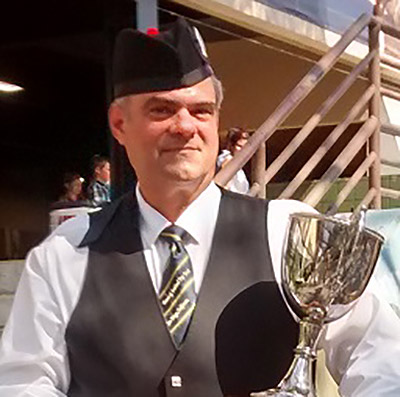 Karen continues the story from here: 'Thou shalt not suffer a witch to live' Bible (Exodus 22:18).' When you think of 'witch burning', it isn't Scotland, but Salem that immediately jumps to the mind, and the witch trials we've all seen played out on television. Yet, in Scotland the 'Witchcraft Act' was passed in 1563 (which made witchcraft and consulting with witches a capital crime), and we had five 'Great Scottish Witch Hunts' between 1590 and 1662.
An estimated 4000 – 6000 men and women (mostly from the Scottish Lowlands) stood accused before their Kirk Sessions [church councils of elders] for the 'horrid sinne of witchcraft'. 75% of the accused were women, and the most vulnerable of society. They were often elderly women who were lonely and kept the company of a cat.
They were people who were unpopular in their village, lived on the margins of society, were ill-tempered or had behaved in a certain way over a period of time that would give them a bad reputation amongst the villagers. It was this reputation, built up over the years, that would brand them as suspicious.
Repute was enough to convict, and conviction meant death, in the most horrific of circumstances. Witches were accused of denouncing their Christianity and entering into a pact with the devil – this was a far more serious crime and one that imposed most severe penalties. Convicted witches were hung, burnt at the stake, drowned or a mixture of all three.
The Witchcraft Act was repealed in 1736. After this date it was no longer possible to legally prosecute someone for the crime of witchcraft. This tune commemorates the events of 13th April 1659, when nine Galloway women were executed on Dumfries Whitesands.
Agnes Commes, Janet McGowane, Jean Tomson, Margaret Clerk, Janet McKendrig, Agnes Clerk, Janet Corsane, Helen Moorhead and Janet Callon, were 'stranglit at stakes till they be dead, and thereafter their bodies to be burnt to ashes'. This began a third peak of persecutions in Galloway – more and more witch finders came forward, demanding their fees for rounding up suspects and torturing confessions from them.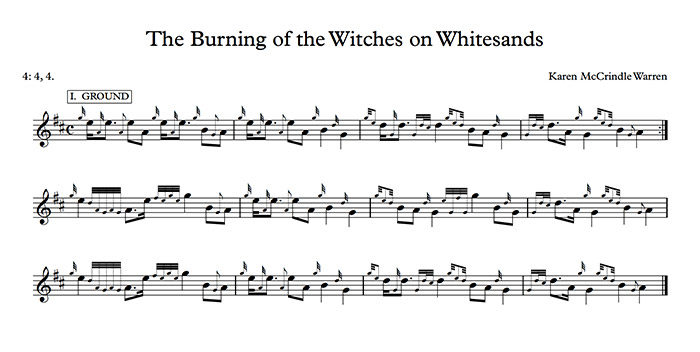 Above is the ground of the tune and you can download the full version, Ground, Var 1 S&D, T S&D, and C S&D here:
The tune is written in pentatonic G – the key that gives the most dissonance against the drones, symbolising the pain, fear and anxiety of these times, and the high Gs symbolising the screams of the 'witches' who were tortured for confession and put to such horrific public execution. Not enough to kill them by strangling them at the stake, they had to be sure they were dead by also burning their bodies to ashes.
Here is a performance of the tune: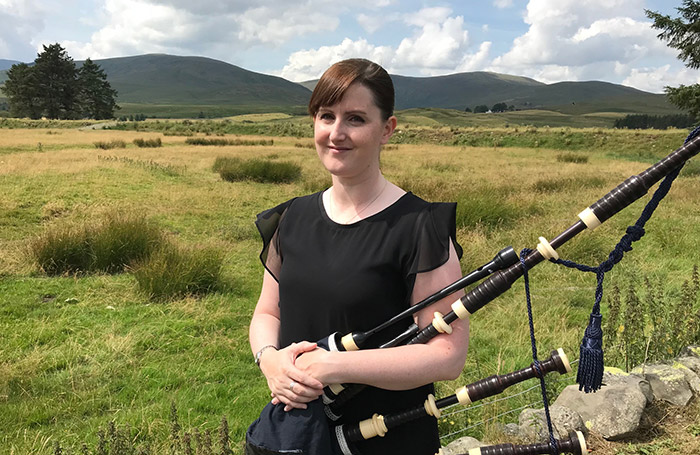 Karen McCrindle Warren (above) is a graduate of the BA (Scottish Music – Piping) Hons degree at the Royal Conservatoire of Scotland. She is a previous winner of the Neil Munro Society Piobaireachd Composing Competition run by the National Piping Centre, and 2nd placed in the 2018 and 2019 Shasta Piping Society Piobaireachd Composing Competitions.
A native of Ayrshire who now lives in Dumfries and Galloway, she released 'The South West Scotland Collection' in 2018 – five books celebrating the region's overlooked and forgotten musical past, and her compositions always draw inspiration from the region. She is currently the pipe sergeant of Kilmarnock Pipe Band and runs EPIC East Ayrshire Pipe Band Academy in her home town of Cumnock and its surrounding area.
If anyone would like to comment on Karen's tune please do so below.