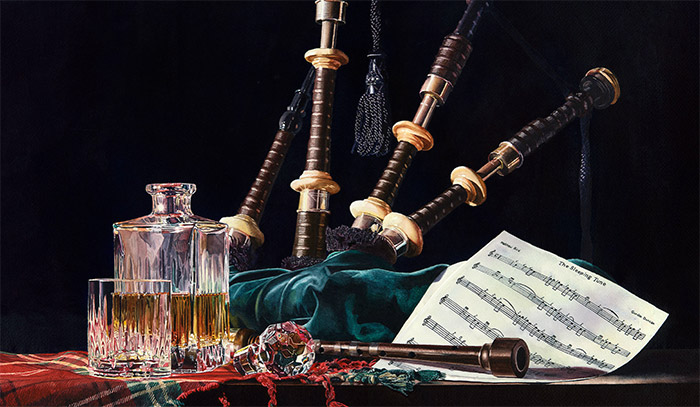 Very pleasing response to the PP Lockdown Challenge with videos, drawings, a painting, tunes and essays coming our way rapido. Keep it going folks. Use that time constructively and creatively and maybe put a smile on the faces of our hard pressed piping fraternity.
First the frustrating stuff however. Tomintoul Games, due for mid July, have been cancelled for 2020. Wallace Bagpipes, RG Hardie and McCallums are all curbing their business for the next three weeks in order to protect staff.
Same for the Piping Centre Shop. Helen Urquhart, their efficient marketing chief, writes: 'Staff members are required to be in store to facilitate the fulfillment of orders, meet post and more. It was felt that this was an unnecessary risk to the team, meaning that The Bagpipe Shop has now closed online, as well as its physical stores.
'The National Piping Centre is disappointed to have to close its online shop at this time, but feels that for staff and public safety this is the right course of action for these times.'
And we learn this morning that the Bridge of Allan pipe band contest scheduled for Aug 2 has been cancelled. What chance the Worlds?
Still with the Centre, a hearty well done to Margaret Dunn following the undoubted success of her online CLASP contest initiative. According to everyone it worked a dream with judges Wilson Brown, Dan Nevins and Alastair Dunn spending the weekend analysing submitted performances in each class. Margaret and her team have shown it can be done. All it needs is some efficient forward planning.
As an alternative to the internet contest Roger Huth suggests continuing with the games. A little tweaking of the arangements with a a nod to social distancing and why not? Have a look: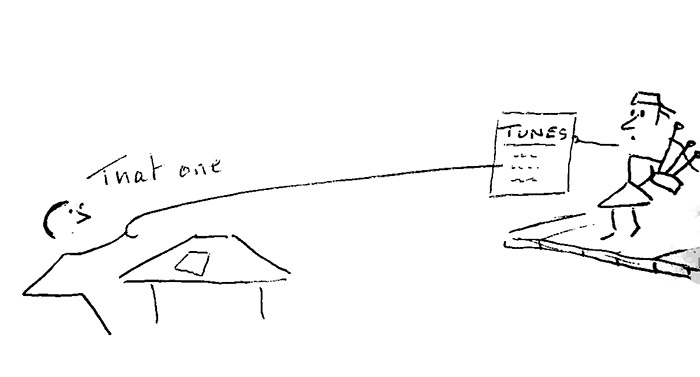 Well done Roger; keep the cartoons coming.
---
Our first tune for the composing contest is this 6/8 from Stephen Beattie: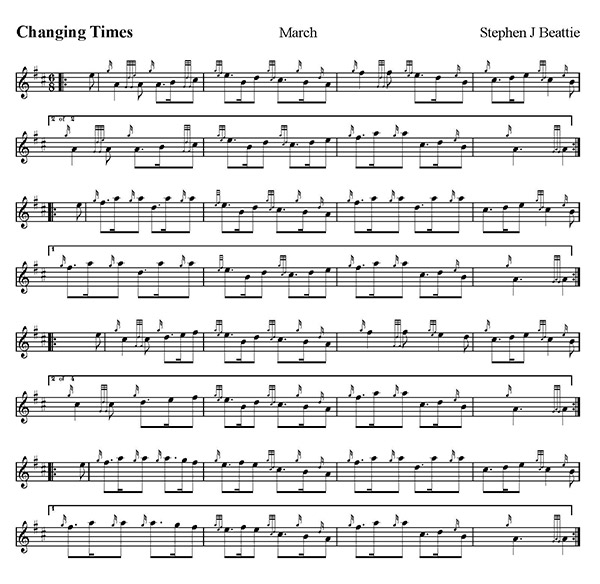 Young reader Eric McCracken has written: 'I am quite interested in a composition competition. I also suggest that there be a ceol mor competition held by PP; the Shasta Society's competition is regrettably barred to composers under age 21 such as myself.'
Good point Eric. Right, there is now a composing contest for U-21 piobaireachd. Let's have your works.
---
---
Our first essay is from Robbie Rogers. It is entitled 'Ceol Mor Catharsis' and begins: 'My sisters love the bagpipes. Friends love the pipes. People I don't know in the park or at a gig tell me they love the pipes. As a piper I am always glad to hear it.
'But there is a kind of music I play that not everyone loves. It's called ceòl mòr, which means great music. It's also called piobaireachd…… It was the original great highland bagpipe music……
'About piobaireachd, my sister says with a bit of a scrunched face, 'I don't get what you get from that'. Now I admit that, like whisky, piobaireachd is an acquired taste….
Read Robbie's full piece:
We have a few other essays on the way. They'll be judged by MacStig.
Robbie also kindly sent us the link to the fine painting up top. Don't worry you artists, it's not in the contest. Robbie writes: 'I've got a painting I'd like to share, though I did not paint it myself – my nephew did a wonderful still life (watercolor) featuring my pipes. It's currently on load to the Zhuji Watercolor Art Museum in Hong Kong (yeah, he's a pro). Here's a link to it: https://matthewbird.com/heritage-still-life
'Meanwhile, love your ideas & advice. I am working on getting some new tunes off myself, no excuses (including new band music). Last week, when my Tuesday St Paddy's gig was cancelled I played for my neighbors and I continue to serve at funerals.
'And here in the Southeast U.S., in view of the postponed and cancelled games/piping competitions, a number of our EUSPBA judges have offered to listen virtually to pipers play their competition pieces and receive comments, without fee (not a 'lesson' but comments as per a competition). That's great of them to do. Bill Caudill of Laurinburg, NC led the way on that and many EUSPBA judges (particularly the SE chapter) jumped right in.'
That's it for today folks. Keep forwarding the input and stay home.