Following on from last year when we ran the article calling for a tune for the annual Commando Speed March, we can now report that it was held last Saturday and two of our top young pipers, Sandy and Finlay Cameron, were invited to participate with various spells of piping.
In the picture above they can be seen marching the runners from their Assembly Point to the start line at Lochaber's Spean Bridge Station. It was here during WW2 raw recruits from Britain, Europe, North America, Australia and New Zealand would disembark to commence their special forces training at the historic Achnacarry House, seat of Cameron of Locheil.
Achnacarry had been requistioned by the UK government as a training base for the forces which came to be known as Commandos. From Spean Bridge Station to Achnacarry is about seven miles.
Naturally the lads played their joint 6/8 march composition 'Spean Bridge to Achnacarry', sparked by our article, as they marched round. Here is Finlay playing an early version: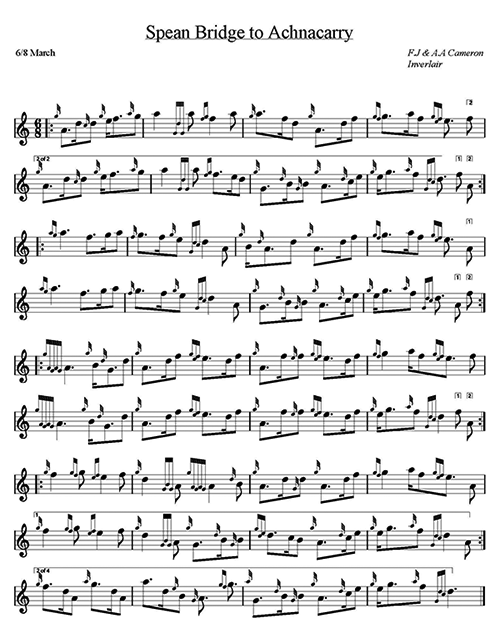 Download a copy of the tune here.
The runners, each carrying a 16lb pack, were then piped away and the pipers given a lift to the finish line at Achnacarry where they played in a continuous relay system until all the runners had been clocked in: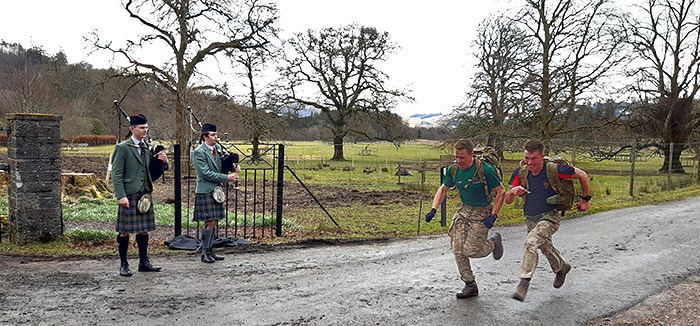 In the evening Sandy and Finlay then played guests into the dinner and prize-giving at the venue, Ben Nevis Distillery, and were invited to join the celebrations.
During WW2 the original Commandos were given an hour to get to Achnacarry with full kit. Those that didn't were sent to catch the train back to their original regiments.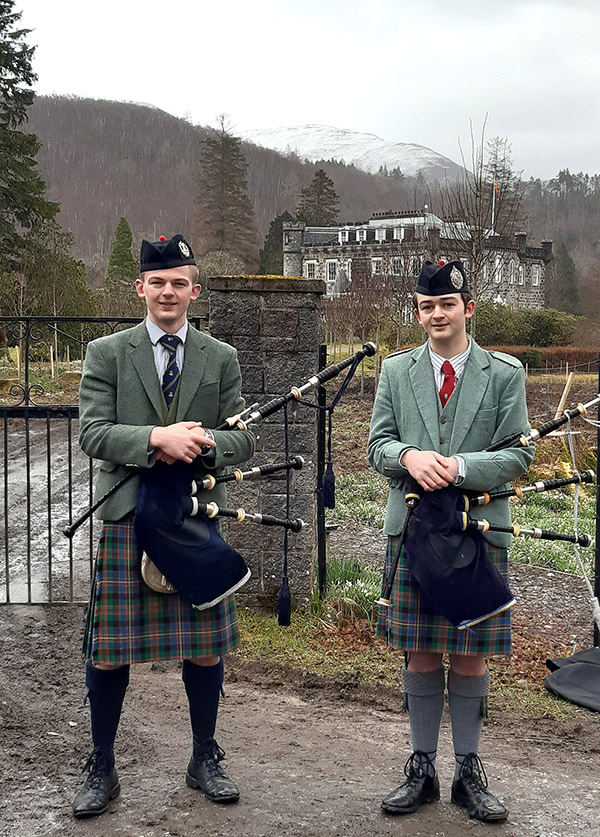 In carrying 16lb packs and being given that same hour to complete the seven miles, today's trainee Commandos are honouring their heroic forefathers. By far the majority of last Saturday's runners did manage it in under an hour.
Clan Cameron Museum on the Achnacarry Estate has more on the time the Commandos spent training there and is well worth a visit. At Spean Bridge there is also the famous Commando Memorial: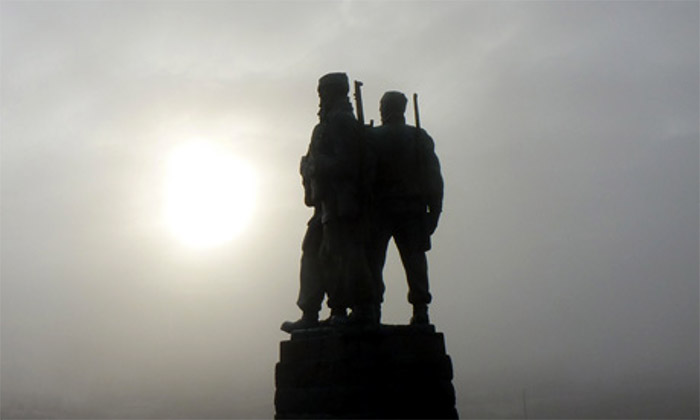 The Memorial overlooks the training grounds where the troops undertook a gruelling training course in the rugged terrain.  The publicity reads: 'The volunteer soldiers who completed the course successfully joined the Commando unit and were entitled to wear the 'green beret'.
'The aim of the unit was to produce an elite, well disciplined, fighting unit, able to take the initiative when required.  The training took full advantage of the local topography and climate to develop fitness, endurance, responsibility and self reliance, as well as honing skills of field craft, handling of weapons and marksmanship.    
'The memorial is a bronze sculpture of three commandos with cap comforter, binoculars and rifles mounted on a stone plinth with a memorial plaque.  The men overlook the Nevis Range.  The sculptor was Scott Sutherland and the sculpture is dated 1951.'
---