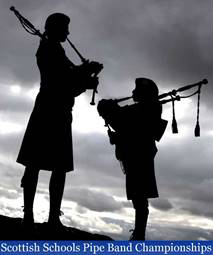 By Our Special Correspondent
The practice is done, the preparation in train, and the first of the significant indoor competitions falls this Sunday, March 8. Notwithstanding the virus concerns, organisers are pressing ahead.
From far and wide six hundred of boys and girls, all pipers and drummers, will gather and compete in the 2020 Scottish Schools Championships. Convergence on Kilmarnock, that Ayrshire town of renown, to the William McIlvanney Campus, named for the great Ayrshire man and author and brother of Hugh the sports writer that everyone tried to emulate.
We have the standard fare of RSPBA categories (albeit not a sanctioned event) and assisted by RSPBA officials, judges and stewards, all under the banner of Scottish Schools Pipe Band Trust, the charity at the vanguard of developing the juvenile band scene in schools.
On top of Juvenile, Novice Juvenile A and Novice Juv B, for many it will be the non-recognised RSPBA categories that attract most attention. We have a raft of bands and players in the Freestyle competition, Quartets, Junior A, Junior B and Debut sections, the last for real first timers.

There is plenty of silverware and generous cheques for those in the top three in each. There will be 89 performances in all during the day and the standard, as readers know, can be mind blowing from those so young.
Twenty-one bands in Novice B is a big field, almost matched by 17 in Junior B and 18 in the Quartets. There will also be the presentation of the Endeavour Award in memory of a former competitor, the much missed Eilidh MacLeod, and well done to all involved with the trust set up in her memory.
---
---
In the blue ribbon Juvenile Grade the very best in the world are present. They include North Lanarkshire Schools, fronting up in the wake of funding concerns and Scottish Government cuts for local authorities so well documented on the pages of Piping Press.
As ever, parking will be a challenge for those travelling to Kilmarnock. Such venues are not built to accommodate significant numbers of cars and buses, the chances of swift public transport slim. So be a thoughtful, patient and considerate visitor to the area.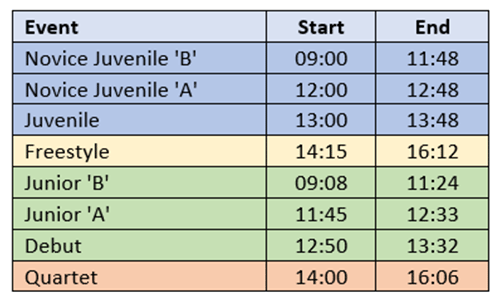 The best of luck to all taking part, including the adjudicators clocking up the hours. For those interested, this indoor format encourages a concert formation with judges sitting at tables looking front and centre.
A final thought, keep those hands well washed and follow the guidelines on hankies and sneezing. Keep things in perspective, play well and have a great day.
The Scottish Schools Pipes and Drums Trust is the charity that organises the Championships. The Trust offers cash grants, guidance and bagpipe loans to help introduce piping and drumming tuition to state schools. If you would like to know more contact them through the SSPDT website.