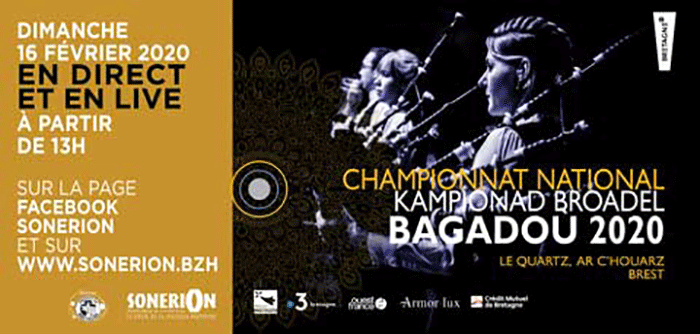 By Greig Canning, Inveraray & District PB
The UK may have left the European Union but Scots pipers' links with their Breton cousins are stronger than ever. Myself and a few colleagues and acquaintances from the Scottish pipe band scene were over in Brest in Brittany last weekend to play with various Grade 1 bagads [Breton pipe bands] in their Championship.
I think each of the guys in the photo [below] had some kind of interest in going to see what it was all about. A bagad ('bagadou' is plural) has three sections: pipes, bombardes and percussion. It's definitely more of an orchestral feel with a conductor out front. A contest with lots of judges, but set in a concert formation.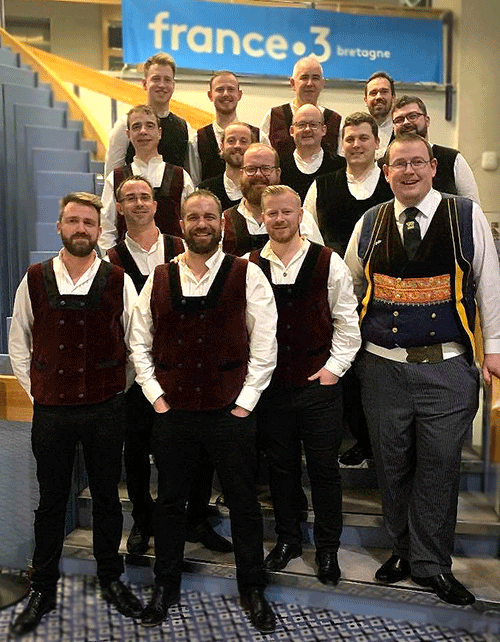 We thought the caption the locals gave the picture 'Bagad Brexit?' quite amusing! And here are the results:
Kevrenn Alré – 17,326 points
Roñsed Mor – 17,05
Cap Caval – 17,017
Kemper – 16,863
Melinerion – 16,223
Ar Meilhoù Glaz – 15,890
Saozon-Sevigneg – 15,646
Sonerien An Oriant – 15,252
Kerlenn Pondi – 15,195
Brieg – 15,116
Beuzec Ar C'hap – 13,083
Boulvriag – 13,068
Sonerien Bro Dreger – 13,020
Bro Konk Kerne – 13,007
Bro Kemperle – 12,606
Plougastell – 11,836
The picture has: Gary Nimmo [fancy waistcoat, front standing] who played with Bagad Kemper. He was most recently Pipe Major of Royal Burgh of Stirling and is ex-Triumph Street, Vancouver. John Elliott of G1 Reeds [front and centre, standing] also Inveraray, was with Bagad Boulvraig.
They also had Scott Wallace of Field Marshal Montgomery [beard, to Gary's right], Craig Munro of Wallace Bagpipes and St Laurence O'Toole [blond hairdo], Scott Walsh (ex-Shotts drummer), Ryan King (ex-Fife Police and Triumph St) and Steven Dewar (ex-Vale of Atholl).
Then there was Ross Miller, Inveraray, [directly behind Gary] and Callum Kaye (Lomond and Clyde) who were with Bagad Cap Caval and I played with the winners, Kevrenn Alré! [Greig is pictured back row, far right.]
I almost forgot Cammy Ritchie, ex-Boghall who also played with Boulvriag. The three gents in the middle were a contingent from Pitlochry I think and regulars with Bagad Lorient but I'm sorry I don't actually know the guys.
---
Readers will get a good idea of the competition by watching this clip of fourth placed Bagad Kemper with Gary Nimmo, courtesy YouTube:
---
The music is quite different from what we play but very interesting and enjoyable. I think everyone has a different story of how they got into it. Personally, Tangi Pensec played with Dysart in 2011 when I had the band so I repaid the favour and started to play with his band Auray from 2012 onwards. This year was my sixth trip.
John Elliott has been working closely with the conductor of Boulvriag to make chanters for the Breton market and has even made bombarde reeds.
---