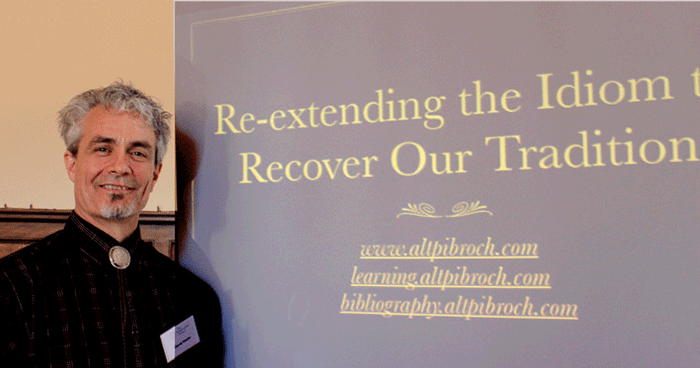 Dr J David Hester, the noted ceol mor student and campaigner, has died. Dr Hester was the inspiration behind the AltPiob website which strove to encourage piobaireachd playing in an alternative style.
A notice on Dr Hester's Facebook page reads: 'It is with profound sadness that [we announce] J. David Hester, husband of Mary C Gardella, father of Cassiel and Anael, son of Jim and Dee, brother of Micah, and friend and influencer of so many, died suddenly on Thursday, September 12th.
'We know how much David is loved and respected, but ask that you provide some time and space for the family to grieve their loss.
'A celebration of life is planned for October 19th at Cylburn Arboretum Mansion from 4 to 6pm. http://cylburn.org/explore/hours-directions/
'In lieu of flowers, it was David's wish that donations be made to Heifer International. https://www.heifer.org/'
David was invited to give a paper at the Piobaireachd Society Conference in 2016. The then President Dr Jack Taylor said today: 'David was a warm and passionate campaigner.'
A friend of David's, Steve Rooklidge of the Shasta Piping Society and the Piping Hour internet radio programme, said: 'David wanted the big music to be accessable to all, and that passion is a loss.
'His work on the Alt Pibroch Club was always passionate and a bit controversial, as was his lecture at the PS some time ago, but he was certainly a fighter for the art, and there are precious few of those nowadays. I did an episode of the Piping Hour with his music here: https://kkrn.org/broadcasts/2651.'