From afar on yonder rock, sou'wester on and boat in dock,
A pen is poised and commentary flows, he writes it all and scratches nose,
Lurgan, Paisley for your delectation, Glasgow Green his last destination,
Now a review of Dumbarton here from MacStig our chap in the racy gear…..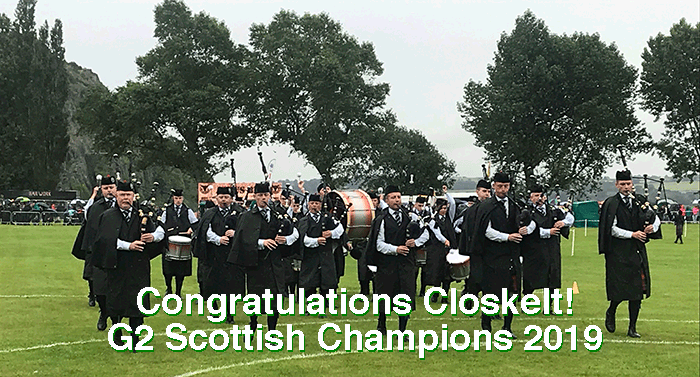 As reported elsewhere it was a truly atrocious day and safety had to be considered first and foremost, not just for competitors getting to the circle, but for everyone trying to move around the field and negotiate the roads and miles before and after. I know there is a tendency to shrug shoulders at the weather and the fact that nothing can be done about it.
But maybe there is some bright eyed meteorological student out there with a keen interest in piping and drumming who could run a few algorithms and identify dryer places on the map. For instance, the canny farmers of Perthshire know the average rainfall numbers as it affects the price per acre of tattie-growing land. Glasgow, Dumbarton and Lurgan are all likely to have weather like that just experienced eight years in 10 nowadays. As an aside, the Accuweather view for the run in to the Worlds' shows showers most days with temperatures sitting around 60 degrees and rain expected on the Friday and Saturday.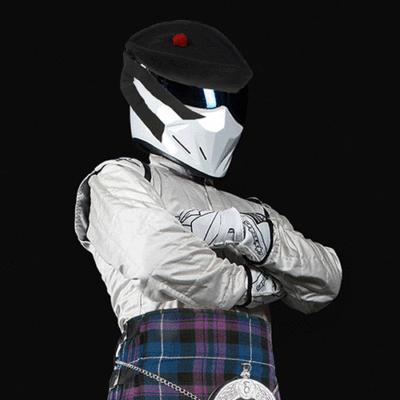 To Levengrove Park on the Clyde estuary for a smaller crowd than a proper summer day would have mustered for the longstanding Scottish Championship, the final one before the largest gathering of them all at Glasgow Green in three weeks time. 
I was grateful to the RSPB digital meister for the continuing coverage of Grade 2 continuing, particularly from the vantage point just off center of the circle, inside the fence. I noticed that Grade 3B was also being broadcast earlier in the day. I didn't hear all of it but there were some fine sounds there, notably Oban High School, choosing not to be in Juvenile, but sounding more like a Grade 2 band to me. Mr MacColl has a well prepared band and I'm fast concluding that other 'school bands' should be unleashed on the adult contests. For those interested, they finished second but tied in piping with winner Dunbar RBL. 
---
[wds id="2″]
---
It is often said that there are only ever two real Champions on the day, Grade 1 and Juvenile. Another debate, perhaps for the dark winter nights. I might lobby the Editor to be given the Grade 3 beat next season as it's all generally over and done with by lunchtime and I could be in the local howf by early afternoon, dry and reclining. 
To be as positive and upbeat about this venue as possible, the weather was mixed, both difficult and persistent, but there comes a point where the perpetual 'dreich' becomes tiresome. The run of Major championships thus far has been cursed by inclement weather, with the volume of cats and dogs ranging from heavy to biblical. No super hot weather plume in Scotia to complain of but a yellow weather warning from the Met Office. Sadly. The smart move to cancel the dreaded March Past – loved by visitors, detested by bands, was welcome and means the double shift March Past at the Green, verging on darkness and the gloaming, is a must for the spectacle and overseas bands.
To cape or not to cape, that was the question. Judges, yes, meagre crowd waterproofed and umbrellas, some bands deciding to go for it and dry off later. Ah, the aroma of wet wool on a team bus, never forgotten and instantly remembered even by those of you whose competition days are long gone. 
---
---
That this was the best bands the UK, Northern Ireland and Ireland has in Grade 2 was not in doubt, all to be joined in a few weeks time by around a dozen overseas crews arriving for North Berwick, Perth and the Old Lady herself, Glasgow Green. The first handful of bands to play at Dumbarton will easily make the final if they play like this and, there is a distinct feel of an upper group that I'll call 2A, emerging. The clear winner, Closkelt (pictured top), was in another sound league, and the next five in a bunch that could have had any of the second through sixth places. 
How many 'Lord Alexander Kennedy' or 'Highland Wedding' renditions can one commentator listen to? It's never enough, apparently, and a whole lot more will be trailed out in the World Championship final, after the Medley qualifier.
Peter Morrice's Buchan Peterson roared off at a lick with their 'John MacDonald of Glencoe' set and the whole percussion phrasing was great. I had their drum corps immediately as the one to beat, but piping was a tad spotty, particularly in the early stages of the march. Not just Buchan, but so many lose it slightly in the mark time before and into the turn. However, a strong run and on the list later for sure in my book. It was confirmed 6 6 2 3 to place 5th, but just one point away from 4th and two from 3rd. Things settling nicely for the new faces in this band.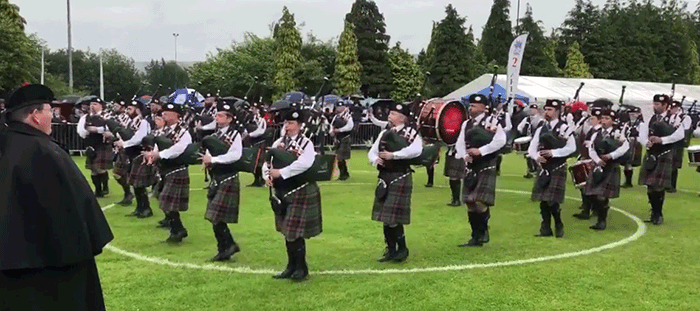 The brisk 'Lord Alexander Kennedy' from P/M Connolly's Ravara had an even brighter start from the drum corps and the tenors were exceptional from the off. I thought the D throw was mixed with some leaders or laggards – but they need to decide what timing they are all going to adopt. Sort that and the placing will improve. 4 4 1 4 for second and just a touch ahead of the chasing pack. Drumming, sparkling again and managed to elevate them over Porty and US, who beat them in aggregate piping. Well deserved and a shoe in for the final at the Green if they can repeat this. Very enjoyable.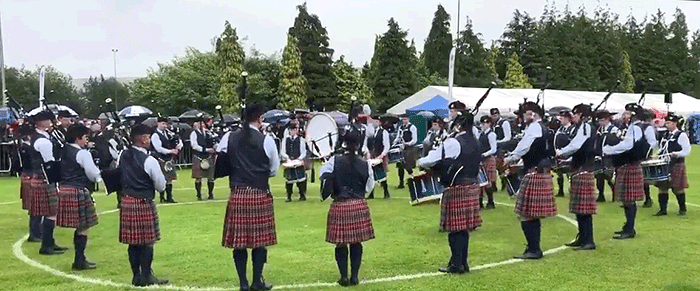 This contest was beginning to shape up to be a classic and on came the one to beat, Closkelt. Bang, there it was, the Chesney sound, the sweetest so far, and indeed of the day even with what I think was only 10 pipers in the corps. David Ross of Rosehall, a march used by Inveraray almost seven years ago, as clean as a whistle. I thought no one would touch them and they were possibly more robust and stable than some Grade 1s. I did think their drumming was the best I've heard from them this season and the aggregate two in piping and seven points overall, gave them the title. Consistency is the key. They missed Inverness but have taken three out of three championships played in and will be a shoe in for Champion of Champions title. I'm very much looking forward to hearing what the best of the Rest of the World can mount against this sound. 
Gary Nimmo's Stirling have come a long way from last season and very much on the upwards curve. The decided to go capeless and may even have had the best of the worst weather. They displayed a very different tone from Closkelt, a bit jangly to my ear, but the finger work was more precise than last time out. You would expect the strong drum corps to be further up the table but I did think there was occasionally too much of a sonic boom bass to drop them in the rankings. I'd encourage 'The Burgh' to look at tone, hold it together and really go out for a final qualifier place in a few weeks time – that should be the objective. 15 13 8 10. Finished 12th. 
The MacLean of Duart clad men and women of Oban drove in next and theirs is a good tone, but drifted mid way. Atmospherics must have impacted. 10 9 16 11 for 13th and one place below Stirling. Drumming needs to bash on and I had the band a bit further up the table simply because I thought the strathspeys very enjoyable.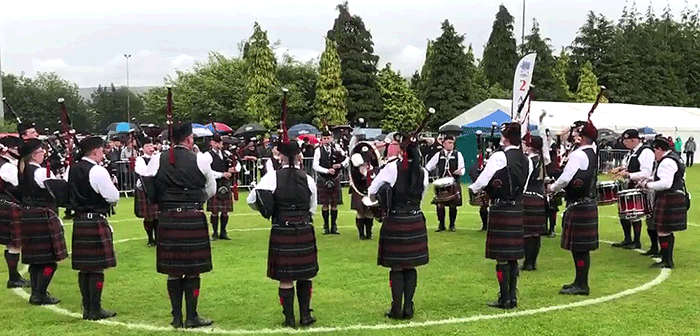 P/M Julie Brinklow led out Porty (aka Portlethen and note that I got the spelling right), and had a very strong start full of intent and business. I might have heard something or nothing but it did sound like a snare beat between the first tap and second roll as they marched on. From my standpoint it could have been nothing and unrelated, but the worry is the ghosted beat between can, with adrenalin running, become less ghost and more nightmare.
That might just have been enough to put drumming seventh as it sounded like a top five to me otherwise. On piping, I didn't think it as robust as in Inverness albeit conditions were very similar. I noted that it wouldn't challenge the Closkelt sound or precision, but would be up there and I'd have had them second on the day. Aggregate third in piping, second in ensemble and third overall. 3 3 7 2 and the drummers might also look at the strathspey break to reel in an otherwise impressive outing, assuming I was hearing things that I mentioned earlier. Worlds finalists at this rate for me. 
Nearish neighbours Bucksburn had an off day. I can't say much more than that and they happened to get a particularly tricky weather front for most of their time. There will be better days and consistency, breaks and the strike in will no doubt be featuring in practice in the weeks ahead. Not vintage Bucksburn scoring 16 16 14 13 to finish one from bottom. 
Uddingston Strathclyde (US) with, John Bowes at the helm, looked impressive and powered in with a tempo that was right and brave as the 'Conundrum' rang true. Less might be more in that drum score, which is complex and impressive, but leaving room for unforced errors. It's Grade 2 and you only have to win the grade you are in. Piping is advancing in leaps and bounds from that first off day in Paisley, with a degree of confidence and a little bit of appropriate swagger.
Aggregated second in piping, this was very strong playing and only bested on the day by the Closkelt tone.  2 2 6 6 for 4th overall and US is in business in their first season in Grade 2. A dark horse for the Green emerges and I had a suspicion back in Lurgan that this was on the cards.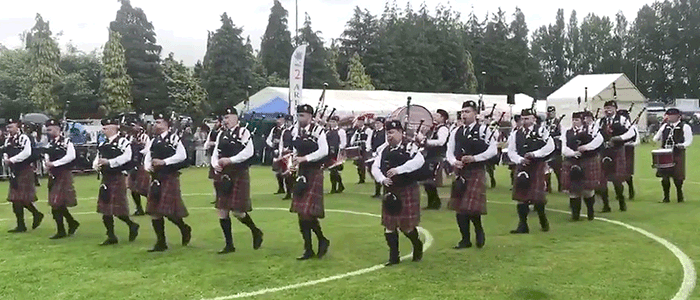 David Wilton's Mackenzie Caledonian had a disappointing outing, after I suggested they might just emerge from this March Strathspey & Reel with credit and be on the list at the end of the day. It was not to be from the off with a shoogly start and once the momentum hasn't shown up in a performance it can be tough just to get to the finish. 12 12 13 8 for 10th, but could have been 8th or 9th, yet a long way back from the upper echelon on the day. Work to be done. 
New Ross & District didn't have the usual oomph from the back line and seemed rather subdued. The weather was horrible and they had by this stage been hanging around in it for quite some time. The sound wasn't there and I can only sympathise with them in trying to get through the performance knowing that there were some issues. They were in the bunch that ranged from 8th to 14th place, separated by only a few points but well adrift from the top few. 8 10 12 14 for 9th place. More to come from this band and I hope they get it back in the groove for August.
Manorcunningham had a hard day at the office but for a blisteringly strong snare line and exceptional tenors and bass. The start was less than confident and in the earliest bars of 'Lord Alexander' there was something going on that shouldn't have been. P/M Carson may well have heard it in real time, but I think the RSPBA video will be invaluable for them to review later in the week. In drumming, I had them up there and might have given the nod over Ravara and Buchan. The pipers toiled in the weather, the instruments not behaving. Better days will come along for sure. 14 16 3 15 for 14th but in the gaggle that could just as easily been 12th. Stick in ManorC and put this one behind you. 
Just one slot above New Ross was City of Discovery and they might well be kicking themselves for the slight slippage in precision at the turn in for an otherwise well executed 'Highland Wedding'. It seemed to unsettle them a little and it was a long way back before the strathspey. CofD led the chasing pack in what we might call 2B and thoroughly deserved their 8th in a field of 17. At this rate they will be nip and tuck for a qualifying place at the Green, but that would be a significant achievement for them. They are good enough and I must mention a very entertaining mid section. 
---
---
On came P/M McCracken's Royal Burgh of Annan and the outfit I thought the last of the day to provide any strong challenge to the Closkelt sound. But it wasn't there from the off. Annan is a big sound but I'm sure the conditions simply played havoc more in their large ranks. I don't know what their set up of bag and chanter is but it seemed to be more disproportionately impacted than some others. The tempi were there and, but for the sound, it would have been up there as the finger precision was as I expected. 5 7 5 5 and I might have had them fifth in piping rather than seventh but even so it would not have made a jot of difference to their sixth place and just on the prize list. Like US, this recently promoted band is giving Grade 2 a real go and that should be applauded. 
Wallacestone & District was a long way adrift from the field, the sound defeated by the conditions. Indeed, from here to the finish of the grade there was a marked deterioration of finishing places from where you might have been expecting bands to land. It wasn't going to be their day and propping up the final positions will be one to file away and forget. 
Next came the Kilchoman Distillery band from Islay and, rather like Wallacestone, I thought their usual bounce had been punctured. 'Highland Wedding' was nicely done in the main but they were undone in the strathspey. Gone too were the confident snares and overall upbeat tempi. Like some others, this was not vintage and simply getting through the set was a win in itself. 11 15 11 9 to be in the group where an 8th to 14th place finish would only be a few points of difference. Islay 11th on EP from Stirling. Better to come I hope and that other set might just have been a better draw from the bag. 
With two to go I was grateful it wasn't a bigger field and, whilst I had challenged Scottish Fire & Rescue to up the ante by pressing on, today wasn't the day, their sound subdued and soaked. The tenor section was trying hard and I hope they get more attention in the weeks ahead as whoever is teaching that young group is doing a great job. These last few bands had the worst of a dreich and miserable day and no surprise the best of the grade was earlier in the batting order. SFR should dry out and aim for a Worlds qualifying place as their season best. 13 11 17 12 for 15th.

Hallelujah for Highland Granite being the last band, nothing against P/M Oliphant at all. (By this time news was breaking that there would be no March Past.) This band is a work in progress, but progress is very difficult under such acute weather circumstances. The turn in caught my attention as it seems to catch out quite a few bands. The scores on the doors for HG of 7 5 9 7 to just miss the prize list, but enough quality on show to know that on a better day it will be a better outcome. Like some others, reaching a Worlds final will be their final. 
They came, they toiled, some spoiled, a few were foiled and a handful prevailed through some of the most atrocious and consistently difficult conditions these bands have ever endured. I stand in awe of the indefatigability and sheer bloody mindedness on display from those competing but also the adjudicators, stewards and hardy camp followers who were there. This was truly another awful weather day, which almost ruined the spectacle. The curtailing of the March Past was wise, but we are all left wondering just how many times we will look up and shake our heads at weather in western parts. Just what will mid August throw at us when the Atlantic hurricane season is beginning to get going and weather fronts start to come in wave after wave. I read positive comments from those who got home earlier than usual and this idea of results being announced the way they were on Saturday might just catch on. 
Congratulations to Closkelt, worthy winners by a long way at Dumbarton and the solidity of that sound is their key. Precision playing might well outgun all comers, but the overseas brigade will arrive with high hopes and them and the likes of Ravara, Buchan, Porty, US and Annan stand between them and success in that afternoon March, Strathspey and Reel final at Glasgow Green in three weeks time.  
We will endeavor to deliver some commentary around the gatherings between now and the final Major and wish each and every Grade 2 band all the very best in their final preparations for the big one. If you are traveling far be safe, and plan for all weather outcomes. Over and out.
---
[wds id="8″]